What do you know about ladies' golf clubs? You can improve your chances of improving your score drastically. But it's all in vain without a solid golf club.
Learning about essential golf equipment is not easy. But with these top-rated golf clubs for women, you're almost there!
Why do women need separate golf clubs? The major difference lies in size and grip. Most women, especially at the beginner levels, need a light golf club. Something that helps them improve their distance while maintaining good swing speed.
It's time you learned a thing or two about the best ladies' golf clubs. And the only successful way to do that is to read about the best ladies' golf club reviews.
Best Golf Clubs for Women Golfers – Top 10 Choices for in 2023

Buying a new golf club is more than just about staying up to date with new trends. It's true that new golf clubs come out every few months or so. And you can always buy the new gigs to look cool in front of your teammates.
But you'll always have that one golf club that's your go-to for the actual game. There's a chance that you might find your new favorite right here!
| Product Name | Our Rating | Pieces | Skill Level |
| --- | --- | --- | --- |
| Callaway Strata Women's Golf Packaged Sets | #1 - My Choice | 16-piece set | All levels |
| Aspire XD1 Ladies Complete Right Handed Golf Clubs | #2 | 14-piece set | Beginner |
| Wilson Women's Complete Golf Set | #3 | - | Beginner |
| Cobra Golf Women's F-Max Superlite Complete Set | #4 | 13-piece set | Beginner - Intermediate |
| TaylorMade Golf Kalea Complete Golf Set | #5 | 11-piece set | Beginner |
| TaylorMade M4 Driver | #6 | 1 | - |
| Precise M5 Ladies Complete Right-Handed Golf Clubs | #7 | - | All levels |
| Callaway Women's Solaire Complete Golf Set | #8 | 11-piece set | Beginner-Intermediate |
| Callaway Golf Women's Rogue Hybrid | #9 | 1 | Intermediate-Advanced |
| Callaway Women's XR 16 Fairway Wood | #10 | 1 | All levels |
#1 Callaway Strata Women's Golf Packaged Sets – My Choice
If you don't have the time to read through all the other options. The Callaway STRATA Golf Clubs are the best of them all. They're the ultimate ladies' golf clubs for better performance.
It's an eye-catcher because it's an amazing value for money. It contains 16 pieces so it's an extensive package. It's all you need to get started right away.
Multiple wood and hybrids to keep you busy. A precise and professional putter, wedges, and headcovers. The bag is strong and sturdy. And, on the plus side, it looks good as well.
This can be your next best go-to choice for golf clubs. Whether you're an experienced golfer or just starting out. All the pieces are well-designed and durable.
Especially the stainless steel irons and authentic hybrids and woods. The aerodynamic head shape of the woods offers excellent speed. Meanwhile, the milled putter is precise which gives way for better accuracy in the shots.
The bag is easy to carry around on the golf course. Even with all of the lightweight and sturdy clubs in it. The color scheme of the bag is not too shabby. So it fits well with a basic golf attire.
This company knows a golf club is governed by simple mechanics. It's these mechanics that make a golf club superior and worth the shot. So the full titanium driver, grip, and stainless steel construction. All these features make this a classy and crucial choice.
The extra such as the putter and pitching and sand wedge. These accessories complete the whole look and feel on the golf course. And it's a significant money-saver because you don't have to buy all this separately.
#2 Aspire XD1 Ladies Complete Right Handed Golf Clubs – Best right-hand starter kit
The Aspire XD1 is for right-handed golfers only. It's also a beginner set of golf clubs. All the pieces are professional and useful. What makes Aspire in the top 3 is the affordable price tag.
The company has had plenty of positive feedback and customer reviews. The golf clubs are lost-lasting. The bag looks attractive and feels sturdy to hold and carry around.
The bag even has an extensive list of golf clubs including wedges. So for the price you pay, this is a major advantage. You can also buy these as a practice kit. You can invest in the more expensive golf clubs in your actual game.
If you're still learning, I'm sure you're practicing a lot too. These golf clubs give you plenty of options for improvisation. The titanium driver, wood, hybrid, irons, putter, shafts. All these are included for versatile and functional play.
The bag itself is handy and convenient. It has a dual strap with headcovers to protect the gear inside. You can carry the bag, with the clubs in, the traditional way. Or you can carry it like a backpack.
The golf clubs have incredible give and speed. They are accurately designed to show off better swing speeds. While also focusing on distance for players who are struggling with the skill.
Since this is a starter kit, you need to understand that the golf club requirements are a bit different. A more professional player will do well alongside other golf club options. These clubs aim at bringing you a balance of distance and speed. And consistency for better practice runs.
#3 Wilson Women's Complete Golf Set – Best golf club kit for intermediates
The Wilson Complete Golf Set is for everyone. It has a light and versatile feel. The 431 stainless steel irons are weighed for better performance. The irons have a low center of gravity which puts focus on speed and distance.
The shafts are lightweight and well-balanced too. It allows you to make shots that give lots of distance. So this would suit the majority of women golf players.
This is yet another affordable choice for most golfers. It can be used as a useful starter kit but also for intermediate players. It improves the golf game and maximizes distance easily. The lightweight graphite shafts are proof of that.
If you've been playing golf for a few years now, you'll instantly notice a difference here. Keeping the price of the golf clubs aside, the rest of this product is perfect too.
The golf club puts a great transformation in your golf swing. It's subtler, more defined, and less damaging to your overall golf score. Thanks to the stainless steel construction, it looks and feels solid.
The durability is also worth mentioning. Because you can play for hours and hours. Be it practice or competition. And the golf clubs won't give you a hard time.
According to standard golf club measurements, these are slightly taller. So for a taller player, these will be perfect. But for someone looking for an average length, these may seem too tall for you.
Fair and square, I recommend these best ladies' golf clubs for intermediates. They're great for practicing and competing with. And since you're between two skill sets, even if you outgrow them. They're not so expensive to keep as a back-up in your cart.
#4 Cobra Golf Women's F-Max Superlite Complete Set – Best graphite and steel golf clubs
The Cobra F-Max Superlite Complete Set is another one of women golfers' favorites. It has plenty of features and benefits for performance. In fact, this is one of those complete golf club sets that are not gender-specific.
Even though there's supposed to be a design difference between men's and women's golf clubs. Cobra Golf has kept those standards in mind. But also it has infused the best features and functions of men's golf clubs for women.
So the result is a powerful, weighted, and stylish set of clubs. This Superlite set has everything. A driver, fairways, hybrid, irons, putter, and a sturdy cart bag.
It suits a beginner, intermediate, and proficient player. The versatile golf clubs allow you to switch tempos easily. Even if your swing speed is slightly slower, it can still help you reach your maximum potential.
The shafts are graphite, not stainless steel. This is an important quality in men's golf clubs. They aren't made of stainless steel, they're of strong graphite. The fact that its graphite means that this complete set is for more serious play.
There are some stainless steel shafts for extra help if needed. So the lightweight and sturdy construction quality leave nothing amiss.
Overall, these are excellent golf clubs for the money. Just as good as a few of the more expensive choices with graphite shafts for women. The performance of these clubs is forgiving, accurate, and consistent. You'll see an instant difference in your swing.
#5 TaylorMade Golf Kalea Complete Golf Set – Best golf club kits for advanced players
This is a more expensive choice for professional golf players. The TaylorMade Kalea is popular for a good reason. It is made up of high-quality and premium materials. It's durable and helps you take better shots.
Those who need something effective to play with, these are the best. The clubs are optimized for better performance. Especially for gaining distance and forgiveness. You can manage a better distance without losing speed and consistency.
This makes the TaylorMade Kalea a sophisticated choice. In terms of skill level, this is a great choice for beginners and intermediates. It improves swing speed, distance, and consistency.
But what these golf clubs also focus on is launch. Something that many beginner ladies golf club reviews do not talk about. How the golf club allows the ball to launch in the air is very crucial.
With a higher launch and steady speed, you can aim for better performance. And with a flatter launch and accelerated speed, there's no saving your shot. This speed pocket and easy-to-launch capabilities are essential.
You can only make the most of this combination with a golf club. A premium golf club that has incredible give can help you achieve it.
On a side note, this complete golf set also has a premium spider putter. It mimics what most professionals do on the greens. That is to achieve better forward rolls and gain more consistency in your shots.
#6 TaylorMade M4 Driver – Best professional golf club
Backed by superior technology, the TaylorMade M4 Driver is a premium choice. It guarantees high driving performance. Combined with incredible forgiveness and consistency.
What's so remarkable about this best ladies' golf club is the accuracy. The Twist-Face technology and Hammerhead Slot. Both these excellent design features come together to power through.
So what you're left with is shot accuracy combined with better give right across the face. The very first shot with this golf club will give you what you need to know. The bold sound that it makes is forceful and impactful. And you'll feel it each time.
For the price, it's a suitable choice for most women golfers. It's the best golf club for the value. The large driving head might feel a bit new compared to the previous picks. But you can practice without it interfering with your game.
In fact, this is a good choice for men as much as it is for women. It leaves no stone unturned. So it's quite spectacular and reliable in that sense. The look and feel of the driver are amazing.
It really improves the effectiveness of using a golf club. With the Twist-Face technology, it offers more control in launch and trajectory. This tackles swing and distance problems that most golfers experience once in a while.
#7 Precise M5 Ladies Complete Right-Handed Golf Clubs – Best convenient golf club kit
Another great addition for beginners. It has a limited number of golf clubs. But each and every one of them is suited for performance. The Precise M5 contains hybrid, wood, irons, putter, and driver with headcover.
The best word to describe this beauty is "simple." It's the simple design of the golf clubs that helps you hit that sweet spot. The fairway woods, irons, and driver are all worth considering.
The irons come with a simple plate design along with graphite shafts. This is exactly what most golfers need for practice and some fun competitive play. These golf clubs are perfect for gaining distance. But not in an erratic fashion but at a steady pace.
It contains everything you need to get started. The simple design promises better distance, forgiveness, and aim. The bag it comes in is secure and durable. It is equipped with 2 stability legs and an extra shoulder strap.
So moving around with the bag full of accessories is not a problem. The stand bag, as it's called, is made of up high-quality fabrics. So it withstands extreme weather conditions without giving in. The same applies to the 2-legged stand that does all of the liftings while you focus on the game.
Precise is a well-known and reliable golf brand. It contains a solid set of golf clubs. A sturdy bag and extra accessories that don't disappoint.
#8 Callaway Women's Solaire Complete Golf Set – Best durable ladies' golf clubs
The Callaway Solaire Complete Golf Set is easy to use. They're designed to accommodate beginners. Overall, they're perfect swingers and have a nice weight to them.
Each club is balanced for women-friendly performance. These are not one of those super-versatile choices. But that doesn't mean they're bad in business. Based on customer feedback and reviews, the general idea is that these are good.
You will appreciate the way they take a shot, feel, and look. The premium design includes 11 pieces including a high-class putter. They contain graphite shafts which are a step above stainless steel ones.
You will also find a driver, hybrids, wood, irons, and a pitching and sand wedge. If you inspect each driver and club individually, they're cleverly-designed. The weight is balanced for there is enough forgiveness.
The driver, for example, has the most outstanding perimeter weight. This means that if you choose to aim off-center shots, you'll be gaining more distance. The woods have a generous and effective loft angle. It's good for beginners and intermediates alike.
More than being just a complete kit, these clubs complement each other. So you can use each one for their special loft angle and distance. Overall, these are some of the best-made and durable golf clubs for women.
It reduces all the kinds of problems you could face on the green. Such as the head of the club flying off, slow swing speed, and curved and shorter hits. Based on your skill level and training, these golf clubs would make the ideal pair.
#9 Callaway Golf Women's Rogue Hybrid – Best ladies golf club for professionals
The Callaway Rogue Hybrid is a popular demand. It features unique design features that offer outstanding golfing results. The Jailbreak Technology of the Rogue Hybrid is quite spectacular.
It helps beginners and intermediates accelerate golf speed easily. So you can launch straighter and longer hits without a fuss. Compared to its predecessor, this golf club is easier to handle.
It is better suited to mid and low handicappers. If you're looking for better control, stability, and form, this is it for you. This golf club is a versatile pick too in many ways. The performing action reduces vibration and improves ball speed.
So from the launch, it achieves a legitimately higher spin. Even the effect of the club head upon impact is smooth and consistent. When you combine all the features together, you'll notice this club has a solid feel.
The fantastic design of the Rogue Hybrid promises to help you achieve a higher launch. And as a result, you can carry forward with high spin. This not only improves the distance but also vows to present longer shots.
Such consistent performance, ease of use, and effective results. This is what this best ladies golf club has to offer to beginners, intermediates, and advanced players. Compared to other golf clubs, it's the smartest looking choice as well.
#10 Callaway Women's XR 16 Fairway Wood – Best fairway wood for ladies
The Callaway XR 16 Fairway Wood is a bitter and more forgiving choice. It can face up to more speed and give you more distance. The clubhead is solid and broad. It comes with a low center of gravity with a good angle loft.
This, among many other details, makes this one of the best ladies' golf clubs. The shaft is strong and sturdy. So it offers a longer playtime for practice and/or competition. Callaway knows what it's doing so it also knows how to do it.
And the XR Fairway Wood promises more playability with improved performance. It's a powerful golf club for beginners and intermediates alike. It's easy to hit, has better give, and lasts long.
But you know what truly makes this golf club great? It boosts player confidence. At impact, you feel the strength and noise the clubhead creates. And it's only such golf clubs that lead up to high ball flights.
It's not that difficult to get used to such a golf club. In fact, the powerful ball flights and consistency leave you wanting more. The high MOI and COR keep the clubhead from giving in.
Combined with the aerodynamic head shape it guarantees even more speed. While you're holding on the shaft, the grip is strong. This is not only exciting to feel, that power in your hands. But it's also exciting to look at.
How to Choose the Best Ladies' golf clubs for Beginners – Buying Guide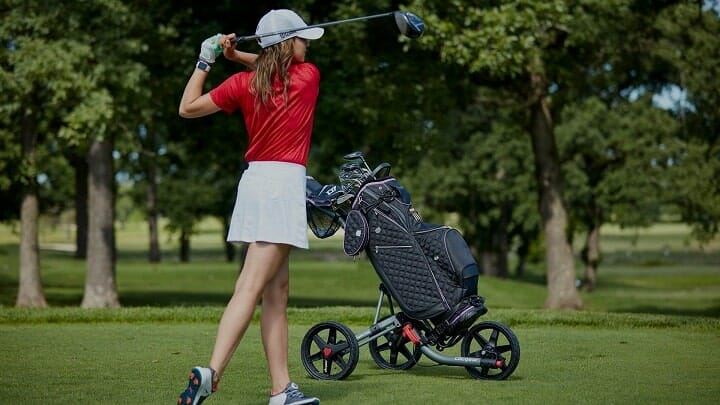 You don't see very many women-tailored articles these days. Especially for women golfers who need something specific like golf clubs and golfing tips. For women golfers, golfing is just as challenging as it is for men. So why should this be any different?
Buying a golf club for ladies is tough. But lucky for you, I have everything laid down for you. If you've read this far into the article, you want to find the best ladies' golf club. And these ladies' golf club reviews are the only thing you'll need.
The following buying guide has a lot to offer you. How to choose the best ladies golf club? And are the key differences between men's and women's golf clubs? And what does a complete golf kit for women include?
You can buy the best ladies' golf club based on the following factors…
Factors to Consider When Choosing Women Starter Golf Clubs
1. Your Skill Level
You can buy the best of the best golf clubs for yourself. But it would be a total waste if it didn't match your skill level. Many golf clubs are designed to suit beginner, intermediate, or advanced levels.
And very rarely do all of them cater to all three skill levels. Most likely, you can use the same golf club if you're a beginner or intermediate. But advanced players might not appreciate the design and functionality of that same golf club.
Before buying a golf club, analyze your skills as a golfer. Your swing speed and distance plays a huge factor here.
2. Shaft
The shaft of a golf club is an important design feature. Whether or not you're a slow swinger, a flexible or stiff shaft will help improve your game. You can make your shots straight and long with a good shaft.
A flexible shaft caters to women with slow swing speeds. This will help them maximize their distance and launch higher. A stiff shaft is ideal for women who have faster swing speeds.
Besides the composition of the shaft, the size also matters. This includes the weight and length of the shaft. If you've read all of my ladies' golf club reviews. You will know that the length of the shaft directly influences the size of the player. And vice versa.
If you are shorter than 5.5feet, you need a shorter shaft. If you want to improve your golf swing, you need the perfect length of the shaft for better control and stability.
A lightweight shaft is good for beginners. It's also good for gaining distance and launching higher ball speeds. A stiff shaft for faster swing speeds is ideal for experienced players.
3. Grip
This is where men's and women's golf clubs vary. Women have a relatively petite grip than men. So the grip of the golf club must match this very distinction.
A small club diameter is ideal for the best ladies' golf clubs. If this is not done correctly, you could lose all balance while taking your shot. This will make it more difficult to improve your game. So a firm and comfortable grip is ideal.
4. Difference between Driver, Fairway Wood, and Iron
A standard driver for women is between 12 degrees or higher. This is the main loft angle, which determines how women launch the ball off the tee.
For men, the loft angle is a minimum of 9 to 11 degrees. If you aim for a higher loft angle, you can easily hit the ball. It's lightweight, speedy, and consistent. Beginners don't want to exert too much stamina while hitting. So a higher loft, for entry-level performance, helps with that.
As you advance in your practice, you can aim for a lower loft angle or 11 or 11 degrees.
Fairway woods have a higher loft angle. They are more versatile for women. Because you can choose a fairway wood with a range of 13, 12, 11 loft angles.
Irons have more flexibility than fairway woods. But they are relatively heavier than woods in terms of the head. Women who require a short and sturdy golf club often choose an iron. It caters to slower swing speeds and improves distance.
5. Wedge and Putter
A wedge and putter is in every golf club kit. If it isn't, do not buy it. This is the must-have accessory for all golfers, men and women. Especially beginners who want to improve their golf score around the green.
The average wedge count in a kit is one. But you can also opt for a pitching and sand wedge. A pitching wedge of 48 degrees loft angle is perfect for beginners. It helps them navigate through the dense greens.
A sand wedge has a higher loft angle of around 54 to 58 degrees. They're more accurate and give you incredible control.
Putters, be it blade or mallet, affects swing speed. You can aim for short and low speeds for better launch and speed. This is perfect for when you want to focus on a shorter distance.
Conclusion
Well, what do you know? You can make the most of your skillset with the Callaway Strata. It's the best golf club for women. It's top-rated, popular, and most sought-after.
Golf clubs have taken on a new style for bettering golf performance. They help you improve your golf score, launch higher, and prevent mishits.
However, mishits are inevitable. But at least with the golf club, your shot has better give and control on a mishit!
RELATED POSTS:
The following two tabs change content below.
My name is Matt Stevens, a seasoned golf writer and sports fanatic. I hold a Postgraduate in Sports Marketing. Having experienced every high and low golf has to offer, my writing helps the average golfer avoid the mistakes I has made in 28-years on the course.
Latest posts by Matt Stevens (see all)