Both casual and professional golfers will likely have 54 and 56-degree wedges in their golf bags. A 54o will give you a 75-80 yards shot, whereas a 56o can deliver 70-75 yards. So, if you are stuck in a sand trap or other muddy area 55-60 yards away from green, the 54o wedge is best helpful.
But when you're stuck 45-50 yards out in a sand trap or similar situation, you may go with a 56o wedge instead. Therefore, it all depends on what condition you have at hand and where you are standing on the course.
The article below will take a detailed look at the best 54 or 56-degree wedge.
Should You Use A 54 Or 56 Degree Wedge?
Most golfers only need to carry around 3 types of wedges with them. Out of which 56o can be the best option? A 54o can be a reliable option for golfers if they wish to carry an even number of wedges. A 56o is a better choice and more consistent when hitting from green. It's even better when you want to hit the ball out of the sandy area.
A 54o is a sand wedge used for green areas or getting the ball out of bunkers. It can be an ideal choice for players with a 58o lob wedge and a wedge close to 50o. Most golfers already have a pitching wedge or something between 56o and 58o. Therefore, it leaves a huge club gap that needs to be filled ASAP. You may also figure out which one to carry around as you gain experience on the course with time.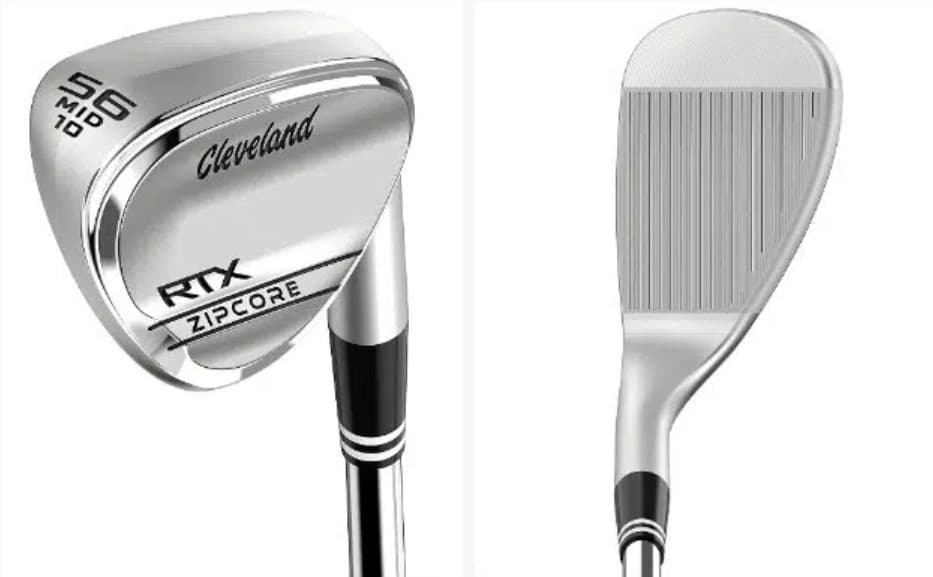 The 56 Degree Wedge
Pros
A 56o can help hit 55-60 yards from a sand trap.
It helps get the ball out of a muddy, thick sand trap.
Suitable for golfers like pitch, chip, and bunker shots.
A 56o can deliver a bumpy and run-type shot around the green area.
Cons
A 56-wedge might not be the best option when hitting a sky-distance shot.
They only deliver around 55-60 yards and are not supportive of flat shots.
Their primary use is to get the ball out of muddy and excessively sandy areas where it gets stuck and needs a little hard-hitting.
You can read this article know more about 56 degree wedge.
The 54 Degree Wedge
Pros
It is short of only 2 degrees from a 56 Wedge.
The hit by a 54-degree wedge will be more piercing and lower land with comparatively less backspin.
Having a strong 54 wedge can be valuable because it's more versatile.
It can help deliver a bunker shot by hitting the pitch and comfortable chipping around the green area.
Cons
They may be expensive to buy with reduced forgiveness levels.
What Is A 54 Degree Wedge Used For?
Like the 56-degree wedge, the 54-degree wedge serves the same purpose at the course. You can use it to hit sand pits and traps better when the ball is stuck and requires hard hitting. It does the same job but in a better way.
When Should I Use A 54 Degree Wedge?
You can use the 54-degree best when paying 70-90 yards short approach shots to hit the flag. First, it helps you to escape greenside bunkers and hit a shot out of their sand and muddy traps. Second, they support chip shots when you aim to shoot around the greenside area. Third, it can make the ball go further than it flies after landing on the ground.
Similarly, a 56-edge offers an adequate hit for amateurs by offering sufficient loft when shooting a flop shot. This can help them to clear bunkers, trees, and water by stopping the ball suddenly. Lastly, it is an ideal option for Bumps and Runs as well. Their weaker loft wedge produces great spin leading to a minimum roll.
How Far Should You Hit A 54 Degree Wedge?
With a 54-degree wedge, a golfer will most likely hit around a 96 yards distance. However, this range is not fixed and can vary from one player to another. It also further depends upon their skills and experience level.
This range is normally to be between 75-110 yards. However, this is higher for average golfers who hit full swing with wedges. Those who hit with a half or three-quarters swing can attain around 75 yards, estimated.
What Bounce Should A 54 Or 56-Degree Wedge Have?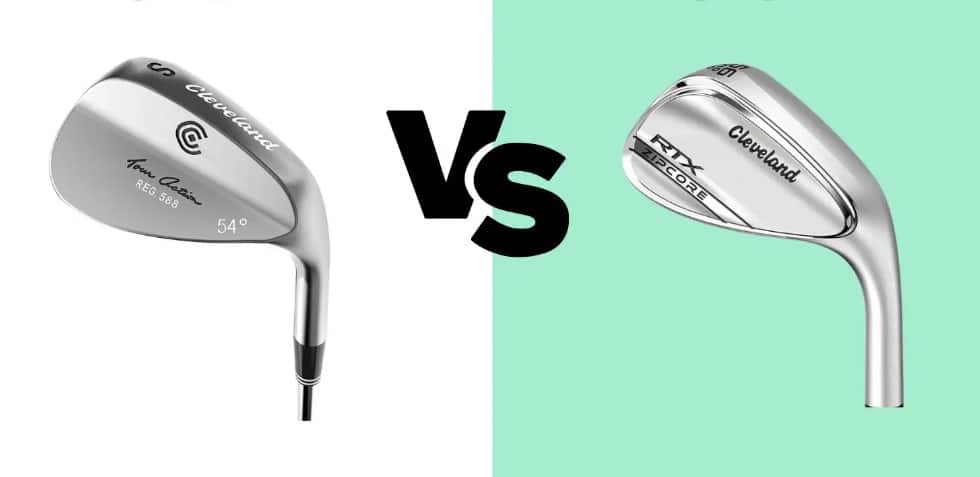 The best bounce that a 56-degree wedge can deliver is 12 degrees. This is the most versatile level of bounce. It perfectly suits the 8 degrees lower end and the 14 degrees highest.
You may enjoy playing sand wedge with 12 degrees of bounce and still enjoy your golf game. For most golfers, a 10-degree bounce can also work with a 56-degree to get the ball out of the bunker, as it needs a lot of digging.
As for a 54 Wedge, sand wedge offers different bounces. For instance, if you hit behind the ball or play on wet courses, you will need a wedge that provides a higher bounce.
Otherwise, a 7-10 degree bounce wedge can also work fine. The best bounce rate for a 54-degree wedge is 8 degrees. Even though some club manufacturers offer a bounce between 11-12 degrees, some players manage it with a bounce of 14 or 17 degrees.
What Is The Best 54 Or 56-Degree Wedge To Use?
There are many options out there in the market to use for 54 and 56-degree wedges. You can use the Cleveland CBX2 Satin 54 wedge if you want something not to exceed your budget plan. It helps to attain a more natural spin with increased forgiveness and clubface promotion during impact.
For a 56 wedge, you can start with the same Cleveland's RXT Zip Core 56 Wedge. Using it will never go wrong as it offers high versatility and consistency. You'll get much spin at partial shots, superb hitting ball out of the sand, great at tight lies, and lots of forgiveness with the durable face.
Therefore you can try out both to see which one suits the best during gameplay.
FAQ's
1. Should I Carry A 56 Degree Wedge?
Yes, you should carry a 56-degree wedge around with you all time. Although you may get the ball out of bunkers and sand traps with pitching wedge help, it will be more difficult. It offers a lesser amount of loft and bounce.
2. Which Is Better, 54 Or 56 Degree Wedge?
Both wedges have a similar purpose, and average golfers carry both around. However, a 56-degree wedge can do the same job in a better and clean way with ease.
3. How Many Degrees Is A Sand Wedge?
Sand wedges are a versatile option in wedges that can offer 54-56 degrees. At the same time, the lob wedges have 58+ degrees. Therefore, only good golfers should use them at play.
4. How Many Degrees Is A Pitching Wedge?
An ideal progression for a pitching wedge is 45 degrees. It follows a 50-degree gap wedge with a complement of 54-degree sand and 58 degrees lob wedges.
5. Can You Hit A Flop Shot With A 56?
You can always play a flop shot with the most lofted club in your bag. It can be a 56, 58, or 60-degree wedge for most golfers. But, surprisingly, the most experienced golfers cannot hit the desired shot with a pitching wedge. Therefore, do not try that for a flop shot.
6. What Is A 60 Degree Wedge?
A 60-degree wedge is a lob wedge that aims to launch the ball high in the air with a soft landing on the green. For instance, it can hit a shot over the sand and waters to stop it immediately over the green.
Conclusion
Both 54 and 56-degree wedges aim to deliver closely the same results. However, choosing between them depends upon the gaps in your sand and lob wedges, regardless of whichever gap you choose to use.
It should be capable enough to meet your requirements of consistently hitting the desired distanced shots to change the ball position or swing speed and give more birdies.
Read more: