Should beginners and high-handicappers spend more on their golf clubs, especially hybrids?
Many beginners do not sit well with long irons and fairway woods, so they resort to clubs that are easier to hit. Hybrids give them chances to improve their performances.
We tested the following hybrid golf clubs (like the ones reviewed below) to ensure we recommend the best. But you can always try any brand and see the one that suits your skill.
After the tests and tryouts: we conclude that the best hybrid golf club for beginners and high-handicappers is Callaway Golf 2020 Mavrik Max Hybrid. 
However, you better read the entire article, so you may know how we arrived at this conclusion. Read on, golf lovers!
Our Top 8 Picks: Best Hybrid Golf Clubs for Beginners and High Handicappers
Best overall: Callaway Golf 2020 Mavrik Max Hybrid    
Best budget: Pinemeadow Excel EGI Hybrids    
Best for high handicappers: TaylorMade SiM 2 Max Rescue Men   
Best for beginners: LAZRUS GOLF Premium Hybrid Golf Clubs for Men   
Best long hybrid: TaylorMade SIM MAX Hybrid   
Best hybrids for high-handicappers: Cleveland Golf Launcher Turbo HB Iron Set  
Best game improvement hybrid: Callaway Big Bertha B21 Hybrid    
Best all-around Hybrid: Callaway Golf 2022 Rogue ST Max Hybrid    
8 Best Hybrid Golf Clubs for Beginners & High-Handicappers – Reviews 2023
1. Pinemeadow Excel EGI Hybrids (Men, Right Hand, Graphite, Regular Flex)    
Most beginners discover fairway woods hard to swing because they are longer. High-handicap and beginner players now have a choice: the Pinemeadow Excel EGI Hybrids golf club. The club comes in eight lofts (19-, 22-, 25-, 28-, 32-, 36-, -40, and 45-degree) for individual purchase.
The EGI Excel Hybrid golf clubs are one of the most affordable sticks for beginners nowadays. The quality and designs are compatible with beginners and high-handicappers. The clubs are a great replacement for our irons, as we have proven on our test.
Key Features:
The golf clubs are more forgiving.
Shorter shafts than traditional iron counterparts.
Stainless steel club heads.
Who should use this product?
Beginners and high-handicappers just starting on the game and do not have much to spend should try the Excel EGI Hybrids. The clubs are more affordable than other brand-new hybrids; they are one of the best replacements for short irons. 
2. LAZRUS GOLF Premium Hybrid Golf Clubs for Men    
 The LAZRUS GOLF Premium Hybrid Golf Clubs are the best golf clubs for beginners (price and suitability-wise). Players starting to learn the game from scratch will benefit from the low prices of the clubs. The purchase comes individually for this package. 
Choose among the 2-, 3-, 4-, 5-, 6-, 7-, 8-, and 9-hybrid, and PW in right or left-hand configurations. The regular flex suits beginners and high-handicappers: who want to begin the game with accuracy without much spin.
Key Features:
The hybrid clubs have graphite shafts.
Best for players with 84-96mph swing speed.
The regular flex shaft is ideal for high-handicappers.
Who should use this product?
Beginners, who do not know golf but are willing to learn quickly, should use the LAZRUS hybrid golf clubs. Also, high-handicap players struggling with steel shaft clubs should be using the LAZRUS hybrids. These clubs are cheap alternatives for budget-conscious beginners.
3. TaylorMade SIM 2 Max Rescue Men    
TaylorMade has done it again! The SIM 2 Max Rescue may be too pricey for high-handicap and newcomers in golf, but the SIM 2 Rescue Max technology is worth exploring. The Rescue Max is not only better for beginner or high-handicap golfers, but the club also suits every skill.
Buying this club while you start playing will surely accompany you even until you become a better player. The price may not be pocket-friendly initially, but in the long run: you will not regret starting with this club.
Key Features:
Graphite shaft and titanium head.
It has a V Steel design enhancing more forgiveness.
The C300 Steel Twist Face builds up ball speed.
Who should use this product?
Beginners and high-handicappers (men) willing to spend more to perform well in the course should use the SIM2 Max Hybrid. If the price is not an issue with them, novices and high-handicappers will experience more reliable equipment using the Rescue. The SIM2 Max Rescue seems to be the best hybrid for beginners and high-handicappers.
4. TaylorMade SIM MAX Hybrid    
The SIM family series by TaylorMade impacts golfers, especially players with little knowledge about golf. The SIM MAX is one of those hybrids that improved turf interplay with superior performances from tough lies.
The SIM MAX is one of the longest hybrids, making it a more suitable choice to replace long and mid-irons. The head has a low center of gravity (CG) for easy ball launching.
Key Features:
The V Sole Design of SIM MAX improves turf interaction.
It has a Twist Face design minimizing miss-hits.
The C300 Ultra-Strong Steel Face gives speed to the ball.
Who should use this product?
The SIM Max hybrid is better for less experienced and beginner golfers. The modern technology of SIM MAX lets inexperienced players adapt effortlessly to its features.
5. Callaway Golf 2020 Mavrik Max Hybrid    
The Callaway Mavrik Max Hybrid has the same price as TaylorMade SIM MAX: But the former fetches less than the SIM 2 Max Rescue. The Mavrik Max Hybrid has four flexes: ladies, stiff, regular, and light.
The club features the proprietary Flash Face SS20 design combined with the Jailbreak technology for added high ball speed. The technological advancements of the hybrid club suit high-handicapper and beginners with the enthusiasm of pursuing the game long term. 
Key Features:
The club has a large body with a high MOI.
It boosts ball speed.
The Mavrik is lightweight with a graphite shaft.
Who should use this product?
Neophyte and high-handicap golfers (men & women) tending to excel in the game should consider using the Callaway Mavrik. The initial investment might be too heavy for beginners and less experienced golfers, but the results are more convincing.
6. Cleveland Golf Launcher Turbo HB Iron Set    
Cleveland golf clubs may not be as high-tech as Callaway or TaylorMade, but their features suit mid- and high-handicappers. The Cleveland Golf Launcher Turbo HB Iron Set is one of them. The hybrid-like irons Launcher Turbo HB kicks the ball straight with enhanced ball fight.
Our test reveals that this hybrid has a deep sound with a solid feel at impact. It is similar to cavity-back irons but more solid. It also enhances the ball speed more effectively than other irons.
Key Features:
The hollow head assembly provides the ultimate forgiveness.
The Hi Bore Crown improves highball flight.
The Turbocharged Face enhances distance.
Who should use this product?
Mid- and high-handicappers who want progressive iron sets will appreciate the Cleveland Launcher Turbo HB Iron Set. Golfers struggling to hit their long irons should use the Turbo HB.
7. Callaway Big Bertha B21 Hybrid    
The Big Bertha B21 Hybrid by Callaway is way too costly for a single club for beginners. But it could amplify your performances, unlike some cheap hybrids. 
Key Features:
Features the Flash Face SS21 providing fast ball speeds.
"B21 is built for distance, no matter what!
Offset is added to the B21 reducing miss-hits and slices.
Who should use this product?
The Callaway Big Bertha B21 might be one of the most expensive clubs, but mid and high-handicappers may consider it. The massive forgiving nature of B21 is excellent for novices and beginners. It is a super game improvement club perfect for players with low skill levels.
8. Callaway Golf 2022 Rogue ST Max Hybrid 
The Callaway 2022 Rogue ST Max Hybrid focuses its design on the club head to ensure versatility and workability. Its face is an improvement from previous Max Hybrids providing stiff but with more flexibility to enhance ball speed.
The Jailbreak system of Rogue ST is AI-based advancing speed and stability. Callaway added 24g of tungsten to its head to precisely locate the center of gravity (CG) for a better launch. You can utilize ST Max in various lies and hazards.
Key Features:
It has an AI-inspired Jailbreak design for stability & speed.
The 455 Face Cup features a new AI-design face for strength.
The CG is in a precise location for optimum launch.
Who should use this product?
The ST Max Hybrid fits golfers of any skill: Even if you are a beginner or a high handicapper: you can easily cope with the technological features of the club. However, it is more recommendable for high-handicappers.
Best Hybrid Golf Clubs for Beginners and High Handicappers – Buying Guide
Here are the factors you should consider when buying a hybrid golf club.
1. Forgiveness.
Beginners and high-handicappers should look for a hybrid offering a large sweet spot with a low CG. It will provide lots of forgiveness you need when hitting the ball off-center. Miss-hits are usual for high-handicap and beginner players: they need a more forgiving hybrid.
2. Loft Angle
The loft angle of each club plays a vital role in hitting further distance. It is also the same in hybrids. It follows that hybrids have the same loft angles as their iron counterparts. After all, hybrids are the best alternatives for long irons.
To keep you abreast of what hybrid loft angle to choose: look at the loft angle range of hybrids and their iron and wood counterparts according to the Thomas Golf AT-705 hybrid chart. You can check the complete lineup here.
An 18-degree 2-hybrid iron replaces 2-iron or a 5-wood.
A 21-degree 3-hybrid iron replaces a 3-iron or a 7-wood.
A 24-degree 4-hybrid iron replaces a 4-iron or a 9-wood.
A 27-degree 5-hybrid iron replaces a 5-iron or 11-wood.
A 30-degree 6-hybrid replaces a 6-iron or 13-wood.
A 34-degree 7-hybrid iron replaces a 7-iron or 15-wood.
3. Shaft and Length
Many high-handicappers and beginners prefer regular shaft flex. It is because their swing speed still needs proper control. You can choose a hybrid club with a graphite shaft to help you increase your club head speed. 
The shaft length, on the other hand, should correspond to your height. For example, if you are between 5-feet 6-inches and 6-feet 1-inch, pick a shaft with a standard length.
4. Club head
Hybrids have clubfaces similar to irons: but come with larger heads that offer a large sweet spot. The sizeable sweet spot provides more forgiveness than their iron counterparts. The various sizes and shapes of hybrids affect the club head speed, ball velocity, and launch angle.
5. Adjustability
Modern hybrid clubs have a similar feature of adjustability as most drivers. This feature allows you to adjust the loft and the lie angle of the hybrid. Adjusting the loft gives you launch angles and spin rates. Adjustable hybrid clubs are better for beginners and high-handicappers.
One of the best examples of an adjustable hybrid club on our list is the Callaway Rogue ST Max Hybrid. The club has an adjustable hosel enabling you to alter the loft setup according to your needs.
6. Cost
Like any other golf club, hybrids come in different price ranges. Many beginners prefer to choose inexpensive hybrid clubs as startup equipment. They upgrade to a more cost-effective club as they learn the game.
High-handicappers may try to upgrade their hybrids according to their budget and skill. But everything boils down to where your financial capacity may take you and the kind of hybrid that fits your skill.
7. Offset and Shaft
The offset feature in hybrid clubs pertains to the slightly angled shaft positioning the leading edge of the club face. It puts your hands in front of the club head for easy gripping. The hand positioning for offset clubs is ideal for beginner and amateur golfers.
8. Performance
Do you perform well using a hybrid club? Our test with high-handicap players makes them more efficient at hitting the ball when using hybrid clubs. So, if you are a beginner or a high-handicap player, you can do tests using several hybrids from friends or golf mates.
But if you have no time for testing, our list narrows down your option for some of the best-performing hybrid clubs.
How Do We Test The Hybrids?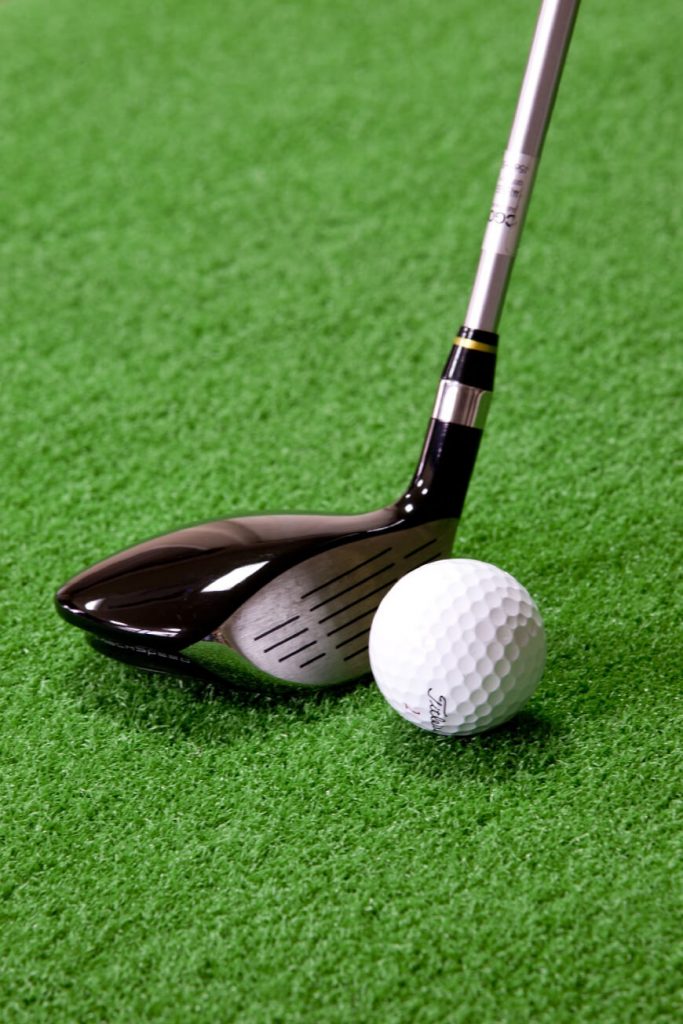 We did the testing of the hybrid clubs in two stages using a 3-hybrid (21-degree loft) at first. Our testers do 12 shots in series. The aim is directly hitting the ball as far and as straight. 
The next series of shots used 4-hybrid (24-degree loft) golf clubs. The beginning strikes become more intimate with the hybrid club and the testers. It allows us to ascertain the appropriate range for the target.
The shots are repeated for the second time using both hybrids, with a minimum of 12 strikes for each club. A golf simulator is utilized to monitor their shots. The monitor determines miss-hits, fat hits, and shanks. 
We establish the ten top shots in determining each score of the testers for a designated hybrid club. The best shot for the 3-hybrid is arrived at by deducting accuracy (offline distance) from the composite ranges. For the 4-hybrid, the best strike determines the closeness of the ball to the target.
1. Hybrids and fairway wood setup in your bag
Hybrid clubs complement fairway woods and do not replace them: But the hybrid clubs can replace your long irons if you are struggling with these clubs. The hybrids help you fill the gap between the hard-to-hit irons and fairway woods. Here is our suggested hybrid and fairway wood set up in the bag for high handicappers.
One piece 5-wood
One-piece 20-degree hybrid (or a 3-hybrid)
One piece 23-degree-hybrid (or a 4-hybrid)
One piece of 26-degree wood (or 5-hybrid)
2. Why are hybrids so much easier to hit?
Hybrids have shorter and smaller shafts compared to fairway woods. They are also lighter than most irons and woods. Hybrid club heads are also smaller than wood but bigger than irons. These make hybrids easier to hit. Moreover, hybrids above 21-degree lofts are easier to hit.
Distinguishing features of a hybrid club
Many hybrids have lower CG than irons on the back of the head for easy launching than irons.
The sole of hybrids is wide than irons but slightly wider than woods.
Most irons have a steel shaft, while almost all hybrids are graphite.
Many hybrids have titanium or steel club faces compared to stainless steel in most irons.
Are Long Irons Hard to Hit?
Many beginner and high-handicap golfers are struggling to hit their long irons. The long shafts and the high lofts make long irons harder for inexperienced and less skilled golfers to hit.
What are The Differences Between A Hybrid and A Driving Iron?
Hybrids have more spin and high launch compared to driving irons. If you attack the green with a driving iron, it is more challenging to do than a hybrid. Hybrid clubs also have an offset feature favorable for many high-handicappers and beginners.
What Are the Differences Between Hybrid and Fairway Wood?
Hybrid clubs have small heads than woods. Fairway woods also have lesser lofts than hybrids. Most low-handicap golfers hit fairway woods with further distance than hybrids. Hybrids are easy to hit than woods.
How Far Should a Beginner Hit A Hybrid?
The table below shows the average distance hybrid clubs can go for men and women (beginners).
Types of Hybrid
Men (Beginner)
Average distance
Women (Beginner)
Average distance
2-Hybrid
138 yards
115 yards
3-Hybrid
129 yards
105 yards
4-Hybrid
127 yards
97 yards
5-Hybrid
124 yards
88 yards
FAQ's
1. Do I need to get a hybrid? 
Yes, you need a hybrid if you are a beginner or a high handicapper. The hybrid revolution outperforms wood in distance and typical irons in accuracy. The present-day hybrid golf clubs are easy to hit than long irons.
2. When should I use my hybrid?
You can use a hybrid when you are eventually picking 1 to 4- irons. Utilizing irons more often could be a hard decision for beginners. The hybrids are also best to use for approach shots.
3. Are hybrids better for beginners?
Yes, they are. Hybrids are shorter; beginners will feel at ease using them. Also, the more forgiving nature of hybrids makes them more attractive to beginners and less experienced players.
4. Are hybrids good for high handicappers?
Yes, hybrids are suitable for high-handicappers. Hybrids improve the swing of players with a high handicap. These golf clubs also give high-handicapped golfers higher ball trajectories for added distance.
5. What is the easiest hybrid to hit?
The Callaway Big Bertha B21 is one of the easiest hybrids to hit. The B21 is also one of the best game improvement hybrids.
6. What is the best 5-hybrid or 3-hybrid for high handicappers?
Some of the best 3- hybrids for high-handicappers are the 19-degree Callaway Mavrik Max Hybrid and the Cleveland Launcher Turbo. For 5-hybrids, one of the leading brands in the 25-degree TaylorMade SIM 2 Max Rescue.
7. Do Beginners Really Produce Results Using Hybrid Clubs?
Yes, they do. The hybrid clubs are easier for beginners to hit, enabling them to perform well inside the golf course. 
8. How many hybrids should I carry?
Beginners should carry at least two to three hybrid golf clubs in the bag. These hybrids may replace your 5-wood and the 3- and 4-irons.
9. Which Hybrid Clubs Should I Carry?
High-handicap golfers should carry a 3-hybrid. For beginners, any hybrid above 21-degree is ideal for them to carry on their bag. 
10. What iron corresponds to what hybrid?
Usually, a 3-iron corresponds to a 19-degree 3-hybrid. The 4-iron may equate to a 24-degree 4-hybrid. The 5-iron, on the other hand, is replaced by a 25-degree 5-hybrid.
11. Are Hybrids Easier To Hit Than Irons?
Yes, hybrids are easier to hit than their corresponding long irons, as we have proven during our testing. 
Conclusion
One of the best budget hybrid golf clubs is the Pinemeadow Excel EGI Hybrid. We recommend this hybrid club for beginners who want to start the game without spending a hefty sum. Additionally, you can choose the appropriate loft that suits your needs. The Excel EGI Hybrids come in various lofts.
Overall, the best hybrid golf club for beginners and high-handicappers we recommend is the Callaway Golf 2020 Mavrik Max Hybrid. The club comes in ladies, regular, stiff, and light flex. You have the best options to fill in your needs corresponding to your skills.
Moreover, the Mavrik Max Hybrid by Callaway, although not budget-friendly, it is a sure thing to enhance your performance on the course. The hybrid club like other Callaway modern sticks carries the high-tech innovations of the premium brand many golfers want to explore.