If you're searching for ways to enjoy and enhance your golf experience, the Heavenwood is worth a shot. But, what is a Heavenwood?
Low-handicappers and amateurs who have issues hitting lower lofted and lesser-numbered irons go for the Heavenwood golf hybrid.
As a golf hybrid, the Heavenwood is manufactured similarly to a fairway wood; however, it plays like an iron. It was designed in 2004 by a famous brand Callaway.
The Heavenwood Callaway can guarantee more forgiveness and makes it more straightforward to hit the ball successfully.
Find out why this hybrid is a perfect alternative for golfers with different skill levels in the post below.
"Heavenwood" In Playing Golf
The term "Heavenwood" is an alternative term referring to a 7-wood. In particular, it pertains to a 7-wood model manufactured in 2004 by the Callaway Golf brand.
The Heavenwood does the trick in making it easier for golfers to hit successfully. It can also ensure more forgiveness than a fairway wood or a long iron. 
Indeed, it's a worthwhile investment for golfers with distinct skill levels. Golfers wanting to ensure more distance and straighter ball flight will find this hybrid a must-have.
This club can help you slice, pull, and hook effortlessly and doesn't create a firm contact.
Why Is It Called A Heavenwood?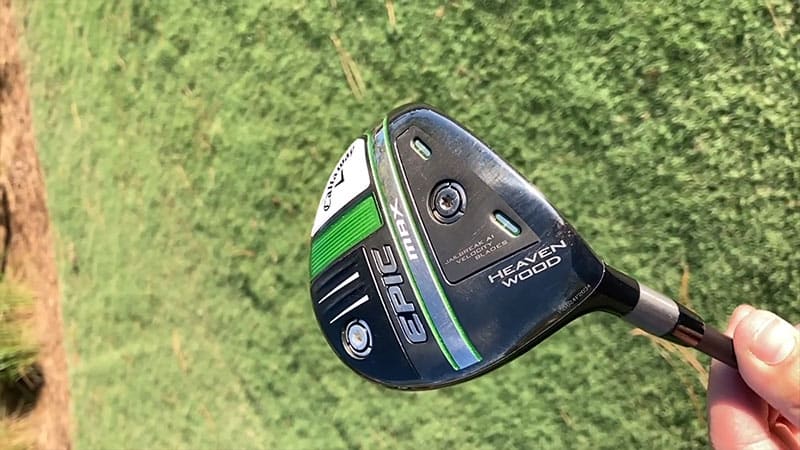 Callaway has labeled this specific golf hybrid "Heavenwoods" because it offers more comfort when hitting the ball.
Furthermore, since it feels like wood and hits similar to an iron, golfers can't help but say, "Thank heavens!"
Besides, the Heavenwood is adept at providing a superior amount of distance and loft.
Are Heavenwoods Being Produced Nowadays?
Unfortunately, Heavenwoods are no longer the initial clubs that Callaway released in 2004.
Callaway sticks to the label "Heavenwood" for numerous current hybrid releases. The initial Heavenwoods were hybrids; however, the brand also recently used these clubs for fairway woods.
For instance, Callaway produced the Great Big Bertha. This model features a club head that suits a seven-wood. Aside from that, it features a shaft analogous to a four-wood.
What Loft Is A Callaway Epic Heavenwood?
The club's design and loft make the Heavenwood painless to hit. Similarly, the club's loft generally ranges between 17 and 24 loft degrees.
The smaller profile head design is intended to match any clubs you carry in your golf bag.
7-Wood Versus Heavenwood
What makes Heavenwood distinct from the 7-Wood is that most manufacturers manufactured the latter besides Callaway.
The 7-Wood also features an average length for the club's loft. Meanwhile, the Heavenwood Callaway's shaft is a 4-Wood shaft, making it easier for golfers to hit the ball longer.
Can You Still Purchase A Heavenwood?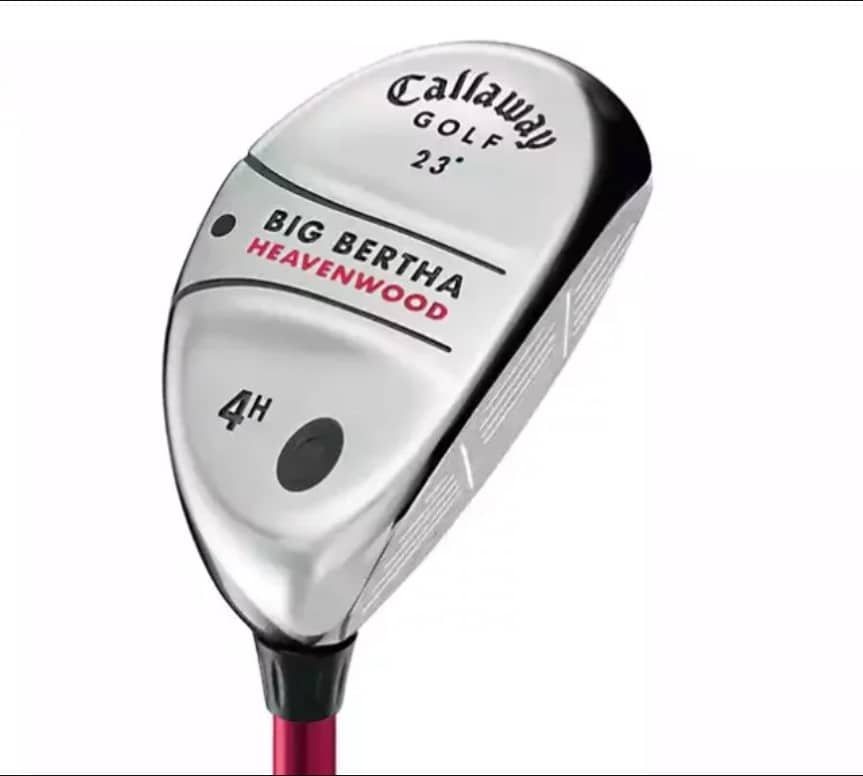 Fortunately, golfers of different skill levels can still purchase Heavenwood golf hybrids.
You can look for countless pre-owned options online, which are sold by many retailers. Please note that the current "Heavenwood" available today is not a hybrid but a good fairway wood.
What Loft Is A Heavenwood?
The loft range of the original Heavenwoods was between 17 and 23 degrees.
This range is typical for utility clubs or hybrids since it accommodates the long irons in your golf bag.
Specifically, the loft ranges are as follows:
23-degree Heavenwood – 5 irons
20-degree Heavenwood – 4 irons
17-degree Heavenwood – 2 or 3 irons
It's good to note that particular irons a Heavenwood will replace primarily rely on the lofts of your set.
On top of that, you must check your gapping before getting a Heavenwood or other hybrids for your set. Some current irons feature stronger lofts than previous versions.
What Kind of Golfer Should Use A Heavenwood?
Whether an amateur or a pro golfer, you'll find playing a hybrid on the golf course advantageous.
Golf hybrids ensure more precision and control from several different lies. You can also use them as efficient and reliable tee clubs.
While the 7-Wood Callaway provides several features similar to a hybrid, you must examine a few differences.
Some players choose the larger head of a fairway wood since it can offer more confidence over the ball.
The modern Heavenwood's larger head and the longer shaft are more suitable if you have a swallow swing. It helps you sweep the ball rather than hit it down.
Is A Heavenwood Straightforward To Hit?
Yes. Many amateur and pro golfers claim that the Heavenwood is one of the most straightforward clubs to hit.
Its forgiving head size and superior loft give golfers a better margin for a mishap, enabling you to swing confidently.
Heavenwood versus Hybrid
The difference between a hybrid and Heavenwood of the same loft is their shaft length.
Compared to the equivalent hybrid, the Heavenwood features a longer shaft. The nearest match to the Heavenwood is the 4-Hybrid with a 40-inch shaft and 22-degree loft.
Still and all, it's a matter of choice when it comes to shaft length. Go for the one you're most comfortable with.
Heavenwood versus 3-Wood
An average 3-Wood features 13 to 17 loft degrees. Meanwhile, the Heavenwood has a superior loft of roughly 21 degrees, enabling it to launch the ball a little higher.
It also comes with a 40-inch shaft, which is analogous to a 4-Wood. The critical difference is in the distance, control, and ball flight.
Nevertheless, golfers can eliminate these factors if they get a more consistent strike with the Heavenwood.
What Is The Degree of Loft For A Callaway Heavenwood?
The Heavenwood features a head with a low center of gravity, enabling the ball to rise and improve its trajectory.
It also comes with distinct lofts for specific hybrid numbers. The 5-hybrid has 26 degrees, the 4-hybrid has 23 degrees, and the 3-hybrid has 20 degrees.
Additionally, the 2-hybrid has 17 degrees, and the 1-hybrid has 14 degrees. It's worth noting that these lofts correspond with 1-iron and 5-iron lofts.
Hence, it's up to you which one you hit best for which to pick to throw in your golf bag.
On the other hand, Heavenwood's stock shaft is a graphite RCH 75 w shaft. Callaway utilized a Big Bertha Uniflex for a steel flex.
The clubhead of the Big Bertha Heavenwood War Bird features a more extended heel-to-toe design.
This design makes it excellent at offering more forgiveness when struck and intensifying the moment of inertia.
FAQs
1. Where can you purchase Callaway Heavenwood clubs?
Since the production of the original Heavenwoods was discontinued, you're unlikely to find them in golf stores.
Nonetheless, you can try your luck by searching on eBay. The latest versions are easier to locate, though.
If you reside in the United Kingdom, you're likelier to find the original Heavenwoods at Golfbidder.
2. What golf hybrid replaces a Heavenwood?
The ideal hybrids that can replace Heavenwoods are the 4-hybrids with a 40-inch shaft and 22-loft degree. However, you can also consider the 3-hybrids great alternatives.
Remember, it always depends on your preferences. It's up to you how long and forgiving you prefer when choosing between the four and 3-hybrid.
3. Should I play with hybrids or fairway woods?
A combination of hybrids and fairway woods in your golf bag can level up your golf performance.
As you might already know, hybrids perform outstandingly from the rough than the fairway woods.
Moreover, the hybrid makes it plain sailing to shape your shots, as they are produced to work like an iron.
On the other hand, fairway woods with the same loft as hybrids are more reliable in ensuring greater distance.
In the end, it always boils down to one thing: it's vital to consider your swing strengths and weaknesses.
Ultimately, having at least one hybrid and one fairway wood in your golf bag is recommended.
4. What's a Callaway Heavenwood match?
The hybrid matches the Heavenwood because it can offer more forgiveness than the long iron.
Golf amateurs prefer Heavenwoods since they consistently need help swinging long irons right.
Final Thoughts
Beyond doubt, Callaway is one of the most famous brands every golfer looks up to.
One of their notable products is the Heavenwood, which allows golfers to hit effortlessly and enjoy more forgiveness.
You can use the Heavenwood in many distinct ways, and it scoops the ball up off the ground.
It also enables you to hit the ball more painlessly than when using low-lofted fairway woods or long irons.
While the original Heavenwood is no longer produced nowadays, you can still purchase secondhand versions on eBay or other sites.
If you're searching for a similar addition to your golf bag, go for a 4-hybrid or a large-faced 7-wood.
These models are excellent alternatives for ensuring more forgiveness and further distance.
Did you like our post about "What is Heavenwood?" If yes, please hit the like button or share it with your friends.