Some say Topgolf is addictive; others go to the famous golf driving range to seek fun and bond with friends. But does Topgolf have a dress code? Many are asking: What to wear to Topgolf? Honestly, you can wear anything you like when playing at Topgolf. The famous golf driving arena does not have a dress code, but wearing clothes safe for players is encouraged.
Also, when we mean anything, it does not mean "anything goes"! You still have to follow proper dress etiquette like in other establishments. Topgolf considers casual wear acceptable any time of the day and in any weather. The best thing is you are dressing up and not naked from top to bottom!
Topgolf considers its venues as a public place. The driving range is also an entertainment venue for golf fanatics. It even serves food, beverages, and alcoholic drinks, filling the ambiance with music and lights. The event place may look like a mini sporty gathering on a Friday night.
This article offers tips on what to wear to Topgolf, from casual family affairs to romantic night receptions.
What To Wear To Topgolf ?
As mentioned, you can wear anything inside Topgolf playing bays. Any casual wear will do. But you can base your Topgolf attire on the existing weather conditions. Topgolf venues have climate-controlled and covered hitting bays.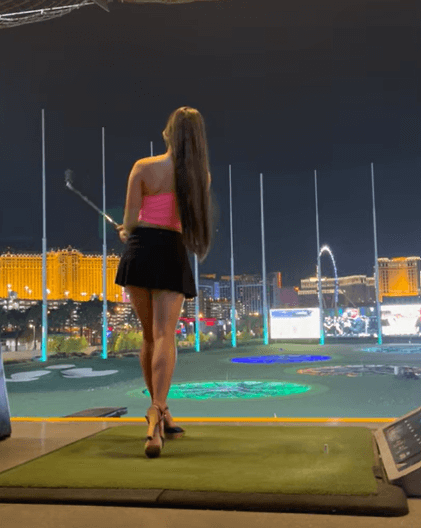 The hitting bays at Topgolf are fitted with fans during summer and heaters for the winter. It may feel like a not-so-hot summer because of the all-weather facilities at Topgolf. It is also true during winter.
So it is best to wear a not-too-revealing outfit during summer, like exposing your skin. But a crop top is nice! During winter, too-tight or too-baggy clothes may not be comfortable.
For example, casual wear like T-shirts and jeans is ideal for men and women during summer. When winter is not as cold outside Topgolf you may relax the body by wearing a jacket on top of a t-shirt.
Does Topgolf Have A Dress Code?
Technically speaking, Topgolf says that they do not have a formal or golf dress code. The company reiterates that fashion is a fun way of expressing the feelings of everyone. Hindering this fashion outburst in customers may be un-friendly for them (Topfgolf). So, they decided not to put a dress code in all Topgolf venues.
But since there is no dress code in every Topgolf arena, ignoring it depends entirely on you. It is especially true if you do not have a specific clothing item fitting the criteria.
In some cases, however, a player invited by a superior/ boss or a client makes an impression by dressing up for the play at Topgolf.
Is Wearing Nice to Topgolf Needed?
Since Topgolf does not have a dress code, you can wear clothes you feel more comfortable with. Many customers and visitors to Topgolf wear anything from shorts and t-shirts to jeans and sneakers. Topgolf gives their customers all the freedom to choose what to wear.
Comfort is the key to a successful play and date to Topgolf. For some, golf is an exercise but not strenuous. So they prefer to wear shorts or athletic pants where they can feel more relaxed when swinging a golf club. So, it is not inappropriate to wear something nice to Topgolf, but it is not required, either.
What Should I Wear At Topgolf?
Wear what you want to Topgolf, but make it more practical. Like what?
Business outfit tears outright because it is not for taking the severe strain. If Topgolf is your after-work activity, changing for the better is appropriate. You can wear jeans like other men do, but the pants may limit the movement of your knees when hitting the ball. Tight-fitting jeans may not suit less active men who suddenly visit Topgolf for a round.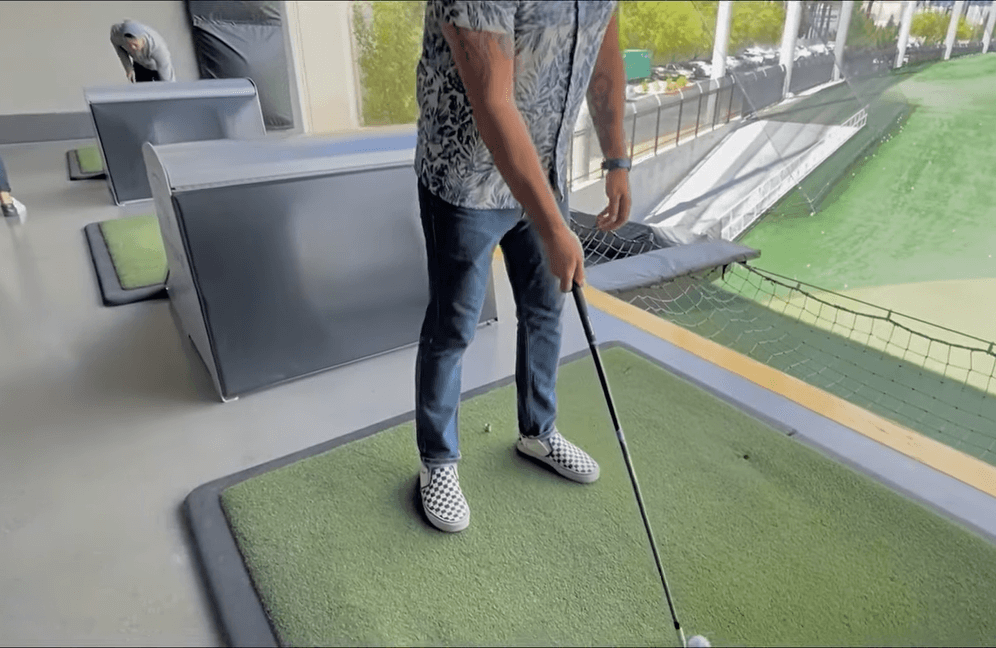 A pair of comfortable T-shirts with athletic shorts (khaki shorts are a good choice) might do the trick. Your most expensive collared shirts and shorts might be more enticing when you play with bosses or clients.
Ladies also have similar outfit expectations as men do. Make it a point that you prefer a dress where you are more comfortable moving around Topgolf. If you are still undecided, we recommend clothes you always wear inside the gym. When going to Topgolf, wear something athletic because golfing is an athletic activity.
In the colder season, find clothes that you can wear in layers. On a cold night, bring a light jacket or a sweater. You don't need to put it on all the time. You might need it when the breeze gets colder. Take it off when it gets hot after a few strokes. But ensure your other clothes are in safe hands.
Do You Need to Wear Specific Shoes at Topgolf?
There are no particular shoes to wear at Topgolf. But, barefoot is not allowed.
Footwear might be a problem for some when dressing up for Topgolf. But it is good to know that golf shoes are not mandatory at Topgolf.
Topgolf allows you to wear what is the most comfortable for you. But being barefoot is not permitted. So you can wear shoes, slippers, boots, or anything (except high-heels) that will make your feet more comfortable.
However, many safety-conscious people suggest that closed-toe footwear is safer at Topgolf. It is crucial to wear closed-toed footwear because it protects the foot from shanked golf balls. Shanked balls come from miss-hits by average skill-level players at Topgolf. Ball shanking is influenced by alcohol since alcoholic beverages are consumable in Topgolf.
Some of the best and safest shoes to wear at Topgolf are sneakers, boots, tennis shoes, and rubber shoes. Also, Topgolf driving ranges have turf mat which is coarser than ordinary grass. It is safer to swing with closed-toe shoes to avoid rubbing your feet against rough surfaces. Loafer and boat shoes are also ideal during summer and winter. But don't forget your socks!
It is better to avoid wearing slippers, sandals, high-heels, flip-flops, and crocs when playing at Topgolf.
What are The Top Outfit Ideas for Topgolf for Summer and Winter?
Are you still wondering what to wear at Topgolf? Here are some outfit combinations for ladies and men they can wear safely in summer and winter.
For Men (summer)
1. High-end polo shirt, khaki shorts
Shorts are the most generic bottom outfit in golf for men, even in usual golf games. But if you want a more classic appearance, wear khaki shorts at least two inches in length below the knees. Knee length is also okay.
Pair the shorts with a high-end polo shirt, especially when playing with superiors, bosses, or clients. This outfit combination is perfect with sneakers or rubber shoes.
2. True Classic Shirt, shorts
True classic shirts with zippered shorts (like Under Armour Men Drive Shorts [2]) in Blue Mirage are best for average-height men. During warm days, pair your most trusted shirts with chino shorts.
Pair this outfit with sneakers or loafer shoes. This style never let you down, even when you missed a shot. Spiked or spiked-less golf shoes are the norm in golf courses. 
For Men (winter)
1. Jeans, T-shirt, Sneakers, denim jacket
Adorable men always wear a jacket, so the saying goes. But it is somewhat true, especially during cold days. Playing at Topgolf when it is chilling outside, your classic denim jeans are a scene-stealer.
Pair the denim jacket with a thick T-shirt (collared ones are very manly!). A V-neck sweater or a thin cardigan is very stylish when it is not too cold.
You can take off the jacket or cardigan once your body becomes immune to the cold after several swings. Blue or black Sneakers will complete your illustrious outfit!
2. Loose-fitting khaki pants, T-shirts with a Jacket
Baggy pants during cold days are better for heavy-built men playing Topgolf. The loose-fitting style will not restrict your movement during intense swings.
Big men always seem to sweat when very active; try to wear your most loved t-shirts (collarless) underneath a jacket. Keep the top unbuttoned for easy removal once you feel warmer in every strike. Pair this outfit with your most treasured rubber shoes or sneakers.
For Women (summer)
1. Jeans & T-shirts (or crop top), sneakers
Skinny or body-fit jeans are the norm for most lady Topgolf lovers in every Topgolf driving range. Ladies love to swing golf clubs with ease and confidence. Other active lady golfers prefer crop tops.
Golf pants are also ideal at Topgolf, but if you prefer the one in your closet, do it! Pair them with pink or green sneakers for a more exciting trip to Topgolf!
2. Light tops, shorts (or skirts), sneakers
Light-top shirts combined with shorts or skirts are ideal for lady golfers in summer. Lightweight but tight-fitting tops are the best! You can choose between sleeveless or otherwise, depending on your mood.
Choose shorts or skirts that match the color of your light tops. Skirts are one of the best to wear on a date at Topgolf.
For Women (winter)
1. Sleeveless Puffer Jacket, jeans, sneakers, or boots
Lady players seeking extra warm nights during a chilly winter may wear a sleeveless puffer jacket on top of a long-sleeved shirt. We prefer a slim-cut sleeveless puffer jacket because it is lightweight and not bulky. You can easily swing the club wearing this outfit. When your body becomes warmer with several strikes, take off the jacket.
2. Long-sleeve shirt, light jacket (or hoodie), boots
Too cold winter happens in many Topgolf venues. You can wear layers and layers of tops to keep your body warm. But do not overdo it by wearing bulky clothes. You cannot swing as perfectly as you want when your arms are too heavy.
Try fleece or wool long-sleeve shirts with a light jacket on top. You can also wear a hoody instead of a coat. Combine this outfit with good traction boots to move around the arena.
What are The Top Choice Outfits for Topgolf Dates?
1. Something Casual Yet Stylish
Sweethearts or partners on a date at Topgolf may wear casual dresses yet fashionable. Women may wear stylish skirts on top of mini biking shorts with light-colored sneakers. 
Wearing collared t-shirts and golf shorts for men paired with dark sneakers makes them a more attractive couple. Donning casual wear while on a Topglf date can be more romantic if both have matching outfits.
2. Cute Dress with a pair of Sneakers
Ladies wanting romantic yet still look athletic during a night date in Topgof will be beautiful in a cute dress. Pair it with sneakers and accessorize with other golf gear, like a visor or a golf hat. When it is cold, wrap a jacket around your waist and wear it once the night becomes colder.
Conclusion
So, now you know that there is no dress code in Topgolf, wear anything more comfortable for you. If you are still wondering what to wear to Topgolf, our tips might help you.
Although usual golf courses have dress codes (especially non-municipal ones), you can wear almost anything inside Topgolf driving ranges. But your clothes and other gear should be more inclined (like shoes instead of slippers) towards safety. Any footwear is also allowed in Topgolf.
You might also wonder why we always suggest wearing shorts for men when playing at Topgolf. It is because they are the best to wear in any weather condition. Men, and even women, can move freely and lightly with shorts. 
Read more:
Matt Stevens is the founder of Golfrough.com. He holds a Postgraduate in Sports Marketing and has played golf since he was four years old. Having experienced every high and low golf has to offer, his writing helps the average golfer avoid the mistakes he has made in 28-years on the course.