Every leisure golfers find Topgolf an ideal driving range because of its modern, high-tech amenities and facilities. Even seasoned pros and experienced golfers consider Topgolf a top destination as a reprieve from more perspiring tours.
The friendly and sophisticated Topgolf environment is different from an actual golf course. However, the ambiance put many golf enthusiasts in the limelight of a recreational center rather than a playing field. 
But can you play Topgolf in a lightning storm? Does playing under a blanket of thunderstorms and rain allowed at Topgolf? We are also curious. But somehow, we can gather information about the restrictions about extreme weather conditions at Topgolf arenas.
Unfortunately, Topgolf does not allow its customers to play during a lightning storm. But you may wonder why. Yes, Topgolf arenas or driving ranges have roofs, but most of the devices in the perimeter (including the golf balls) have embedded microchips.
Maybe you should continue reading this article to know more about Topgolf's dos and don'ts, especially during extreme weather conditions. Let's go!
What Is Topgolf ?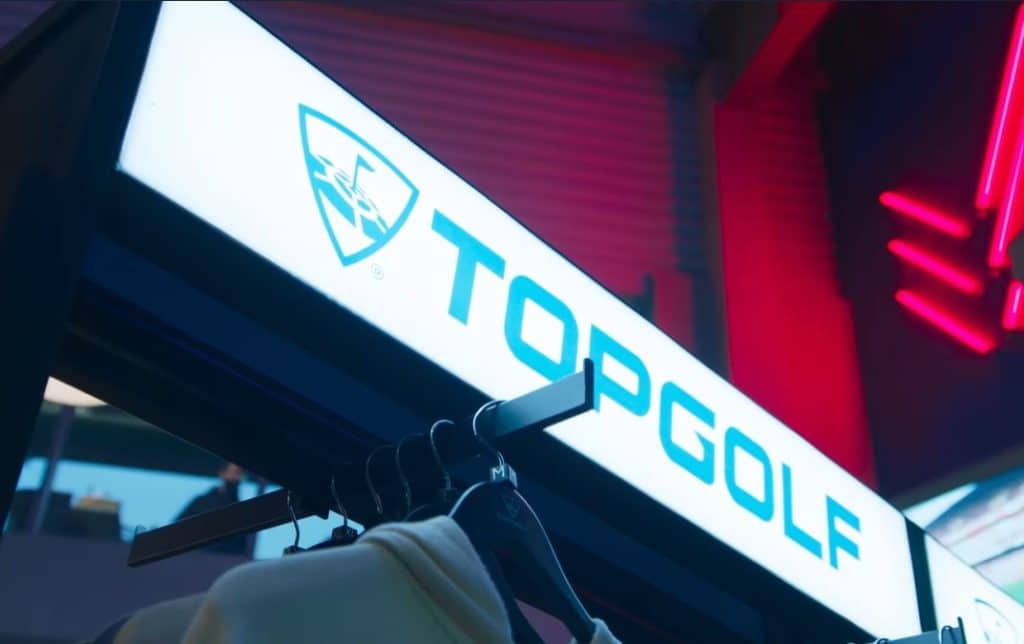 Topgolf started in the UK in 2000 as an electronically tracked (including the golf balls) golf gaming entertainment center. When it kicked off in 2000, Topgolf's driving ranges have automatic scoring systems. It became one of the sought-after driving ranges in several countries like the United States, Mexico, United Arab Emirates, United Kingdom, Australia, and Germany.
Topgolf is a unique golf-driving experience where customers or players have fun rather than stressful moments on actual golf courses. However, for golf fanatics, the affair is a way of improving golf drives without the bullying from golf buddies.
Today, the company has headquarters in Dallas, Texas, USA. Many of Topgolf's customers are groups of friends, pros, amateurs, lady & male golfers, and even seniors.
How Does Topgolf Work?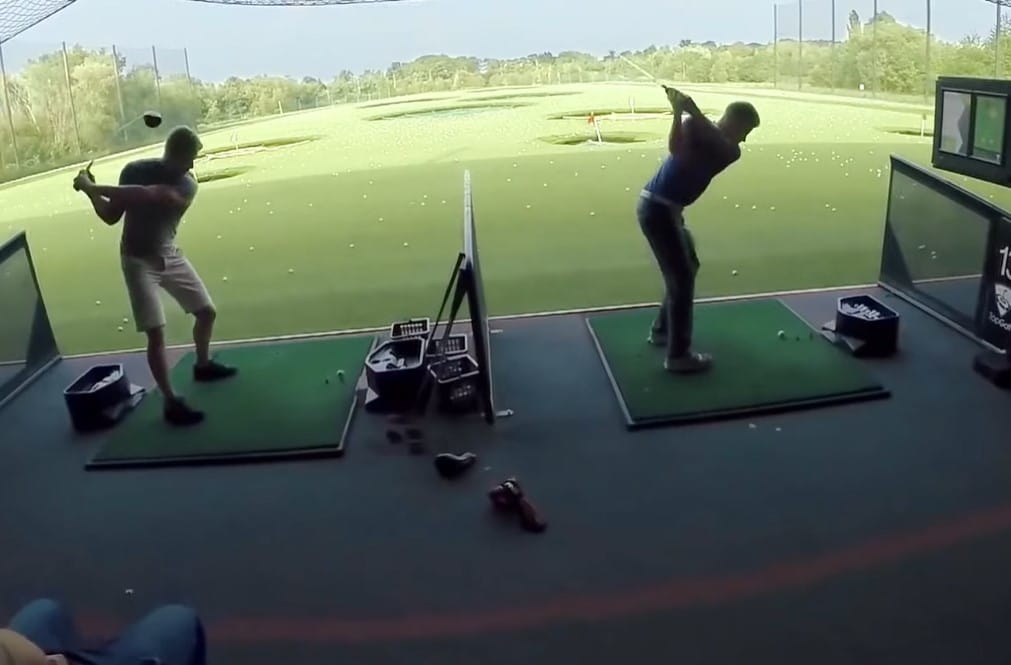 Topgolf is a technology-based driving range. Here, almost everything (including golf balls) has an embedded microchip. It is to track the ball by sensors to monitor your shots. The driving range is equipped with a network of sensors. The sensors monitor your flight path, distance, and speeds (swing and ball speeds).
The whole driving range uses RFID (Radio Frequency Identification) technology to track your every shot.
Once a customer enters the door to play, he/she must purchase a green shirt to wear inside the game area. The shirt will be tagged with your name and issued with a card.
Your golf balls are embedded with microchips with your name and other needed info. You can dispense golf balls (a bucket full) or go to another site: and swipe your card. You will be given a selection of golf clubs. Then, you can start playing right away. During the play, you can see your name (or your team) on a computer monitor that flashes info about shots.
1. Game Selections
Topgolf offers a wide array of game selections. But games might vary in every Topgolf arena. However, the signature game in every range is, guess what: TopGolf! It is the best option for beginners.
The other game options at Topgolf are TopChip, TopPressure, TopShot, TopScramble, TopScore, TopBreak, TopChip, Quick 9, TopDrive, and Virtual Games.
2. Safety Precautions at Topgolf
Every establishment has safety rules, and Topgolf is not an exception. Here are some safety precautions once you enter a Topgolf arena to play.
Do not cross the red line
Do not jump or push over the safety nets
Do not step over the course
Players under 16 must be under supervision by a guest (21+)
Always aim for the targets
Never aim for the buggies (or the golf carts)
Do you want to know the complete list and explanations of do's & don'ts at Topgolf? Visit their website here .
Can You Play at Topgolf when There Are Lightning Strikes?
It is what many Topgolf enthusiasts and prospects are asking. But to tell you honestly, Topgolf has a policy against extreme weather conditions, including lightning storms. During intense lightning: Topgolf asked people (including players) to leave the course.
Topgolf facilities include a lightning detection system. The apparatus automatically shuts down the driving range in extreme weather cases. This only proves that playing Topgolf is unsafe during a lightning storm: especially when lightning bangs visibly. 
Much to your regret, but we think it is the proper way to do it. But what happens to your fee once the game stops due to lightning strikes? Know later. 
What are Lightning Hazards?
Topgolf playing areas have roofs. But there are playing zones with no cover. Here are some scenarios that might happen once you continue playing golf during intense thunderstorms.
1. Thunderbolts Might Hit You
Some Topgolf arenas may not close doors once lightning strikes, but you can decide to stop playing when sensing the dangers. 
The golf clubs at Topgolf have metal shafts. The shaft takes the risk of electrical absorption, which may cause dangerous burns or electrical shock to the holder. It could be fatal most of the time.
2. It Could Affect Your Performance
Lightning strikes might affect your performance in every shot. Lightning could provide momentary flash blindness to one or both eyes. You are very unlucky when it happens while you are about to make the shot.
3. The Site High-Tech Electronic Systems Might Fail
Lightning could trigger momentary or longer electrical disruptions inside the arena. It is because most of the devices in Topgolf are powered by electricity. Moreover, high-tech systems have default designs of shutting off in case of intense lightning.
How Topgolf Keeps Customers Safe In Times of Severe Lightning?
A viral video, which you can watch below; has triggered enhanced safety precautions inside Topgolf arenas. Here are some of the steps taken by Topgolf to boost the protection of customers during extreme lighting strikes.
1. Shutting off Operation during Extreme Weather
In the first place, Topgolf already has a warning to its customers. It tells that in case of extreme weather disturbances (like lightning strikes, etc.), the facility will close: and stop operation.
2. Setting Up of Lightning Arresters
Topgolf installed several lightning poles or lightning arresters in the perimeter. Lightning arresters or strike termination devices divert lightning bolts away from any structure and into the ground.
The poles (also called finials) minimize the effect of lightning strikes on people and electrical devices.
You can protect gadgets inside your home by installing a lightning rod kit like the Three-Pole Spike Lightning Protection Equipment.
3. Advanced Roofing Technology for Customer Safety
Topgolf driving ranges are open bays or arenas with roofs. The roof is wide enough to cover anything that moves inside the complex. Even Topgolf's terraces and lounge bars have covers for customers' safety, whether rain or snow (especially thunderstorms).
4. Not Allowing Players near the Course
That is right! Players are not allowed to access the course, even if they need to see something or do something on it. The rule is also applicable even if the weather is fine.
Here is the viral video of when a golf ball of a teen was struck by lightning at a Topgolf driving range: 
Topgolf Explains Its Weather Policy 
Yes, you can play Topgolf in the rain, but with exceptions. Topgolf's weather guidelines adhere to its mission statement of making safety a top priority for the firm. Who wants to play in an atmosphere of thunder and lightning? I do believe stopping the games during severe weather conditions is necessary to protect people and properties.
When Does Topgolf Defer Play Due To Weather? 
Topgolf does not close for lightning. As we have explained, Topgolf suspends driving range operations and shut off the facilities during severe weather conditions. Intense weather situations include heavy rain, frequent lightning strikes, and high winds. 
When Topgolf Suspends Games, What will happen?
WhenTopgolf suspends the activities due to extreme weather disturbances: the customers may choose to refund their payments or re-schedule games.
How to Prepare for Topgolf in the Rain ?
Moderate to light rains keep the games going inside the Topgolf arenas. To let customers play despite tolerable rain, Topgolf management suggested the following:
1. Footwear & Clothing Suggestions
Topgolf management recommends customers wear the appropriate rain gear when they suspect incoming rain before going to the center. Waterproof clothes, jackets, trousers, and shoes (such as boots or water-resistant golf shoes), are advised.
2. How to Protect Equipment: Tips
Topgolf driving ranges provide you with golf balls and clubs. However, oversee your personal belongings like mobile phones, wristwatches, wallets, etc. In keeping you dry when the rain comes out, ensure personal belongings are inside waterproof bags or cases.
3. Topgolf Recommendations to Stay Comfortable & Dry
Topgolf-hitting bays have roofs and rain shelters. Once the rain comes, you should have an umbrella or a raincoat when moving around the perimeter. 
If you do not have a rain suit yet, we recommend Fit Space golf rain gear, like the ones we used. The waterproof garments consist of a jacket and pants.
Playing Topgolf in Severe Sunlight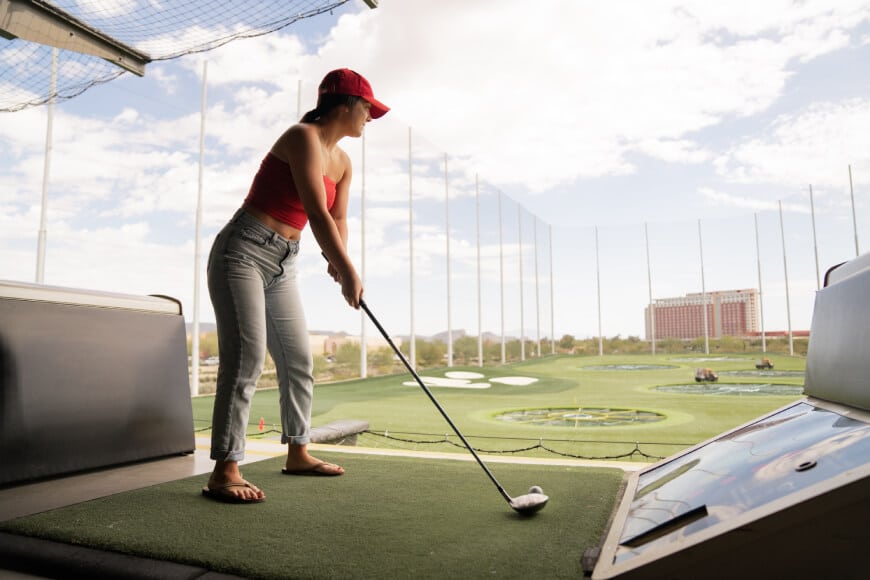 This query might need simple logic, but it is good you know anything about playing inside Topgolf-hitting bays. Although the bays are covered and shaded during intense sunlight, you still need to keep hydrated all of the time.  
There are refreshment areas in the arena. The beverages and drinks are included in the fee.
Try to wear a sun visor like the TaylorMade High Crown Visor to protect your eyes from the glaring heat of the sun.
FAQ's 
1. Is it okay to play Topgolf in the rain?
Yes. Topgolf allows customers to play under light to moderate rain because the driving range has roofs. Topgolf venues are all-weather facilities with covered hitting bays. 
Only extreme weather events can stop you from playing Topgolf. We reiterate that Topgolf is open during lightning unless it is life-threatening.
2. Can you play in a thunderstorm?
As we have said, unless it is extreme weather conditions, you can enjoy playing at Topgolf even in rain or snow.
3. Is it safe to play golf outside during a thunderstorm?
We recommend that if there is a risk of lightning strikes, do not go outside to play. If you are already on the golf course, the best thing to do is stop playing and take cover in a roofed structure, not under a tree.
4. Does Topgolf Close For Lightning?
Topgolf usually suspends playing temporarily when lightning strikes are imminent. Again, we emphasized that Topgolf stops operations only during extreme weather events.
5. Are There Age Restrictions at Topgolf?
Anyone can play Topgolf, including able kids. However, children under 16 should be supervised by a guardian (or guest) 21 years old and up. Additionally, players under 18 must be under the supervision of a 21+ adult after 9 PM.
6. How Topgolf reservation fee works? 
The reservation fee at Topgolf is payable online. Single booking is for a 2-bay use. The online package includes food and beverages. Beverages may include alcoholic drinks, soda, or anything a customer prefers.
7. How to book Topgolf?
You can book a local Topgolf driving range online. Each bay can accommodate up to six players.
8. Can I Play at Topgolf alone? 
Yes, you can. Topgolf's TopTracer tech allows it to monitor your game even if you are alone. Also, if you just want to watch the games and eat and drink inside the venue, you are very much welcome!
Conclusion
It is good to know that unless it is an extreme (or dangerous) weather condition, nothing can stop you from having a good time at Topgolf: not even snow or rain. Topgolf assures players thatits venues have covered hitting bays. The bays, aside from being covered with arched roofs, are also equipped with heaters for winter and industrial-grade electric fans for the summer.
So, are you still asking if you can play Topgolf in a lightning storm? I hope we answered your query!
Read more: