Golf shaft flex has something to do with things when you play the game. Sometimes, you may not imagine that shaft flex might define your play. Shafts flex, or the ability of the stick to bend or curve during a stroke, affects your swing, distance, and more!
Can you measure the shaft flex degree more suitable for your swing? The modern golf game now offers a golf shaft flex calculator. It gives you an idea of what type of shaft fits your swing speed, distance, carry distance, and other parameters. 
But what is a golf shaft flex calculator all about? The calculator is a quick guide in determining the type of shaft flex you need based on your skill. Do you need a detailed explanation? Why not continue reading as we will explain everything, including charts that may be an alternative?
Shaft Flex Calculator
Does a Golf Shaft Flex Calculator Improve Your Swing Quality?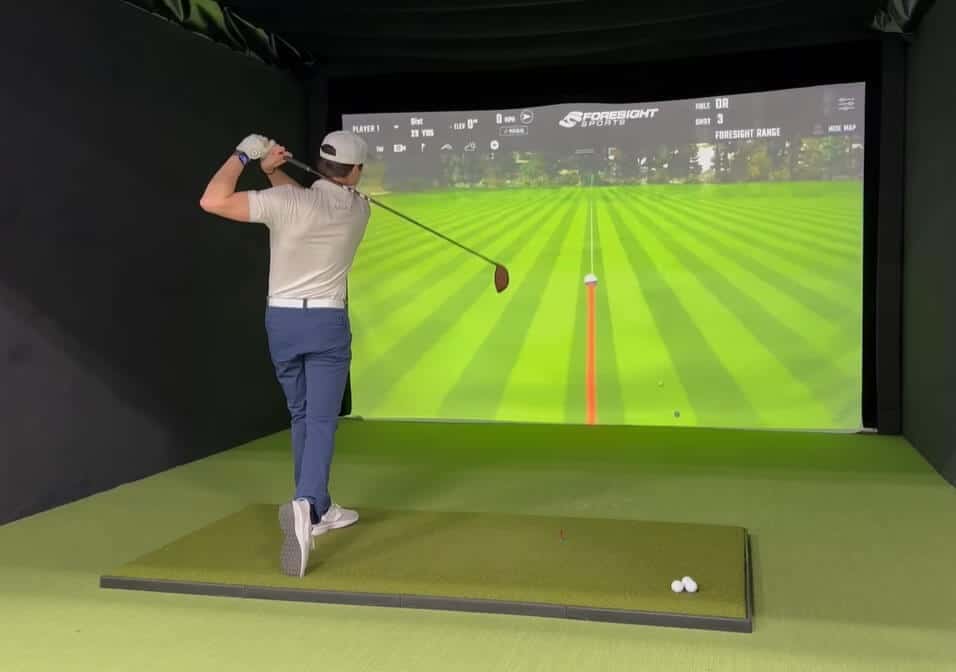 The calculator, per se, is not the one that may improve your swing performance. It is a tool for determining the golf club best fits your swing character. It may help you realize how you generate distance on a specific golf club.
The calculator may tell if you need to switch club flex when you lack the speed in generating distance. To illustrate: if you use a stiff (S) golf club flex but lack distance when driving off the tee: you might need a stiffer shaft (or an X flex).
The relationship between swing speed and distance is widely-known in golf. Although every player has a unique style, it is a common assumption that golfers attaining greater distance are fast swingers. The stiffness of their shaft is what defines their performance.
There is always a better way to know your swing speed. Once you determine your swing speed, you can type the numbers in an online calculator (like the one below), together with a type of golf club. 
The calculator then determines or advises what golf club flex fits you. But here is the catch: the results differ depending on the golf club type.
Why Use Distance Rather than Swing Speed?
You might wonder why the calculator uses distance in determining the correct club flex you should utilize. The explanation is simple: Swing speeds change in every club and stroke. The swing speed is the proper variable to use in the calculator.
The results may not be 100% accurate, but the selection (of the right shaft flex) also gives the nearest outcome. At least you have the starting point of whether you should adopt or change in selecting the proper bending degree for your club. We find the calculator more accurate than depending on charts.
The chart below uses the swing speed and the specific type of golf club to determine the recommended shaft flex. The online calculator is programmed to use a golfer's carry distance and the kind of golf club used to ascertain the recommended shaft flex.
What is Golf Shaft Flex?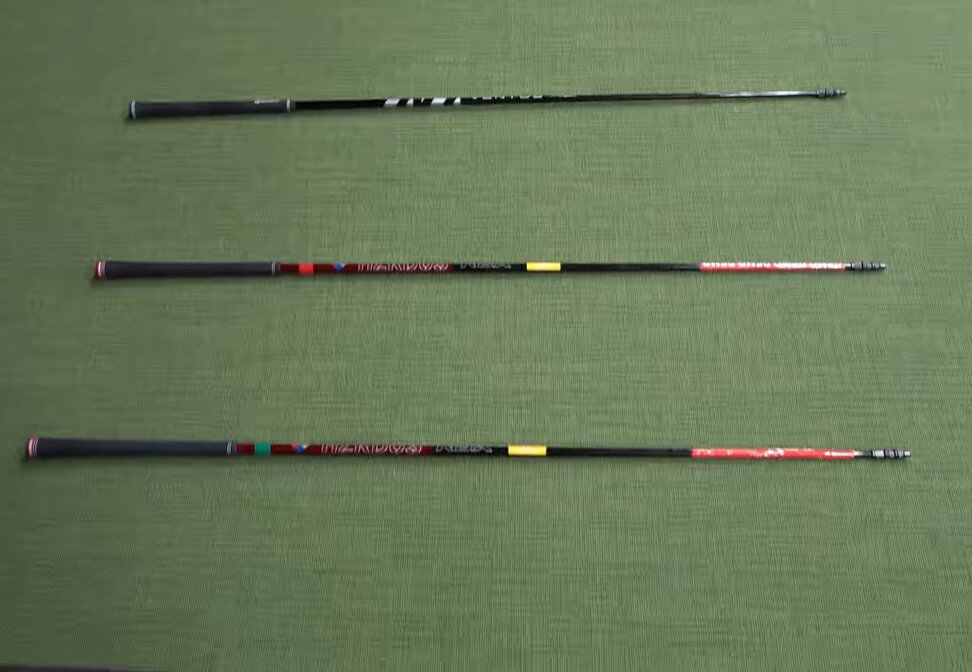 Golf shaft flex is the ability or degree of a golf club to bend or curve. The flexes classify as Ladies (L), Senior (A), Regular (R), Stiff (S), and Extra Stiff (X), in ascending order. The order is from soft to rigid, that is, golfers tend to use stiffer flex as they become experts.
Why Golf Shaft Flex is Important?
The flex of your golf club impacts club head speed, mass, and shot distribution. Beginner, senior, and lady golfers usually use flexes according to their skills (L or A). As they advance or become more skilled, they switch to Regular flex.
The most popular driver golf club fit for seniors, ladies, and beginners is the Callaway X HOT Driver. We highly recommend it. 
Average golfers feel more powerful when using Stiff flexes. Experienced or pro players rely on Extra Stiff flexes to compensate for their faster swing speeds. Seasoned golfers may find the 2022 Tour Edge Hot Launch E523 Driver 460cc one of the best. It comes in S and X variants.
Golf Club Shaft Flex Chart
As we have mentioned, the chart or table below uses the swing speed as the determining factor to arrive at a recommended shaft flex. It allows you to decide if you don't know your carry distance yet. 
Essentially, the chart shows the recommended flex for every club type, like irons, once you know your swing speed. Also, the table widens the selection for swing speeds greater than 110mph to less than 75mph using each type of golf club.
Golf Shaft Flex Chart Based on Swing Speed
| | | |
| --- | --- | --- |
| Type of Golf Club | Swing Speed (mph) | Suggested Shaft Flex |
| Driver | >110 | Extra Stiff (X) |
| Driver | 95 – 110 | Stiff (S) |
| Driver | 85 – 95 | Regular (R) |
| Driver | 75 – 85 | Senior (A) |
| Driver | <75 | Ladies (L) |
| 3-Wood | >105 | Extra Stiff (X) |
| 3-Wood | 90 – 105 | Stiff (S) |
| 3-Wood | 80 – 90 | Regular (R) |
| 3-Wood | 70 – 80 | Senior (A) |
| 3-Wood | <70 | Ladies (L) |
| 5-Wood/Hybrid | >100 | Extra Stiff (X) |
| 5-Wood/Hybrid | 85 – 100 | Stiff (S) |
| 5-Wood/Hybrid | 75 – 85 | Regular (R) |
| 5-Wood/Hybrid | 65 – 75 | Senior (A) |
| 5-Wood/Hybrid | <65 | Ladies (L) |
| Irons (Mid-Long) | >95 | Extra Stiff (X) |
| Irons (Mid-Long) | 80 – 95 | Stiff (S) |
| Irons (Mid-Long) | 70 – 80 | Regular (R) |
| Irons (Mid-Long) | 60 – 70 | Senior (A) |
| Irons (Mid-Long) | <60 | Ladies (L) |
| Irons (Short) & Wedges | >90 | Extra Stiff (X) |
| Irons (Short) & Wedges | 75 – 90 | Stiff (S) |
| Irons (Short) & Wedges | 65 – 75 | Regular (R) |
| Irons (Short) & Wedges | 55 – 65 | Senior (A) |
| Irons (Short) & Wedges | <55 | Ladies (L) |
Golf Club Shaft Flex Letters Explained
To easily categorize shaft flexes, experts and manufacturers assigned them letters. We enumerate them below. More letter combinations may be available in other countries. However, the following is more frequently used by various manufacturers. 
Extra Stiff (X)
The flex is better for pros and more seasoned golfers with very high swing speeds.
Stiff (S)
S flex suits low handicappers (usually below 10) with fast swing speeds.
Regular (R)
Average or leisure golfers enjoy this flex. It is best for average swing-speed golfers.
Senior (A/M)
Golfers with moderate swing speeds (like seniors) feel more comfortable with senior flexes.
Ladies (L)
The L flex is best for beginner and lady golfers with slow swing speeds.
Golf Shaft Stiffness Chart
Stiff shaft flexes connote fast swing speed. The chart below gives you choices of stiffness depending on a specific golf club swing speed.
| | | |
| --- | --- | --- |
| Type of Golf Club | Swing Speed Range (mph) | Recommended Stiffness |
| 6-iron | 92 | Extra Stiff |
| Driver | 97-104 | Stiff |
| 3-wood | 93-97 | Stiff |
| 3-hybrid | 90-96 | Stiff |
| 6-iron | 84-91 | Stiff |
Golf Shaft Flex Numbers
Sometimes, some manufacturers used numbers as the classification for golf shaft flexes. Letters are printed on the body of the shaft. Here's what they mean:
5.0- Regular flex
5.5- Regular Plus 
6.0- Stiff 
6.5- Extra Stiff
7.0- Extra Stiff Plus
What Shaft Material Should I Choose?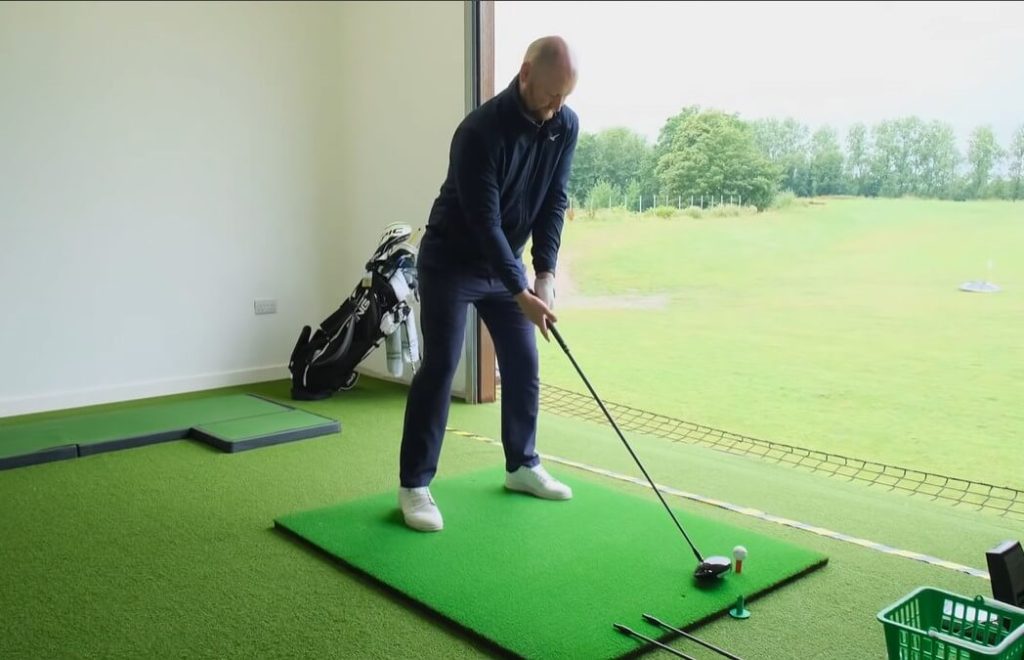 After determining the shaft flex recommended by the calculator corresponding to your skills, you need to consider the shaft material. Here are the choices.
1. Steel
Steel shafts are heavy and more rigid than other materials. But they are more affordable than titanium and graphite shafts. Many experienced golfers prefer steel shaft (mostly for irons) because it is stiff and easy to control.
2. Graphite
The majority of the top 100 pro golfers used graphite shafts on a driver: Graphite shafts are more lightweight than steel shafts. Beginner and amateur golfers are advised to use graphite shafts in honing their skills.
3. Multi-Material
Multi-material shafts are a combination of steel and graphite. The blend is mostly graphite tip and steel shaft. The combination gives golfers more controlled ball flight in every swing.
4. Titanium
Titanium shafts are stiff and can withstand strong vibrations. It is lighter than steel but heavier than graphite. Fast swingers prefer this material as it provides more accurate shots.
Stiff and Regular Flex: Any Difference?
Regular flex shafts are more flexible than stiff flex shafts. The former is better for average-speed swingers (80-95mph), while the latter is best suited for fast swingers (90-105mph).
How to Change the Shaft on a Golf Club ?
Here are the steps in changing a golf club shaft in the comfort of your home.  
What you will need:
Golf club with old shaft
New shaft
Glue or epoxy
A vise grip
Heat gun
Wire brush
Paper towels
Protective gloves
Safety glasses
Step 1: Preparing the Club
Get the club that you want re-shafting and lay out all the things you will need. Wear your safety glasses and protective gloves.
Step 2: Remove the Club Head (old shaft)
Place the club securely on a vise grip. Heat the ferrule to soften its hold. Once it is heated properly, remove the club head from the shaft.
Step 3: Cleaning the Shaft Tip
Once the club head and shaft are separated, carefully clean the shaft tip with a wire brush. The brush may remove old epoxy inside the hosel. Ensure that the hosel is still hot to remove all adhesives.
Step 4: Apply Glue and the Club Head
Apply a sufficient of glue on the club head and the shaft. It makes the ferrule slide smoothly. 
Step 5: Wipe down the Rest of the Glue
Install the ferrule into the shaft tip. Set it at the correct depth with the club head. Ensure that the shaft and grip are aligned. Wipe off the excess glue with a paper towel.
Step 6: Visiting a Club Fitter
Consulting a professional club fitter may also help you determine the perfect flex for your shaft. In previous years, club fitting become a worldwide trend for golfers of any skill.
What Shaft Flex Should I Use? 
Consult the chart above once you know your swing speed. If you know your average carry distance, use the golf club flex calculator for the recommended flex. But if you feel uncomfortable with the suggestion: you can always decide personally.
How Do You Measure a Golf Shaft Flex?
One of the most common ways of measuring a golf shaft flex is by oscillation. Here's a video on how to do it: 
FAQ's 
1. How do I choose flex on my golf shaft?
Your swing speed tells more about the kind of shaft you should use. If you are a beginner, a more flexible shaft is what you need, like the seniors (A/M) or Ladies (L) flexes.
2. What Flex should a high handicapper use?
High-handicappers (20 or more) may perform better with a Regular flex shaft. It is also recommendable for mid-handicappers. 
3. What does golf shaft flex 5.5 mean?
The 5.5 shaft flex means a stiff shaft on wood. However, it means differently in other irons. It might be Regular or Regula Plus in some irons. When buying a 5.5 flex, point out the type of golf club you are about. 
4. Is Stiff Flex advisable for beginners?
Stiff flex is not recommendable for beginners. A regular or a senior flex is the best starter shaft for beginners because of its suitability for low swing speed.
5. How do I know if I need a stiffer shaft?
One of the crucial signs leisure players need stiffer shafts (X Stiff) is when they frequently hook the golf ball. Also, if you have a swing speed above 105mph, a stiffer shaft is better. 
Conclusion
The golf shaft flex calculator may not be 100% accurate, but it tells something about unwanted hooks and slices. A poorly fitted golf club shaft may cause you a lot of subpar performances inside the course.
Now you know the importance of shaft flexes, a calculator surely recommends the sufficient flex you badly need.