Did you know that your hand size is valuable in deciding which correct grip size to pick?
Standard vs. midsize grip, which one can help you lower your scores? Most golfers prefer using the standard-size golf grip because it's dependable in stimulating a quick turnover rate at impact. Midsize grips, on the other hand, are ideal for swing control and better ball flight.
Are you serious about maximizing your golf play and want to lower your scores? If yes, you've got to know the best grip for your needs.
I've shared the golf grips I've used and recommended below to help you decide thoughtfully, so please check them out!
But I suggest comparing the products carefully to determine if they fit your requirements.
Standard vs. Midsize Golf Grips: Which Is A Better Option For You?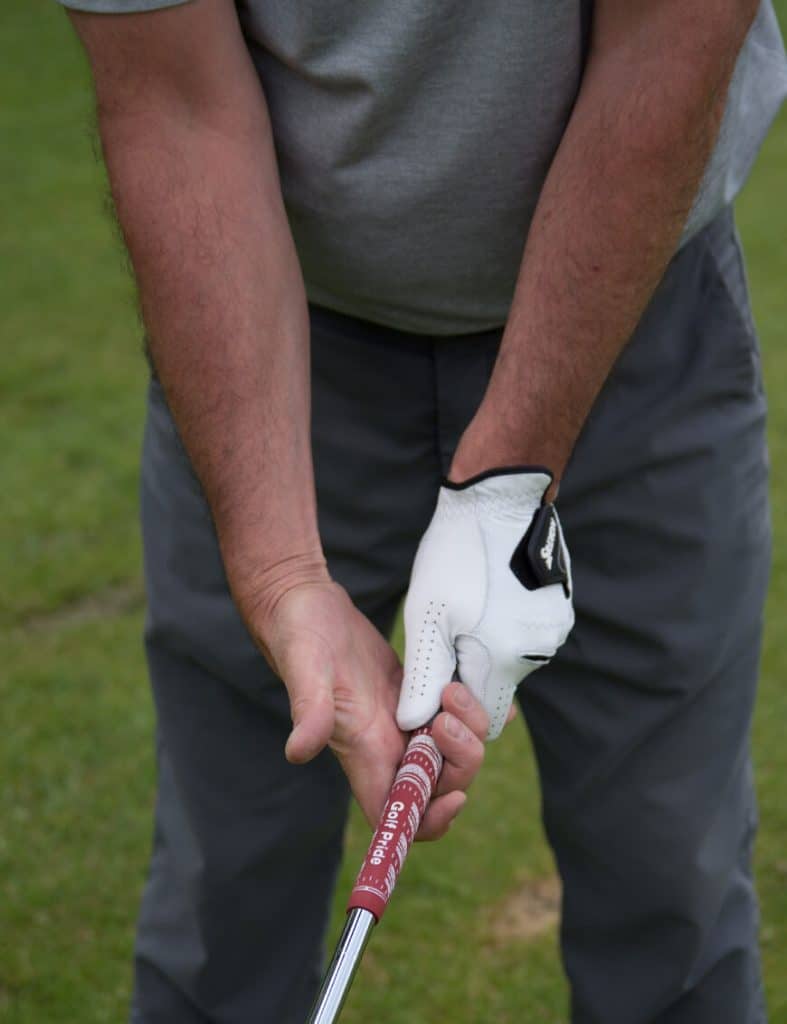 While most golfers usually utilize the standard golf grip, having larger hands makes this option unsuitable.
Choosing midsize grips can provide more excellent swing control and distant ball flight. It's more appropriate and comfortable, enabling complete coverage without feeling too big. 
Since it provides a thicker grip than standard options, it helps slow down the hands. As a result, a sleeker transition through the impact zone isn't an issue.
For me, the best thing about midsize grips is that they're dependable in providing shoulder, forearm, and hand relief.
Additionally, since I am a fast swinger, using the midsize grip enables me to attain more control during play.
Standard Size Grip
What is a standard-size grip?
Golfers generally utilize the standard grip size on any club, as it's ready to utilize and features 9 inches circumference.
This size offers the most feel, making it excellent when you pitch on the course from within a hundred yards.
Golf games typically take place over this yardage, making standard grip size ideal and not requiring replacement.
Advantages of Standard Size Grips
These size grips are perfect options that fit diverse golfers since they're incredible in allowing strong grips with optimal traction.
It's the standard choice for golfers because you can rely on it during short or long games.
Who should use standard golf grips?
This grip size is excellent for golfers who usually slice the ball. It's massively successful in promoting a quick turnover rate at impact.
Midsize Grip
What is a midsize grip?
A midsize grip is designed and manufactured similarly to the standard grip; however, the remarkable difference is in thickness. Generally, the difference in thickness is 1/16 inch.
Still and all, our hands are visceral, making them quickly acquire even slight differences.
Advantages of Midsize Grips
This grip size is second to none in providing relief, as it obstructs unpredictable shots. Since it provides a thicker grip, it soothes your shoulder, arms, and hands to generate a sleek and flexible swing.
Fast swingers will enjoy relief with this grip size, as it decelerates your tempo, enhancing control and consistency.
Who should use midsize golf grips?
Midsize golf grips benefit golfers with small or big hands. It's best for those that have a large hand, as it provides greater surface area, enabling more excellent control.
Meanwhile, you can grip the club tightly once you find grip pressure if you have smaller hands. If you have arthritis and typically wear an oversized glove, the midsize grip fits you best!
Significant Differences between Midsize and Standard Golf Grips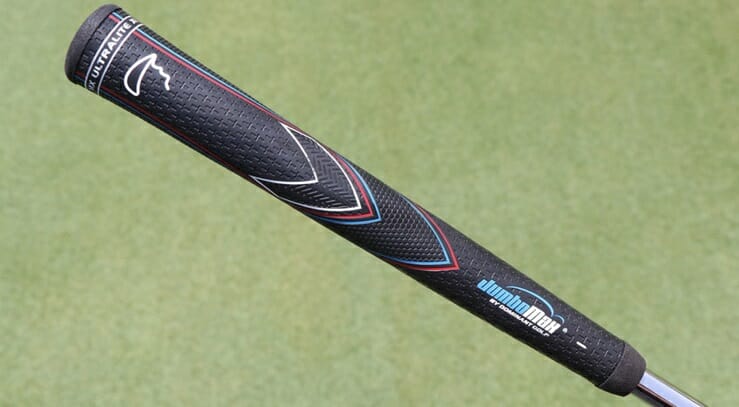 1. The adeptness to grip or release the club
Golfers with smaller hands usually encounter delayed release leading to a slice when using midsize grips. Meanwhile, you're likelier to see a big hook if the grip size is too small for your hands.
The gist is that these grip size differences can result in problems with your capability to move the golf club.
2. Size
What makes midsize and standard golf grips different from each other is the size of their grips. While there's a slight difference in their measurements, it can impact how you hold the club.
Please note that if a grip is too small or big, it can tremendously impact the clubface.
3. Options and availability
Finding the standard grip size is not a problem since this usual model is always available. Sometimes, it'll be challenging to look for the availability of midsize grips.
In particular, if you prefer a specific color or design, your search for a midsize grip can be challenging.
4. Cost
Compared to the standard grip, midsize grips are generally priced higher. The slightly higher cost is mainly due to the total amount of material utilized to produce golf clubs.
You may save more if you opt for DIY projects in installing the grip yourself.
Can Incorrect Grip Size Affect Performance?
Keeping the right grip size can prevent losing your connection to the club, inhibiting poor performance.
The principal performance measures that grip size can influence are club control, swing plane, and impact position. Unfortunately, your grip pressure will also be an issue.
The Most Renowned Golf Grips: Standard vs. Midsize
1. Golf Pride Tour Wrap 2G Golf Grip
Are you the golfer who prefers a thicker, tackier, yet comfier grip? If so, this midsize grip will satisfy your discerning requirements as it's reliable in enhancing your performance.
Its durable wrap design, functionality, and ability to remain clean long-term are impressive.
Though I have larger hands and am troubled with arthritis, this midsize grip became my golf companion, rain or shine.
It's not the most affordable option, but I am okay with spending a little bit in exchange for excellence.
Key features
Rugged wrap design
Soft and comfy material
Dirt-resistant
Who should use this product?
Golfers with larger hands and arthritis will find this product the best option to spend a dime.
It's easy to put on, and it provides the much-needed grip and comfort during golf play.
2. Golf Pride MCC New Decade MultiCompound Golf Grip
These golf grips are the most reasonably priced option considering they're innovative and serve their purpose well. They're intelligent investments since they didn't fail me in gaining maximum control and responsiveness during golf play.
I prefer a thinner grip for my lower hand, so these grips are perfect for my requirements. Amazingly, the grip effortlessly stretches when installed.
I need to be patient in regular cleaning, though, because these grips attract dirt quite quickly.
Key features
Soft rubber material
Innovative hybrid grip
Exclusive black velvet cord
Who should use this product?
Golfers who prefer a sleek and tacky feel during golf games will get the most benefits from these grips.
They're trustworthy and help improve your level of play, allowing you to enjoy golfing even more!
How To Check Which Golf Grip Is Suitable For Me?
Swing a club and hit a few shots with different grip sizes to check if the grip fits you best. If the midsize feels too big and the standard is small, slightly thicken the latter.
This approach fits the bill in narrowing the gap between the midsize and standard grips. Besides measuring your hands, it's always bests to hit with the grip you're planning to get for more accuracy.
Golf Grip Size Chart
| | |
| --- | --- |
| Suggested Grip Size | From Your Fingertips to the Base of your Palm |
| Jumbo | 9.1 inches to 10-inches |
| Midsize | 7.6 inches to 9-inches |
| Standard | 6.6 inches to 7.5-inches |
| Undersize | 5-inches to 6.5 inches |
| Junior | Less than 5-inches |
FAQ's
1. Can larger golf grips make a difference?
Yes. Larger grips provide more comfort and enhance the ball flight's direction, ensuring better and more precise control and shots.
2. Are midsize grips more excellent options?
The answer to this question depends on which grip size is appropriate for your needs and hand size. Midsize merely pertains to the grip, so it doesn't affect the brand, design, and style.
It's paramount to look for various materials and designs available to pick the suitable grip for your requirements.
Consult a pro golfer, refer to your local golf course, or ask a custom club fitter for advice. Doing so can help you intelligently decide which golf grip to choose.
3. How much bigger is a midsize grip?
Compared to the standard golf grip, the midsize is 1/16 inch larger. While this measurement is insignificant, you can quickly pinpoint the bigger one.
4. Do PGA Tour pros use midsize grips?
Most PGA Tour pro golfers utilize midsize grips. These PGA Tour pros that prefer midsize grips are Paul Casey, Phil Mickelson, Tony Finau, and many more.
5. How to know if I require midsize grips?
Measuring your hands or glove size is a surefire way to know if midsize grips are ideal. Aside from this, you can pinpoint if you need a midsize grip if you consider your shot pattern.
6. Do most professional golfers utilize standard-size grips?
Yes. Most professional golfers prefer using standard-size grips; however, they modify them using grip tapes for a better fit.
This method helps golfers feel a significant difference during golf performance.
7. Should I use the same grips on all my clubs?
Having the same grips on all your clubs, except for your putter, is crucial. Having the same grips on your clubs is favorable, as it promotes game consistency and regularity.
Meanwhile, be more innovative when putting grips on your putter and choose the thicker ones.
In line with this, buy more new grips for all your clubs and have them re-gripped synchronously.
8. Does grip size affect ball flight?
Yes. Your grip pressure will end up quite tight if your grip is small. This condition also causes discomfort in your arms, affecting your performance.
When things are rough and stiff, your ball flight is likelier to be slightly lower. Due to this, it requires more work to attain the distance or spin necessary for your shots.
9. What happens if your golf grips are too small?
You won't have other options but grip the golf club with more force if your grips are relatively small. The negative outcome of a tight grip is that it'll be troublesome to strike accurate golf shots.
Likewise, too small grips can cause you to swing a bit slowly and inside.
10. What happens if your golf grips are too big?
Much like wearing jeans that aren't your size, you'll feel uncomfortable trying to get the right fit. The feeling is the same with oversized grips; you'll need to try positioning the club correctly perpetually.
It gives you the feeling that regardless of the number of times you re-grip, you fail all the time. You lose control, obstructing your ability to release the golf ball correctly.
Final Thoughts
You must get the correct grip size to make your hand comfortable to enable complete coverage. With a good grip, precision and appropriate strikes are possible to achieve.
Observing your natural ball flight and conducting some basic measurements can pinpoint the right option. Check if your grips are executing their job well before replacing your old clubs.
The products I recommend above are smoking deals that enable you to perform without restriction and discomfort.
Check if the grip feels right, correctly, and comfortably installed at the appropriate size for your hands when choosing.
What are your thoughts about our post on Standard vs. Midsize Grip? Please share your ideas and give this post a like if you find it educational.
Read more: Overlapping vs. Interlocking Grip: Know Their Pros & Cons