Are you bothered by sweaty hands when playing golf? You can't deny that playing golf with wet hands is a severe challenge.
Sweaty hands make you lose a firm grip on your club, causing you to miss the shot. Indeed, if you're unlucky, your wet hands may unintentionally force you to let go of the club.
For this reason, purchasing the best grips for sweaty hands seems a practical decision to maximize your golf performance.
The valuable factors to consider when buying golf grips are tackiness, style, moisture management, texture, wrap design, and feel.
After the test and tryouts, we determine that the SuperStroke Traxion Wrap Gold Club Grip is the best overall. We're impressed by its ability to offer extreme grip, more stability,  and feedback.
Even so, we strongly recommend comparing our tried and tested options below to help you make an intelligent final buying decision.
It is decisive if you try our recommended products to determine which suits your requirements best quickly.
Our Top Choices: The Most Recommended Golf Grips for Sweaty Hands
Best Golf Grips for Sweaty Hands – 2023 Reviews
1. Golf Pride MCC Plus4 New Decade Golf Grip
Besides one of the easiest golf grips to install, this model features a durable build and a larger lower hand.
You no longer have to worry about grip pressure because it helps reduce that issue during a performance.
If you want a golf grip that allows you to feel great on your driver, the MCC Plus4 is perfect.
You'll love how it generates better control and a firmer grip, enabling you to play confidently and enjoyably.
Key Features
Four extra wraps of tape
Softer rubber material
Larger lower hand
Who should use this product?
The MCC Plus4 is ideal for golfers who prefer an excellent feel, increased power, and reduced tension.
2. SuperStroke Traxion Tour Golf Putter Grip
The characteristics that distinguish this golf grip are its capability to offer consistent stroke, enhanced feedback, and superior feel.           
It helps reduce grip pressure, and its distinctive parallel design looks good and functional.
If you crave sufficient comfort during play, you don't need to search further as this option suits you best.     
This golf grip's exquisite design can encourage you to play more confidently, as it makes you look stylish too.     
Key Features
Advanced surface texture design
Synthetic material
Advanced Spyne Technology
Who should use this product?
The SuperStroke golf putter grip is ideal for players aiming for sufficient comfort, neither slippery nor sticky.
3. Golf Pride CP2 Pro Golf Grip
Golf Pride CP2 helps you grip the club more comfortably and inhibits the club from twisting in your hands.
It does a great job of ensuring more comfort and momentum, minimizing torque and tension.
With several different sizes available for this version, choosing the perfect golf grip size isn't a problem.
If you want a functional and cost-effective golf grip that does its job well, this item is the perfect match.
Key Features
2.5-inch inner core stabilizer
High-performance and innovative technology
Grippy surface
Who should use this product?
The Golf Pride CP2 is an excellent choice for golfers who prefer an affordable and comfortable grip with proper tackiness.
4. Golf Pride MCC Plus4 Align MultiCompound Golf Grip
The MCC Plus4 Multicompound version is a breeze to install, giving you more club control and much-needed comfort.        
The alignment marks make it more straightforward to make the necessary adjustments to suit your shot shape.
It isn't the most economical choice, but that's not a deal-breaker, considering it helps improve drives and fairway wood shots.
Regardless of dry or wet conditions, this golf grip remains dependable in ensuring excellent traction.
Key Features
Subtle align feature
High-quality rubber material
Softer upper part
Who should use this product ?       
Golfers who like a firmer grip and a nice feel during the swing will find this item an intelligent purchase.
5. SuperStroke Traxion Wrap Gold Club Grip
What sets this golf grip version apart from others is its adeptness in offering extreme grip, guaranteeing stability and feedback.
Its larger lower-hand design minimizes taper, which can significantly decrease grip pressure, giving you more comfort.
We find its firm rubber inner core and advanced surface texture impressive, making it look attractive and serviceable.
When it comes to design, functionality, and overall performance, this model is matchless.
Key Features
Advanced surface texture
Wrap-style polyurethane grip
Firm rubber inner core
Who should use this product ?
This golf grip version is for golfers who target more excellent feedback and stability to level up their game experience.
6. Lamkin Sonar + Grips
Since this golf grip provides ultimate comfort and a soft feel, it benefits golfers with arthritis or hand positioning problems.
Its incredibly sturdy rubber material can adjust well to weather conditions while sustaining its functionality.
We love how it can provide a more enhanced feel and excellent torsion control during golf performances.
The overall design and function of this golf grip can incredibly heighten the excitement of your golf rounds.
Key Features
Hybrid rubber compound
Reduced-taper profile
Microtextured surface pattern
Who should use this product ?       
This option's for you if you're a golfer looking for a grip that offers a highly-tacky feel.
7. Golf Pride ZGrip
Are you troubled by your sweaty hands that distract your golf play? If so, this golf grip can assist you in bringing a huge difference in your performance.
It works like a charm in humid climates, ensuring a firmer grip and superior performance.
More importantly, you won't struggle installing this golf grip even if you're a beginner and it doesn't require intricate maintenance.
Whether you're a pro or an amateur golfer, you'll find the construction and functionality of this model worth a shot.
Key Features
Textured or corded grip style        
Top-notch rubber material
Who should use this product ?       
Golf Pride ZGrip is a worthwhile investment for both pro and amateur golfers since it's durable, comfortable, and functional.
8. Winn DriTac Standard Midsize Grip
Golfers who love soft and comfortable cushioning during golf play will find this model the right match.
You'll adore its non-slip and classic wrap-style design, making it reliable regardless of the weather conditions.
This golf grip allows you to enjoy smooth sailing and quick gripping, reducing the tension and pressure during the swing. 
However, since the grip is too soft, its suitability for rugged use is not guaranteed.
Key Features
High shock absorption
Classic wrap-style design
Polymer cushioning
Who should use this product?
Golfers with larger hands will find this midsize golf grip the right companion during golf play.
What Are the Factors to Consider When Investing In Best Golf Grips?
You must carefully ponder various factors before making the final purchasing decision to avoid wasting your time and money.
Some of the factors to determine which golf grip is best include the following:
1. Cost
It costs more to purchase golf grips individually, making it more economical to buy multiple grips at once.
Alternatively, you can save more bucks by installing the golf grip yourself. However, we strongly suggest researching extensively to create a functional DIY golf grip.
2. Size
Golf grips that are either too big or small can generate useless movements during the swing, leading to inconsistencies.
For this reason, you must buy larger golf grips if you have large hands. Meanwhile, women and junior golfers may settle for smaller golf grips.
Remember, top-quality golf grips offer better shock absorption during the swing.    
3. Style                                     
There's no denying that you tend to feel more confident when you look good. It becomes effortless to hit more consistent shots and lower your scores when you have more confidence.
That said, it's only fitting to buy a golf grip that looks good and attractive.
4. Tackiness
Ensuring a tacky grip on your golf club is vital since it helps relax your hands when holding the club.
It helps you to use your arms and shoulders correctly to produce more excellent strokes and better control.
A tackier grip allows you to improve your swing remarkably.
5. Texture
Most golf grip models nowadays are manufactured with various materials, with some produced from rubber materials.
Meanwhile, other versions are cushiony and soft. You can pick a firm cord grip if you prefer gripping the club slightly tighter.
It's entirely up to you to choose a firm or soft grip. Please note that softer rubber grips are likelier to damage quickly, as they can't withstand excessive sweat or moisture.
6. Moisture management    
Various elements, such as tension and weather, can alter instantly on the course, making your hands sweat more.
For this reason, choosing a golf grip with exceptional moisture management is a must. You can enjoy hitting longer and sleeker shots if your golf grip can manage moisture well, keeping your hands dry.
7. Feel
Golf grips that offer better control, responsitivity, and a smooth feel when hitting through the ball are ideal.
Golfers have different needs and preferences. Some prefer models that restrain the sensation, while others prefer feeling more vibrations from the golf club.
Hence, it's best to try out different kinds of grip to determine the version that works outstandingly for your needs.
8. Wrap design
The stellar wrap design of a golf grip helps deliver optimal comfort. In addition, it ensures reduced torque, a sleeker feel, and improved tackiness.
How Do We Test Golf Grips?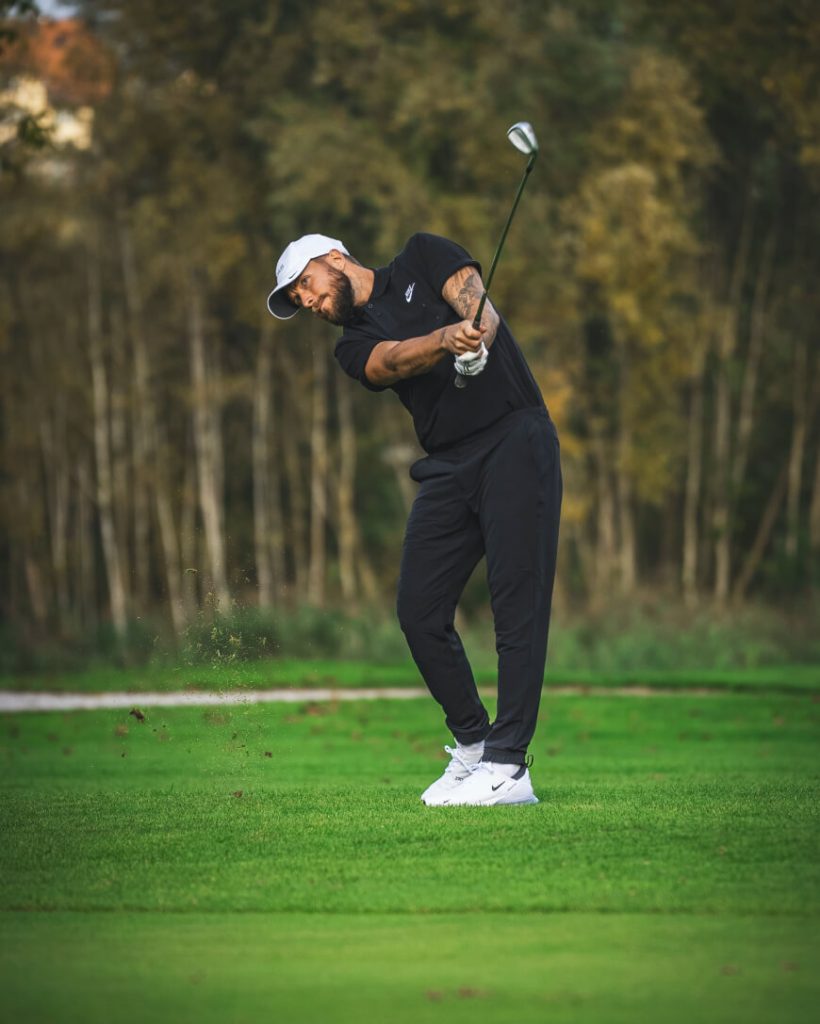 Our product review process comprises utilizing each golf grip model over a few rounds and testing them in various conditions.
These techniques help determine how each model works in different elements and conditions.
We used these different golf grip models in range sessions, golf practices, and proper rounds.
As a result, we uncovered how durable they are, how they perform, etc.
Conducting these methods enables us to provide well-informed and credible recommendations to help you make thoughtful buying decisions.
Personally witnessing how these products work is better so we can provide honest feedback.
FAQ's
1. How do I pick the appropriate golf grip?
Carefully check the shape, size, moisture-wicking feature, and tackiness of the golf grip you're eyeing to buy.
Likewise, inspect how it feels and the durability of the material used in manufacturing it. This way, you can get a suitable golf grip perfect for your game.
2. Are thicker golf grips more excellent options?
Generally, it depends on how you play your shots and your golf skill levels.
Nonetheless, thicker grips are ideal if you wish to hone your swing and reduce movement in your hands.
Hence, thicker grips help avoid excessive pulling or pushing during the swing, ensuring a smoother pendulum stroke.
3. How do I stop my hands from sweating during golf play?
Sweaty hands are challenging to deal with during golf play, especially when the weather is wet or hot.
However, you can try removing your golf gloves between shots or bring an extra towel to dry them more often.
4. What golf grip is ideal for sweaty hands?
Golf grips designed with tacky surfaces are the best options for sweaty hands. These models ensure that your grip doesn't slip even when your hands get wet.
5. Do sweaty hands help grip?
No. Aside from the discomfort felt when your hands are sweating during golf play, sweaty hands restrict your movement.
Due to this, you lose a firm grip, losing traction on your performance. Excessive moisture keeps you from doing proper hand movements, causing you to miss shots and play poorly.
6. What size golf club grip do I require?
The size you need depends on how big your hands are. Measure your hand, the distance between the biggest crease on your hand and your middle finger, to determine your size.
This measurement allows you to get a suitable grip size.
7. What can I put on golf grips to make them sticky?
Regularly cleaning your golf grip helps it to remain sticky. Additionally, sanding and applying oil or grease make the golf grip tacky.
8. What are the ideal golf grips for wet weather?                        
The Golf Pride brand remains the most recommended choice for golfers searching for all-weather golf grips.                                                       
Their golf grips feature outstanding hybrid technology and guarantee a tacky feel despite wet conditions.
Since their products deliver a firmer and tackier grip, they can manage moisture without issues.
Final Thoughts            
Sweaty hands affect your golf play and overall performance, making investing in the best golf grip for sweaty hands necessary.
For this reason, we advise you to compare the most suitable option to ensure getting the best deals available.
Similarly, carefully considering the buying guides shared in this post can immensely help you save more.
In our opinion, the SuperStroke Traxion Wrap Gold Club Grip is the wisest option. It's soft, comfy, tacky, and stable and works wonders in transporting speed more efficiently.
Hopefully, our product reviews and buying guides can help you choose the suitable golf grip for your needs.