North western company started in 1929, making golf clubs affordable for everyone to play golf. Pro Select golf is one of North western's best elite-class golf clubs, invented in the early 1990s to beat its competitors.
With the plethora of golf clubs available in the market, it can be challenging to choose the right one. Pro Select Golf Clubs is a brand that promises to provide golf enthusiasts with high-quality and reliable Pro Select Golf Club sets and irons to enhance their performance.
In this article, we'll delve into Pro Select Golf Clubs, explore the brand's history, and discover who makes these premium golf clubs.
Who Makes Pro Select Golf Clubs?
Checkout below about who makes the Pro Select golf clubs:
Parent Company and Subsidiary
Northwestern is an Italian-family-owned private parent company of Pro Select golf clubs that started this business back in 1929. However, in 2004, the company stopped its employees for not having enough work jobs. Currently, it does not have any subsidiaries, and the company's tangible and intangible assets were started to sell by an intermediary bank soon afterward.
Manufacturing Process
The Pro Select golf clubs' manufacturing was simple. Northwestern was using the forged method of making golf clubs which was a more traditional way back in those days. However, it was a more labor-intensive method that involved metal heating. This heating continues until the metal becomes capable enough to be hammered or shaped into the desired shape.
Quality Control Measures
The company was making the Pro Select line of golf clubs for a few 2000 chosen customers. Therefore, considering the needs of this elite class, they didn't compromise on quality control. All the golf clubs made were of high-quality materials still available in good condition for sale by users. In addition, the U.S. military awarded them a massive contract for their bases in the 1950s golf clubs, considering their quality materials made products.
Pros and Cons of the Pro Select Golf Clubs
The Pro Select golf clubs have the following advantages and disadvantages:
Background of the Pro Select Clubs
Checkout the below Pro select clubs history:
Origin and History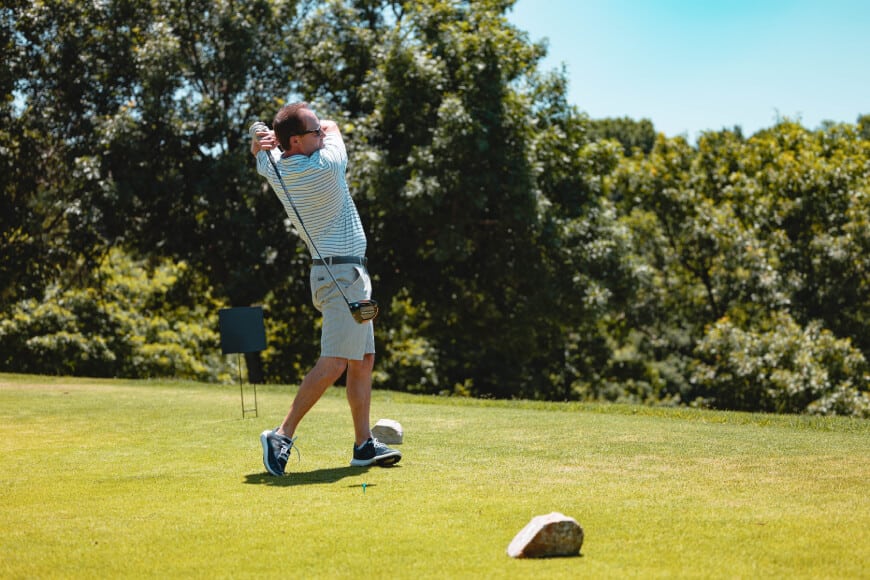 The company is an Italian family-owned business incorporated by Nat Rosasco in 1929. Nat was an Italian immigrant grocer previously working for Wilson Sporting Goods Co., who offered them a job manufacturing golf clubs.
Since he was a good machinist, he quickly learned a lot from Wilson Co. However, after a few years, he left the company with enough experience and some earnings he had saved.
He soon utilized his learning and earnings to start his own golf club manufacturing company, North Western Golf. Nat began to work in the company with both his son's and soon, the company earned a reputable name in the Golf club manufacturing industry.
Company Mission and Values
Before leaving his former employer, Wilson, Nat Rosasco had only one mission. He aimed to make golf easily playable for everyone regardless of income level. However, since early 1929, they have played golf as only an elite sport. Therefore, the Nat family-owned Northwestern Company entered the industry to make an affordable line of golf products.
The company started working on its sole mission to produce affordable golf equipment for everyone. It went well for the father and son till they got a breakthrough from the U.S. military to make golf clubs for their bases.
Pro Select Golf Club Design
The pro select golf design is as below:
Unique Features
Being expensive and elite-class golf clubs years back, the pro select golf clubs had some unique features. Speaking of the Cobra, it could help hit straight, with longer distanced hits quickly. In addition, it was easy to handle and hold and assisted in firing greener shots more easily.
Materials Used
The Pro Select golf equipment line materials mainly were steel, titanium, aluminum, and graphite shafts. The steel-made products, however, are still the most expensive ones currently sold, even at a used price.
Technological Advancements
Since technological advancements keep happening over time in each sports field but being traditionally forged, the Pro Select irons did not opt for many changes. However, in low-spinning, thin-faced, high MOI clubs, the technology advancements happen after every five years approximately.
Pro Select Golf Club Product Lines
It has the following product line:
Overview of Different Lines
North western's Select had the largest product lines for different users. The pro select was one of them that the company targeted for its unique 2000 users. The line included different types of club sets suitable for certain play conditions and requirements.
Characteristics of Each Line
Each pro select line was made specifically considering the user's need. The company made graphite, steel, titanium-made drivers, irons, wedges, and putters. Each line had its characteristic of producing a faster and longer shot that could go straighter.
Comparison to Other Brands
The Pro Select was more reliable, accurate, and even faster than other brands. In addition, their unique, sleek, designed clubs were more prominent and dominating in their prime era. Compared with Wilson, who focused more on the low-price market, they could not even resist the up-scaling and pro-shop business of the northwestern pro shop.
Top 3 Pro Select Golf Clubs of 2023
Check out below our three best picks of the Pro Select golf clubs of 2023:
The Alloy steel-made set contains a titanium Driver-A which is best suitable for firing straighter and longer hits due to its heel-biased and oversized shape.
The Fairways A-5 and A-3 wood cubs offer a heel-biased weight with a shallow profile that helps hit a distanced shot with accuracy from the Fairway and the tees. In addition, the set includes the 4-Hybrid and 5-hybrid that helps in longer green shots between irons and the Fairways.
The irons 6, 7-iron, 8 iron, 9 iron, sand wedge, and pitching wedge has a traditional cavity back design with a perimeter weight that helps in easy launch to distance hitting.
The precise golf 18 pieces set includes all the equipment that a beginner and intermediate player would need. In addition, the set can be ideal for those continuously looking for improvements regardless of any shot hit. The set is good quality and helps you hit some decent controlled shots.
All the clubs in the set are a quality build, available in two sizes for tall and standard heighted players. With its feature of cavity back design and perimeter weighting, it makes it more forgiving missing the sweet spot. In addition, it makes the ball up in the air easier with low center gravity, and the wide sole helps prevent fat shots, etc.
The Callaway edge golf Club is a good choice, especially for beginners struggling to work on different game aspects. The set offers a balanced combination of club pieces. So, if there are issues with one club, switching to the other is always possible. A high-quality driver helps in hitting explosive fast-speed shots for increased speed.
The irons even promote good habits of hitting straight shots with the help of stable irons. The wedges offer optimal spin for the greener side superior control. Moreover, the material is aluminum, and the shafts are graphite made for easy and firmer handling.
What is the Markup on the Golf Clubs?
Speaking of the retailers' markup, it usually is averaged between percentages of 30-35 on the total golf club cost. It may sound a little high for a retailer, but it represents its full gross income. So, that is where the retailers get the most cut for their share.
Are Clone Golf Clubs Legal?
A counterfeit golf club is different than a clone and is not recommendable. However, selling patented clones within reputable companies' trademark limits is 100% legal. In fact, to your surprise, some of the original manufacturers even approve these clone-made products before their release.
FAQ's
1. Is Pro Select a Good Golf Club?
Pro-select golf clubs are still one of the most reliable and strong golf clubs. As a result, they are a good option for beginners who need to work on their straighter and the fast shot hits. Those struggling with wedge spins may also find them a good choice.
2. What Sets Pro Select Golf Clubs Apart From other Brands?
Comparatively, pro-select golf clubs are expensive and an exclusively made line of golf clubs. But they are far better in shape, design, and materials usage. These clubs are far better for beginners who struggle with different shot angles, low center gravity, and straight and fast hitting.
3. Are Pro Select Golf Clubs Made of High-Quality Materials?
Yes, the pro-select golf club sets are made of high-quality materials to make them durable and long-lasting.
4. What are the Brands of Golf Clubs Made in China?
Some of the famous brands made or whose parts come from China are:
Callaway
Cobra
Ping
Titleist
Wilsons (Currently ongoing talks with China sports goods company)
5. What Brand Clubs Did Lee Trevino Use?
Lee Trevino used Wilson 8802 putter in his 1971 U.S. open bag title.
6. What Club Does Justin Thomas Use?
Justin Tomas primarily uses the Titleist brand clubs in most plays.
7. Who Makes Taylor Made?
South Korea now makes all Taylor Made golf equipment.
8. Who Bought Taylor-Made Golf?
A South Korean Seoul-based private equity firm named Centeroid Investment Partners owns Taylor Made. They make all its balls, golf clubs, and clothing.
Conclusion
Pro Select Golf Clubs are a great option for golfers looking for high-quality equipment to improve their game. With a focus on performance, durability, and comfort, these clubs are reliable for golfers of all levels. Whether you're a beginner or an experienced player looking to elevate your game, consider giving Pro Select Golf Clubs a try.
Read more: