Are you fond of golf but having problems with your golf swing mechanics? Or, do you need to improve your flexibility and hone your tempo to maximize your golf performance?
Whether a beginner or a pro, you know that small changes can make a significant difference in playing golf.
Every golfer should know that enhancing tempo and swing can optimize your golf play.
But, what should you do to hone your tempo and swing? To answer this question, you've got to uncover SKLZ Gold Flex vs. Orange Whip.
Both concentrate on enhancing your momentum and rhythm, intensifying your strength, and honing your golf swing flexibility.
Unveil the upsides and downsides of SKLZ Gold Flex and Orange Whip to help you in the decision-making process. It's best to compare their distinguishing features to see which option is best for you.
SKLZ Gold Flex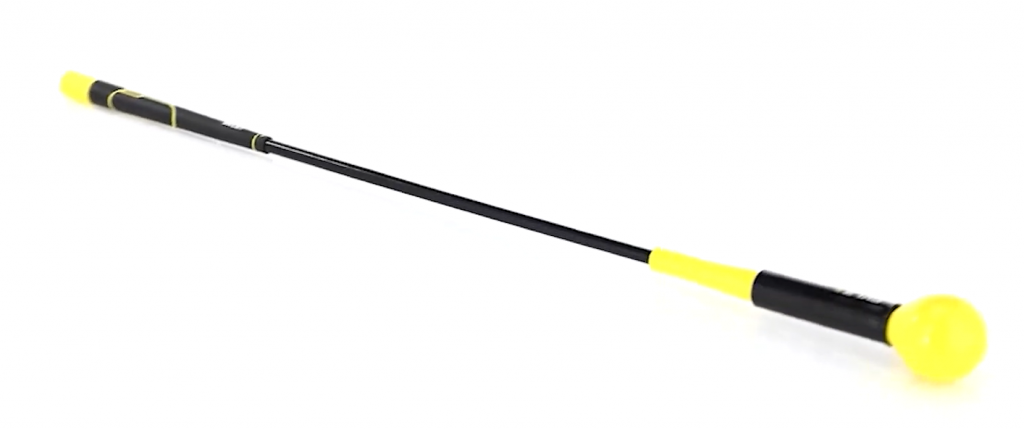 This training tool is purposely for golfers having issues with their swing's rhythm and tempo. It urges golfers to watch for the dense ball to approach their peak of backswing before accessing their downswing.
The SKLZ Gold Flex also urges golfers to create a magnified turn. Such a magnified turn positions your body in the appropriate stance and an additional waiting period helps adjust your timing problems.
With this training tool, your swing conforms to your body, helping the muscle memory turn into a natural swing movement.
Best of all, the primary purpose of the SKLZ Gold Flex is to help increase your strength and flexibility.
Orange Whip
This training tool works like a charm in synchronizing the rhythm between a golfer's lower body, upper body, and arms. The Orange Whip features a weighted ball and an incredibly flexible shaft that ensures a quick momentum and swing feedback.
In addition, the counterweight trains golfers to load and loosen the golf club in a balanced approach. If you feel unsteady when swinging, this conveys that what you're doing isn't right.
The Orange Whip trainer intends to notify you that you need to improve your balance and rhythm. Many tour pros recommend this trainer as it excels at creating distance and replicating driver motion for development.
SKLZ Vs Orange Whip: Distinguishing Features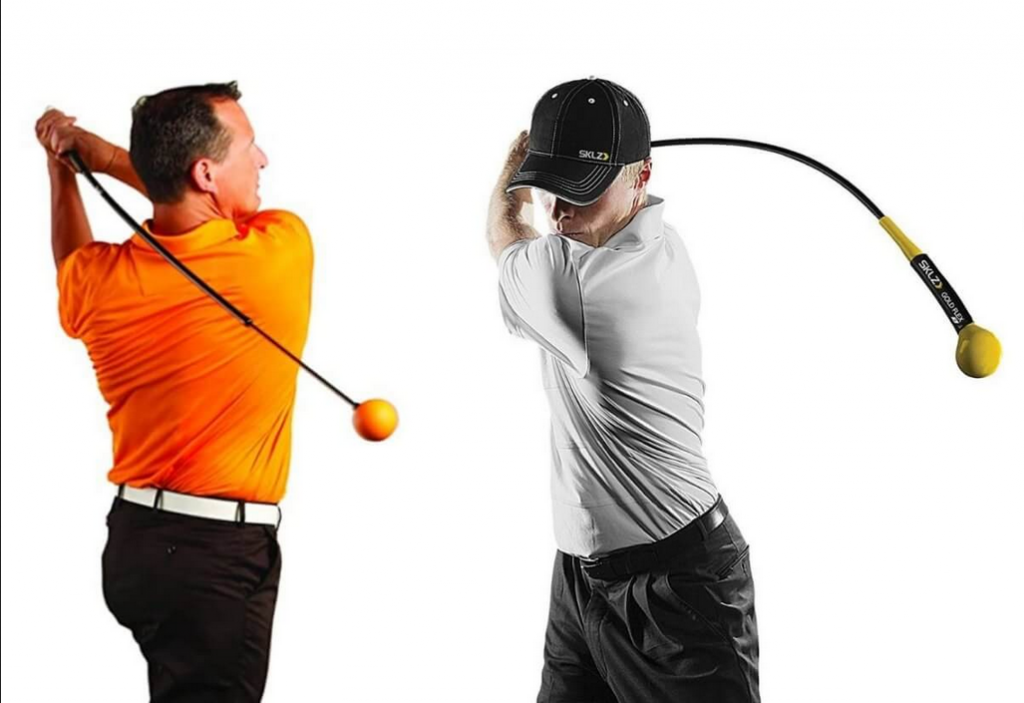 1. Quality
The Orange Whip and SKLZ Gold Flex are top-quality, featuring a highly durable build. Therefore, choosing either of them won't give you any regrets.
2. Shaft Flex
SKLZ Gold Flex and Orange Whip utilize exceptional shaft flex to promote better plane development and optimized speed.
The latter provides a steadier feeling during the swing plane, promoting the quick feedback you need. On the other hand, the former also provides flex; however, it's less steady and slightly unbalanced.
Both provide remarkable advantages for training the upper body through the weighted ball. Nonetheless, the incredibly sturdy build of the Orange Whip turns out better when it comes to the stable shaft flex.
3. Grip
The SKLZ Gold Flex is king in providing a better grip, appearing and feeling similar to an actual club.
Meanwhile, the Orange Whip's counterweight tends to hamper your wrists, appearing slightly out of place. Likewise, the grip appears like a leather cover, a bit outdated.
4. Cost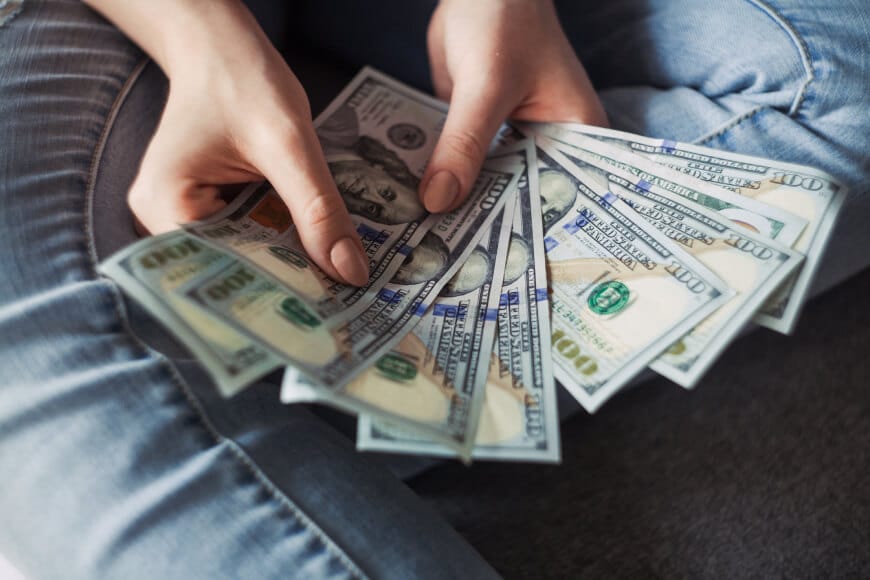 The Orange Whip is more expensive than the SKLZ Gold Flex. But, remember that cost should not only be the sole basis for your decision-making process.
Fortunately, since both training tools have excellent features, you won't waste a single penny. You only need to select which one best matches your preference, goals, and requirements.
5. Weight
The Orange Whip is bulkier than the SKLZ Gold Flex; however, you won't recognize the weight when using it.
Since the SKLZ Gold Flex doesn't have enough flex in the shaft, you feel its heaviness when swinging it. While it helps improve flexibility and strength, it doesn't help hone your momentum.
The Orange Whip lets your body acknowledge something isn't right, giving you quick feedback to fix your swing.
6. Length Options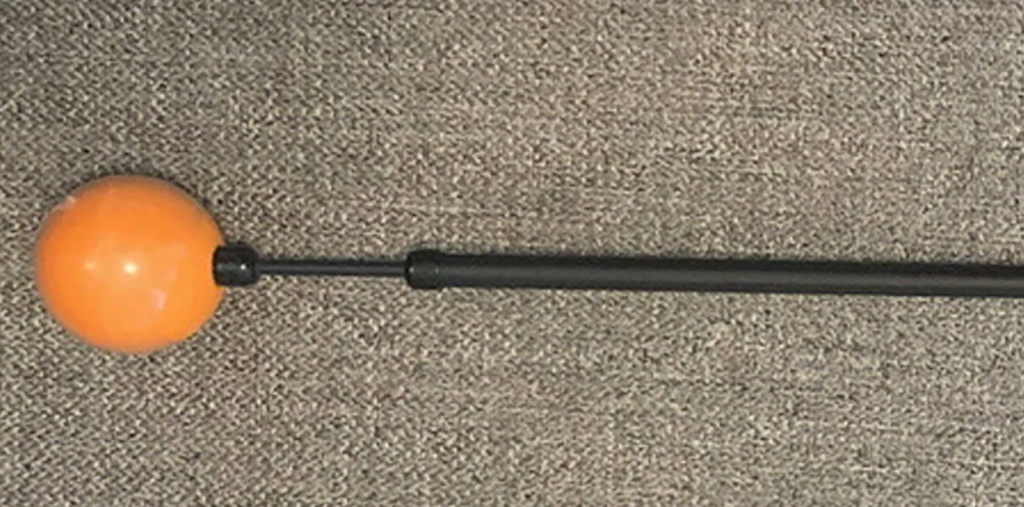 Golfers with different heights can choose from the Orange Whip's three-length options. The three options include 38″, 43″, and 47.5″ for junior players).
Meanwhile, the SKLZ Gold Flex can only offer you two options. These options include 40″ for golfers below 5'6 and 48″ for over 5'6.
For this reason, we strongly recommend examining the training tool first to determine the correct length for you.
7. Options
The SKLZ Gold Flex and Orange Whip feature an extensive array of options. You can choose from different sizes available if you're a short and low handicapper or tall yet beginner.
The Orange Whip offers a wide array of sizes. However, both trainers cater to distinct kinds of clubs, wedges, and putters, and the regular whip trainer creates a fantastic lineup.
8. Visuals
When it comes to visuals, the Orange Whip appears slightly outdated. You will notice that the SKLZ Gold Flex features a more modish look, especially the more refined color.
Nevertheless, both training tools feature radiantly colored heads, making it easier to view and track as you swing.
Which Is A More Excellent Option: Orange Whip Or SKLZ Gold Flex?
The Orange Whip is pricey, yet it lets you know when you need to improve your balance and rhythm. It's ideal for creating distance and reflecting distance motion for development. However, it appears not the best choice for increasing strength and improving flexibility.
Meanwhile, the SKLZ Gold Flex is an infallible choice if you want to increase your strength and flexibility. It helps your swing conform to your body, aiding the muscle memory turn into a more natural swing movement.
Regardless, it features an inflexible shaft and is more lightweight.
By further exploring their features, pros, and cons, let's check what sets the SKLZ Gold Flex or Orange Whip apart.
How Do I Use The Orange Whip?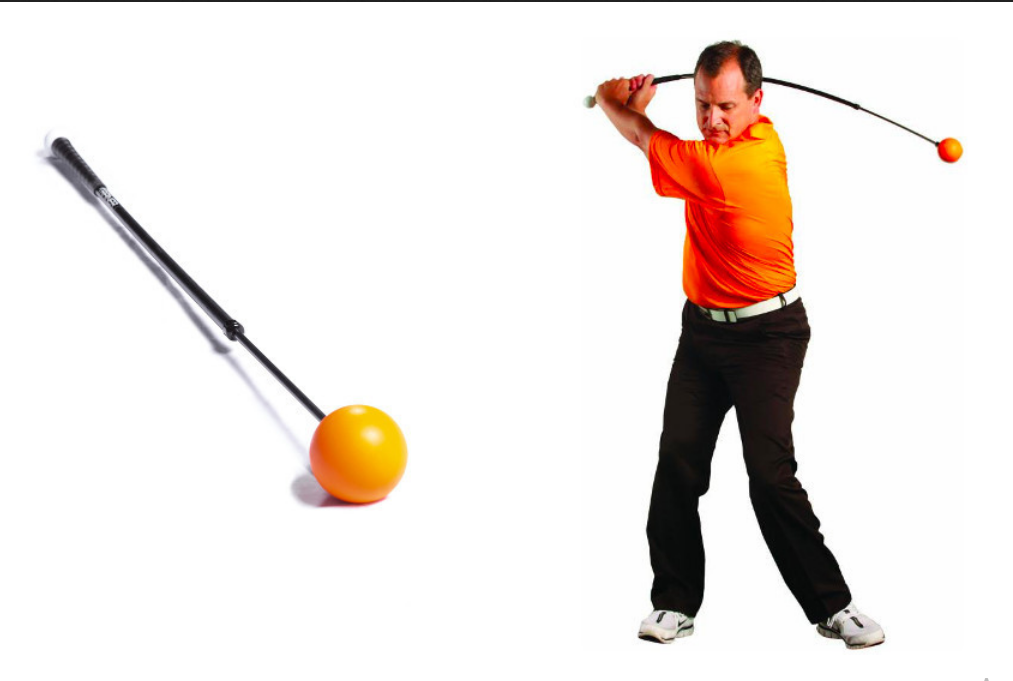 Since this trainer is incredibly flexible, incorrectly swinging it is unlikely to happen. You may perform a few drills when using it. It works by urging you to get your momentum consistently.
How Do I Use The SKLZ Gold Flex?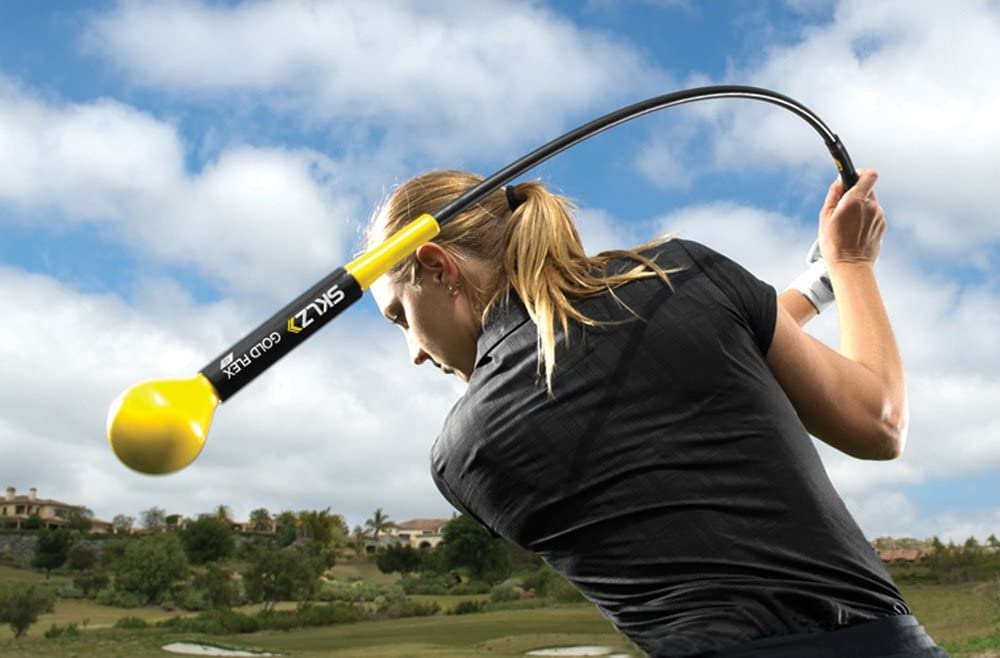 Swing the SKLZ Gold Flex several times before starting a round. This trainer's yellow head helps you effortlessly view your swing path.
Meanwhile, the weight helps you to stretch your corrections, making it more straightforward out on the course.
FAQ's
1. Do professional golfers use the Orange Whip?
Yes. However, the usage purpose comes from instructors and coaches. Golf students use it to improve muscle memory since it features a weighted ball and flexible shaft.
This trainer delivers outstanding results in a short time through frequent and repeated use, making it ideal for advanced players.
2. What size Orange Whip should I purchase?
The mid-size option of the Orange Whip trainer is universal for males and females, shorter golfers, newbies, and seniors. But, it's best to test the trainer first to determine if it fits you well.
3. Can Orange Whip increase swing speed?
Yes. This trainer helps increase the swing speed of most golfers. The extra weight of this training tool offers a modest training stimulus.
Similarly, the modification in sequencing may also improve clubhead speed.
4. Is the Orange Whip worth it?
Since pros and golf instructors trust this trainer, it's a worthwhile investment. It's adept at strengthening your golf muscles and improving your flexibility.
5. Which SKLZ Gold Flex should I purchase?
The answer depends on who will use the trainer. Children and more petite women can choose the 40″. Meanwhile, the 48″ version benefits taller men and women.
6. What's the ball at end of the Orange Whip and the SKLZ Gold Flex for?
Both of these trainers are for correcting a golfer's swing mechanics. The Orange Whip and SKLZ Gold Flex don't feature anything similar to a club head to prevent diversion.
You can concentrate more on your momentum and rhythm when you can grip and rip the trainer.
7. Which Orange Whip Trainer should I purchase?
The standard Orange Whip model is for golfers 5'10 or taller who want a more effortless transfer to driver swing. Go for the mid-size option if you're below 5'9.
On the other hand, the compact model is ideal for golfers who prefer practicing indoors.
8. Is it okay to swing the Orange Whip during a round?
You're not allowed to use the Orange Whip except for stretching.  It requires significant energy, making you lose muscle power to attain the extended drive on the 18th hole.
Final Thoughts
Did you decide which one suits you by reading this post about SKLZ Gold Flex vs. Orange Whip? The truth is the answer depends on your willingness to spend, skill level, and requirements.
Go for the Orange Whip if you have more advanced skills and the budget. This trainer is effortless to carry around and perfectly fits your golf bag when on the go.
However, the SKLZ Gold Flex is also suitable if you prefer a more affordable alternative. This training tool is ideal for newbies as it can mimic a full golf swing. It helps you prepare for the next round and warm your muscles.
Hopefully, you find this post helpful for your selection and decision-making process.
Read more: