Golfers, especially beginners, usually need clarification with limitless golf terminologies to memorize. For instance, are you wondering, "What does up and down mean in golf?"
No golfer would want to misuse golf terminologies, even the amateurs. Hence, it's vital to learn different golf terms besides mastering the game's mechanics.
The term "up and down" in golf refers to a situation when the player misses the fairway with their approach. Afterward, they chipped the golf ball onto the fairway and made their initial putt.
Fundamentally, you only use this term when players play from a greenside bunker or chip on the fairway.
Flip through the post below to learn more about this unique golf terminology.
Get Up and Down Meaning in Golf
Do you want to uncover the fastest means to enhance your golf handicap? If yes, you must master getting up and down in golf, as it's famous for being a stroke saver.
Getting up and down when golfing means your chip got up on the fairway and your initial putt went down.
That is:
"Getting up" refers to the "initial shot that should go from off the fairway onto it." Meanwhile, "getting down" means the second shot is from "on the fairway and goes into the hole."
Why Is The Term "Get Up and Down" Crucial When Golfing?
Golfers should master "getting up and down" because it's one great way to save their round. Getting up and down can help you keep your round going in the appropriate direction.
As you already know, it's impossible to strike each shot flawlessly since even the pros mislay 5+ greens per round.
Nonetheless, if you can get up and down to save a bogey, par, or double bogey, you've saved a stroke. Please note that saving par to hit up and down is unnecessary.
Did you know that making an up and down is advantageous? Yes, that's right! It implies that a golfer has taken the lowest number of strokes to complete a hole.
This conveys that the short shots you gain when getting up and down do wonders in improving your scores.
How Do Golfers Use This Terminology?
Generally, most players don't use this term when hitting a robust approach shot on the course and creating a birdie.
For instance, golfers say: "I missed the fairway; however, I got up and down to save par." Or, "the golf ball went to the bunker, but I got up and down from the ground."
Up-and-Down Stats
There's a remarkable difference between the standard up-and-down skills of higher and lower-handicapped golfers.
The pros can save 85% on up-and-downs, scratch golfers can save around 50%, and ten handicaps can save 46%.
Meanwhile, 20 handicaps can save 17%.
Upgrading Your Up-and-Down Success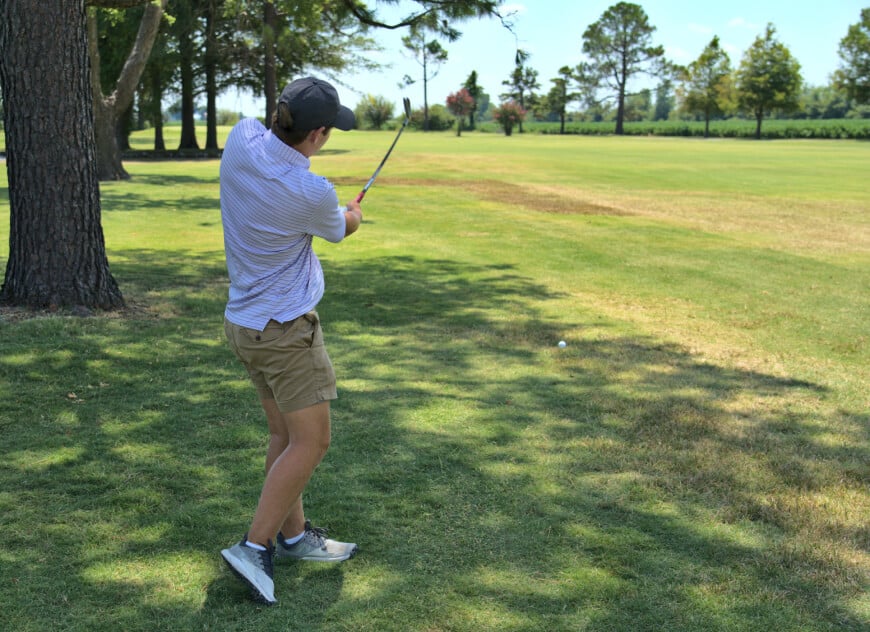 You can immensely upgrade your success in getting up and down by working on your short shots around the fairway.
In particular, practice your bunker shots, chipping, bump-and-runs, pitch shots, and putting from the fringe.
It'll be better to improve your putting by making a putt or two. Regardless, always aim for obtaining the initial shot of the up and down nearby the hole.
Search some instructional videos on YouTube to ease the process.
Valuable Guides to Get Up And Down In Golf More Frequently
Here are some tips and tricks to help you excel at getting up and down when golfing:
1. Always Remain Decisive. One excellent shot is all you need!
Hitting two shots is unnecessary in getting up and down when golfing. It's worth mentioning that you have two unique opportunities to perform this action.
First, strike an exceptional chip and aim for a tap-in putt. Secondly, strike a not-so-good chip and create a long putt.
Regardless of the approach you choose, you'll save a stroke. Remember, it's essential to play smart and don't let any pressure or tension overpower you.
Breathe comfortably and relax, and strive to give your most excellent shot.
2. Add More Diversity When Chipping.
Do you know why it's critical to master different shots when playing golf? Every chip shot is different on the fairway, making it paramount to learn more unique shots to manage them better.
If you're wondering about the number of different chips you're comfortable striking, having more options is ideal.
It would help if you mastered playing the appropriate shot to upgrade your short game. The secret ingredient here is practicing different shots more often and consistently.
3. Devote Some Time to Short Putts.
Do you practice your short putts from 2 to 8 frequently? You can successfully get up and down in golf when you're adept at rolling these putts into the hole.
You'll require a putter, four tees, and one ball when practicing the circle drill. Afterward, position the tees around one hole in a circle.
Then, begin with 3-foot putts and create all four putts without mislaying. From there, you may back the tees up to 4 feet and execute the same process again.
Keep on repeating this method until you reach 8 to 10 feet. The circle drill can help you become more confident in your short putts, helping you master the green.
Once you become a capable short putter, getting up and down won't be a struggle anymore!
4. Trail Your Short Game.
Golf requires you to understand your short game better. Are you aware of your strengths and weaknesses?
Are you below-average or above-putter? Are you good at chipping? Since golf is a mental game, knowledge can give you an edge.
When tracking your short game, it helps to take note of the number of times:
One-putted and three-putted
You got up and down
You strike the fairway in regulation
Your chip shots completed within ten-feet
Trailing your short game can help you determine where you lose your strokes. This approach enables you to understand how to spend your practice time.
5. Getting Up and Down Requires More Quality Practice.
Excelling at getting up and down in golf takes time. Therefore, it's indispensable to practice more but focus more on quality, not quantity.
Cultivate a practice routine and stick to it. What matters the most is finding chipping and putting drills that call for concentration and enjoying them.
Don't forget to include an "up and down" drill in your practice time. Begin by shooting a ball around the putting green and practice getting up and down.
Remember, executing this method from a sand trap, rough, and fairway is decisive. Then, monitor the number of times you succeed.
Dare your golf buddy to an up-and-down challenge if you feel bored practicing alone. Competing with someone fits the bill in encouraging you to play better.
FAQs
1. What is an excellent up-and-down percentage in golf?
According to PGA Tour, 59% is an excellent up-and-down percentage, specifically for average tour players.
2. How frequently does a scratch golfer get up and down?
Scratch golfers excel at getting up and down from within 60 yards. They can get up and down from a bunker less than 50 percent of the time.
3. What does "2 down" mean in golf?
In golf, "2 Down" means your competitor or challenger has conquered two holes more than you.
The competition is finished when a golfer has already conquered more holes than the remaining ones.
4. What does "scrambling" mean in golf?
Scrambling is the percentage of times a golfer mislays the green in regulation yet can still make or par.
Moreover, it's an approach to indirectly gauge how adept a PGA Tour player is at getting up and down.
5. What does "pin high" mean in golf?
"Pin high" means golfers strike their approach shot at the appropriate distance, equal to the pin or flagstick.
6. What does "sand save" mean in golf?
A sand save refers to a specific form of up and down when golfing. It's the percentage of time a golfer gets up and down in a greenside bunker, no matter the score.
Interestingly, Brooks Keoepka is the top player for making sand saves in the PGA Tour in 2021. He was able to make fifty-one saves from seventy-eight bunkers that season.
Final Thoughts
What does up and down mean in golf? This act means striking the ball onto the fairway and getting it in the hole with a single putt.
Getting up and down is a reliable and practical approach to getting around the green, ensuring lower scores.
Pro golfers that mislay a shot know that getting up and down is a great way to save their score.
Unfortunately, you can't excel at getting up and down in a snap. Hence, practicing more with quality and improving your focus is best.
Did you like this post? Please share your thoughts and leave a comment below.