Drivers are constantly being upgraded with the most recent technology and innovation in the golf equipment industry. These are the most common golf clubs that are subjected to this kind of constant change. Simply because drivers are the only clubs that boost distance off that tee. So if you're a female golfer, it only makes sense to buy the best drivers for women.
When you know how to hit your most favorite driver long and straight, what happens? You set up an excellent hole and great scores. Also, drivers are the most gratifying golf clubs to strike. Being able to connect with them and feel their power requires practice, no doubt. But once you get there, it feels incredibly rewarding to watch your shot soar through.
However, finding a suitable driver based on your gender and golfing skills is no easy feat. On top of that, drivers, being the longest of all golf clubs, are not easy to hit as well. Because the longer the club, the more control you lose over your golf swing.
That said, it's crucial to pick a driver only after giving it much thought and consideration. Lucky for you, your search has been narrowed down to only these top 10 best-selling ladies drivers.
Best Drivers for Women – Comparison Table and Top 10 Reviews of 2023

[table id=4 /]
#10 TaylorMade Golf M6 Women's D-Type Driver – Best driver for off-center hits
TaylorMade goes all the way when it comes to designing its drivers to meet the growing demands of its loyal customers. This TaylorMade Golf M6 Women's D-Type Driver has been injected for reaching the threshold of the legal ball speed limit. That means you can drive your shots with complete confidence.
Apart from the Speed Injected technology, this golf club also features a unique Twist clubface. The phenomenal clubface curvature is well-engineered. To minimize sidespin while also generating straighter shots. And this applies even to your off-center hits.
I found the aerodynamic carbon sole to be a very practical design component. It produces discretionary weight, which places 46g of mass back and low. And that, in response, lowers CG and increases MOI. This means you get more forgiveness. Along with a combination of lower spin and higher launch.
And let me tell you, this isn't going to be the only TaylorMade driver I plan on praising so highly. But it is indeed the best one for those common off-center strikes.
#9 Cobra Golf 2019 F9 Speedback Driver – The longest driver for women
It goes without saying, for someone who has tested and reviewed some of the best drivers for women, that this Cobra driver features a revolutionary design. And it presents itself in the form of Speedback technology.
Cobra Golf 2019 F9 Speedback Driver has its low CG and aerodynamics optimized. And that's what makes the club the longest and fastest. There's Speedback Aero Design as well. This is an exceptionally aerodynamic structure of the clubhead.
As a female player, you might also appreciate the low CG, back weighting. This is a multi-material tungsten structure. Then comes the CNC precision milled clubface. Yet another feature that makes the driver the fastest club so far.
Cobra's exclusive Dual Roll technology makes an appearance too. And it's not the first time you'll read about this. Other Cobra drivers I plan on reviewing further also feature the exclusive Dual Roll technology. Simply because it adds more distance to your every drive. And the technology does so by reducing the unwanted gear effect. That often messes with spin and launch on low and high misses.
In all, for straighter and farther drives, you'll absolutely love the Cobra 2019 F9 Speedback.
#8 Callaway Golf 2018 Women's Rogue Driver – Best tour-performance driver for women
This is not going to be the first Callaway driver I review on this list of the best drivers for women. In fact, this isn't the only Callaway Rogue Driver either. I have included yet another, more recent model from the Callaway Rogue Driver series. But for now, let me talk about the 2018 model.
The Jailbreak technology of this Callaway driver combines with its X-Face VFT. And together, with increased MOI, they enhance driver performance. So if you're a female player struggling to generate more ball speed, then turn to Rogue. Also, if you're a woman golfer who prefers buying clubs built with maximum forgiveness, then turn to Rogue.
Apart from the exceptional Jailbreak effect, there's the carbon crown. This particular feature and its high-MOI structure and large address footprint increase forgiveness and stability. To tell you for a fact, all Callaway Rogue drivers have the largest carbon crown surface area.
With the 2018 Rogue driver, you're definitely going to witness a drastic improvement in your shot accuracy, club speed, and distance. And the distance improvement I'm talking about is almost 30 to 50 yards extra.
#7 TaylorMade Women's Kalea Golf Driver – Best ladies golf driver for beginners
With a lightweight construction that enhances clubhead speed, TaylorMade Kalea is a driver specifically designed for women golfers. Especially beginners looking to add distance and ball speed into their driving game. The Speed Pockets make that happen. Along with the low-kick graphite shaft, which promotes a higher launch. No doubt, it's the best women's driver shaft.
The 12-degree loft is high enough to get your golf ball off the ground more easily. And to make it travel farther. The overall design of the driver is lighter in comparison to others. So you don't have to worry about producing greater clubhead speed ever again.
In my opinion, beginners are most likely to appreciate the well-engineered composition of this TaylorMade driver. Because it helps you gain 25 to 35 extra yards with the right swing movement. It's plenty of lightweight and forgiving. So if you're really struggling with your distance, then don't think twice before choosing TaylorMade here.
#6 Cobra Golf 2019 F-Max Superlite Offset Driver – Best offset driver for women
The Cobra Golf 2019 F-Max Superlite Driver features an amazing offset design to enable maximum draw bias. On top of that, the golf club is lighter in terms of weight, compared to most others. This lightweight construction is a result of a reduced clubhead, shaft, and grip weight. So you can generate greater clubhead speed and distance.
Cobra drivers are all about forged E9 clubface technology. Its variable thickness and larger sweet spot allow you to produce more ball speed and distance, no doubt.
Then comes the brand's quintessential ultra-forgiving back and heel weighting construction. This positions the weight strategically back and low in the heel. But what for? For delivering higher-launching and straighter trajectories of course.
Even the visuals are quite appealing with the crown alignment feature. Such a design helps you achieve the perfect square setup during the address. But, if you ask me, it's the ultra-light overall weight of the F-Max that makes all the difference.
#5 Cobra 2018 Golf Women's King F8 Driver – Best driver with the most precise, hottest, thinnest clubface
It's obvious why this ranks as one of the best drivers for women. The Cobra Women's King F8 Driver features a precision-milled clubface. One that's the most precise, hottest, and thinnest ever. These kinds of phenomenal clubface technologies are responsible for boosting performance on the golf course, no doubt about that.
The brand has structured patented E9 technology into the elliptical pattern of the sweet zone. In simple words, the sweet spot of this driver makes way for greater hot spots further away from the clubface's center.
The CNC machining, compared to traditional hand polishing, provides higher precision thickness. So the clubface is 10-percent lighter and 3-percent thinner to maximize distance and ball speed.
The next praiseworthy feature is the innovative Dual Roll technology. It consists of different curvatures on the clubface. Thus, delivering optimized spin and launch for when you hit both low and high on the clubface.
The ultra-lightweight carbon crown and the lightweight titanium body are also commendable features. Both save weight for generating higher trajectories and faster ball speeds. Along with increased forgiveness.
Furthermore, the Cobra King F8 features 8 adjustable loft settings. So you get to fine-tune your launch conditions and manage trajectory. That means maximizing distance is something you can control with the utmost ease. If this is not one of the best drivers for women, then I don't know what is!
#4 Callaway Golf 2020 Mavrik Max Driver – Best driver with interchangeable weights/loft
About time someone told you why Mavrik Max makes it to almost every best ladies golf driver 2020 list. Simply because this particular golf club manufactured by Callaway is all about maximum forgiveness and launch. In fact, it's also the easiest to hit with its interchangeable weights. One is for maximum forgiveness while the other for maximum draw configuration.
The shaft material is ultra-lightweight, premium UST helium. This is perfect for generating all the power you demand without jeopardizing stability. It's a high-trajectory shaft, which always provides utmost forgiveness. And the shaft does so through tight shot dispersion and maximum distance.
Then there are Mavrik Standard and Mavrik Sun Zero models as well that Callaway offers. The former is the fastest driver. That fits most golfer profiles. And the latter is crafted for a better, more advanced player profile.
And since it's Callaway, internal Jailbreak bars are included. What the bars do is connect the crown and sole for boosting ball speed. And the carbon crown is significantly lighter for redistributing weight. So you get higher MOI.
Also, allow me to also point out that Callaway has used Artificial Intelligence for designing this driver. It generates a deeper, more desirable impact sound. And it does so by fine-tuning the clubhead. So it's not just the interchangeable weights that make Mavrik Max such a tempting deal.
#3 Taylormade SIM MAX Driver – Best driver for senior women
What is the best driver for a senior woman? It's a frequently asked question. And the answer is the Taylormade SIM MAX Driver with the senior shaft flex. The sole design of the golf club is reshaped for boosting aerodynamics and clubhead speed. And this happens just when you need them the most during your golf swing.
The weight is strategically positioned to increase forgiveness. And also strategically angled for reducing drag during your downswing. Another thing that caught my attention is the calibrated, injected structure of the clubhead. So it gets to the verge of the legal maximum ball speed limit.
Even the clubface is specially designed with its revolutionary curvature. That minimizes sidespin while also generating straighter shots, even on an off-center hit.
And lastly, there's the multi-material composition. This includes titanium, steel, and carbon. So the clubhead design, with its precise weight positioning, delivers high MOI and ultra-low CG.
Needless to say, the Taylormade SIM MAX Driver is among the best golf clubs for senior ladies. Simply because it's an extremely forgiving driver. One that's sure to add nearly 10 yards to your every drive.
#2 Callaway Golf 2019 Epic Flash Driver – Best driver for the money
Now it's for me to review one of the best drivers Callaway has ever designed. It's the Callaway Golf 2019 Epic Flash Driver. And the club features the Epic Flash Face. Its sophisticated construction is actually created by AI. Artificial Intelligence cycled through as many as 15,000 clubface iterations before it arrived at Flash Face.
But what's so special about this particular feature? It helps women golfers gain more distance by increasing ball speed. So every time your swing succeeds at crushing the shot off that tee. This driver's Flash Face enables the ball to travel farther and faster.
On top of that, Callaway's exclusive Jailbreak bars are also included internally. This is done to stabilize and stiffen the sole and crown. Therefore, a greater impact load is placed on the clubface. And that, in turn, promotes faster ball speed.
Let me also tell you a little something about ball flight control here. The Callaway Epic Flash Driver features sliding 16g weight. What this does is pave the way for easily promoting a straighter flight. Along with promoting fades and draws effortlessly.
Then comes the low spin clubhead architecture. The advanced internal weighting and clubhead shape combine seamlessly. And this combination offers low spin and high MOI. So you get more forgiveness to make the most of. And also a longer distance.
There's no arguing that this driver by Callaway is a fantastic golf club. But it's even more enticing to buy because of its ability to hit much farther with control.
#1 Callaway Golf 2020 Rogue Driver – Editor's Pick
Ladies, it's time to quench your thirst for forgiveness and ball speed with this Callaway innovation. The Callaway Golf 2020 Rogue Driver, no doubt, is designed to rank among the best drivers for women. All thanks to its exclusive X-Face VFT technology and Jailbreak technology.
Both these features combine to promote long-distance and ball speed. Lighter-weight Jailbreak bars are installed behind the clubface. And the X-Face VFT transfers unprecedented energy into the golf ball.
And that's not it. The Callaway Rogue Driver is also outfitted with the largest carbon composite material crown surface area. Along with a brand new high-MOI structure and large address footprint. All these come together for increased forgiveness and stability.
Moreover, the brand has also included Speed Step technology to maximize clubhead speed and improve airflow. The weight placement of this Callaway driver feels optimized. And the clubhead aerodynamics feel streamlined through your swing.
All in all, it's a remarkable driver well-crafted to meet all your expectations on the turf.
Best Women's Driver Buying Guide – What Types of Golf Drivers Are Best for Women?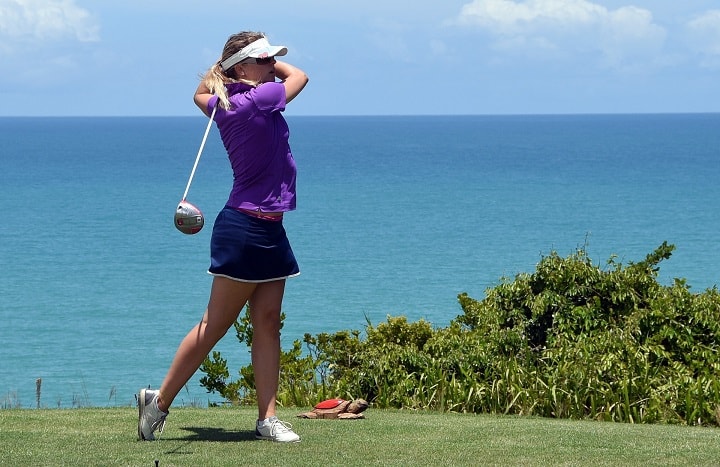 I don't need to tell you that women and men are not anatomically alike. And that's the only reason why golf brands manufacture separate clubs for men and women.
That said, women golfers are better off driving with a golf club specifically designed for ladies. One that also generates increased ball speed and distance. And here's how you can choose the best drivers for women…
1. Lightweight Driver
Biologically speaking, men have greater muscle mass. And that, more often than not, results in a stronger swing movement. So it's only logical to assume that the swing speed of women golfers is slower than men. Because of the comparatively lower strength level.
In that case, you can compensate for the lack of strength simply by using a lightweight driver. The thing about lighter golf clubs is that they're not very difficult to swing. This is where the shaft material, flex, and length come into the picture. And that leads me to the next factor.
2. Driver Shaft
First, let's talk about shaft flex. The majority of golf clubs for women, including drivers, are outfitted with graphite shafts. Simply because graphite shafts are lightweight. So they're very useful when it comes to increasing your swing speed.
Another thing to keep in mind that those with slower swing speeds do better with softer, lighter, and more flexible ladies shafts. But what if you're a woman golfer with faster swing speed? Then you should instead go for a senior flex graphite shaft. This is stiffer and heavier, thus more suitable for women golfers with faster swing speeds.
Now let's talk about shaft length. Average women players are not taller than 5 feet, 4 inches. That means choosing a driver with a 43.5-inch shaft length is good enough.
But it goes without saying that you can select a longer driver in case you're taller. However, don't make the mistake of using a men's driver just because you're taller than average female golfers. Golf clubs for women are more than just shorter in height in comparison to golf clubs for men.
3. Driver Loft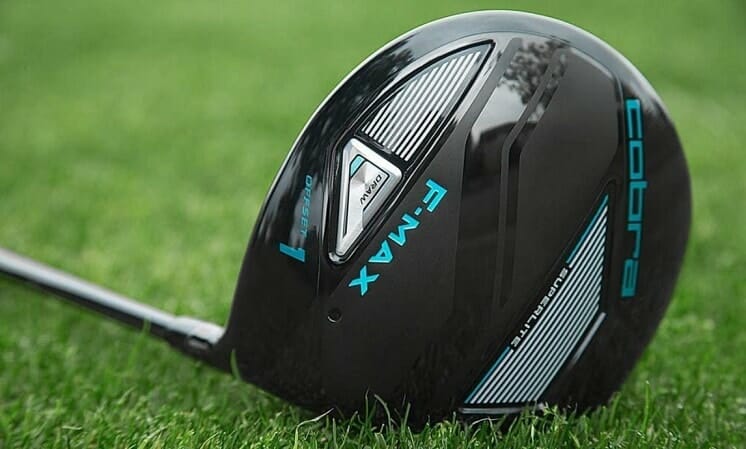 Let me declare right away that higher lofts contribute greatly to generating more distance. The average swing speed of amateur women golfers is 65 mph with a driver. And that of men is 93 mph. This should explain why women need to buy drivers that feature a higher loft. It's the only way you can compensate for your slower swing speed.
So how high should the driver loft be? The answer is between 12 degrees and 16 degrees. If you still can't achieve your desired distance. Then there's no harm in going for an even higher loft.
4. Adjustable Driver
Did you know that ladies' golf drivers for high handicappers are normally adjustable? They feature an adjustable weight, lie, and loft. So you get to experiment with a range of different configurations.
Adjustability in terms of weight positioning and loft, in particular, is the most useful. As it helps you understand which configuration works better for you. So you can then fine-tune your golfing techniques accordingly.
5. Forgiving Driver
This factor is something that both men and women can make the most of. Especially beginners who want to drive straight and long no matter what. If you ask me, forgiveness in golf clubs is no longer optional. I think it has now become an essential feature.
With a very forgiving driver, you can improve the outcome of your strike during the address. Even if that shot is an off-center hit. As a beginner, maybe you've not yet developed the required skills for hitting the sweet spot. So, at such times, forgiveness corrects this minor positional mistake at the address. For making your every shot count!
Forgiveness in drivers presents itself in many forms. Such as a larger clubface, lighter carbon crown, back/heel weighting, and other such innovative ways.
Commonly Asked Questions
Q1. What is the difference between golf woods and drivers?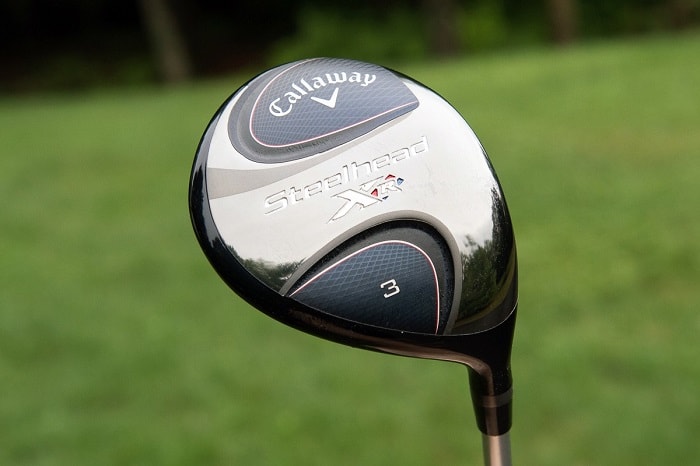 Generally, fairway woods and drivers are teemed as one. Even their designs have many similarities. But it goes without saying that both golf clubs are different. For example, golf drivers have larger clubheads. Along with a longer shaft. And that's not enough.
Woods and drivers may have the same loft. Nevertheless, the latter is specifically crafted for hitting golf balls from the tee, not the ground. However, that doesn't mean you cannot hit a ball using a driver from the ground. You can certainly do so, but drivers are not intended for that particular purpose.
Fairway woods, on the other hand, feature crescent soles for allowing you to hit your golf ball from the ground very easily. From the ground or from a small tee. The lofts of drivers and woods are much the same. But women golfers normally choose either one based on the characteristics of their swing speed.
Q2. How to measure the shaft length of a golf driver?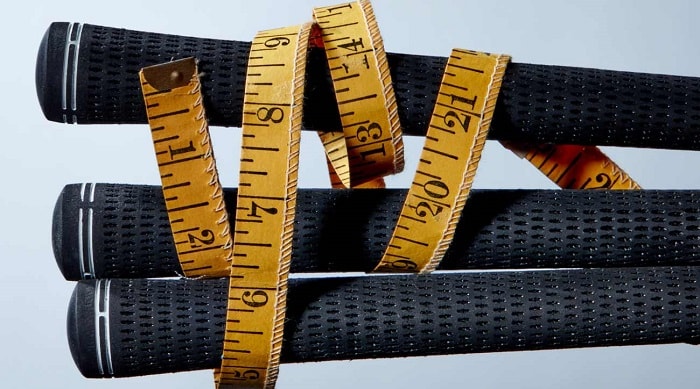 With the help of a measuring tape or stick, set up your driver. In much the same way as you would in case of approaching your golf ball. Meaning the driver should be in the playing position.
Once you do that, start measuring from the grip end all the way down to the clubface center. The number you get is your driver's length and its shaft length.
For women, measuring the shaft length of a driver is even more crucial. Simply because it helps you locate the club's CG. Thus, making it easier for you to strike the sweet spot every single time.
Q3. What are adjustable drivers and does adjustability really matter?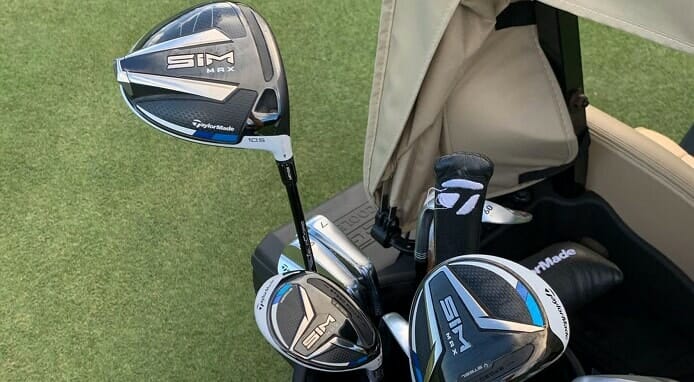 An adjustable driver, for the most part, is equipped with a specialty hosel. This particular feature allows you to change the angle of your driver loft. Meaning you can shift the clubface down or up.
Adjustable drivers are very useful for women golfers because they pave the way for a higher loft. And higher lofts, undoubtedly, are a more suitable choice for slower swing speeds.
Interchangeable perimeter and sole weights also have a direct impact on your ball flight. Typically, the closer the weight of the driver to its clubface, the lower the spin rate and launch. On the contrary, low and back weight positioning generates more forgiveness, higher spin, and higher launch.
Summary
No matter your skill level, a round of golf begins with a drive. And every drive plays a major role in deciding the fate of the game. So if you want to put the best foot forward as a female golfer. Then you have to own the best drivers for women.
Having a tool like that at your disposal on the turf maximizes your chances of success. On top of that, good drivers also maximize strength, ball speed, and distance.
Only after going through a whole list of golf drivers, I was able to recognize the star of the show. And that star is a creation by none other than Callaway. I'm talking about the Callaway Golf 2020 Rogue Driver. It's the ultimate driver for women. That doesn't even cost a fortune!
Versatile and powerful, Callaway Rogue ranks as one of the best drivers for women in many such articles. After all, it combines the unmatched power of X-Face VFT technology and Jailbreak technology. Both promote long-distance and ball speed. Then there's the larger carbon crown for increasing forgiveness and stability.
Speed Step technology of Callaway is also included for enhancing the clubhead speed. And it's got the ladies flex with a high 13.5-degree loft. Along with a lightweight graphite shaft. That works best for women golfers with slower swing speed.
So now you've got control of the reins. That means you decide the fate of your round of golf right from the beginning.
Read more: