Be it looking for the best women's golf clubs for beginners or professionals, it's always important to understand how brands manufacture golf clubs. Golf club manufacturing companies have come a long way in terms of technology and innovation. And this includes spending years perfecting golf clubs not just for men but women too.
Women-specific golf clubs are intrinsically crafted for maximizing swing speed. So you can hit long and high effortlessly. Now, isn't this useful when you're a beginner? Be it woods or wedges, brands have found different ways for combating the slower swing speed of average women golfers.
For example, by increasing the clubface loft of the driver. This allows you to hit longer and higher drives down that fairway. Then the traditional steel shaft irons are replaced with lighter graphite shaft ones. So you don't struggle with the clubface sweet spot with your every swing.
So these are the kind of golf clubs I've reviewed for female golfers in this article. Especially for beginners who wish to make the most of such practical features. Time to get acquainted now!
Best Women's Golf Clubs for Beginners – Table Comparison and Top 13 Reviews
1. Palm Springs Golf Visa V2 Youth Club Set – Best adjustable golf clubs for beginners
The Palm Springs Golf V2 has the right golf equipment you need. It is even weather-proof with headcovers, towel ring, and rain covers. This golf set includes 2 woods, hybrids, and full-length drivers. It has 6 irons and 4 incredible user-friendly pockets for easy access.
Overall, this is a foolproof and spectacular choice for beginners. Most specifically, given its size and weight, it's perfect for young women. If you don't want to pay more than $200 for golf clubs. This can be the perfect setup for you.
In comparison, they're light and sturdy. You'll love the grips on the irons. And they give out an incredible range that is hard to beat at the price. If you're struggling the most with the driver, this entry-level club can help you.
It performs flawlessly without any scratches or scuffs. Even though it doesn't include a sand wedge, it's quite versatile. A perfect beginning always leads to a better game. And that's exactly why you should be buying this golf club set. I highly recommend it for beginners. But especially young girls just starting out. Rather than experienced women players who have been playing for a while.
2. STRATA Women's 16-Piece Golf Packaged Set – Best versatile golf clubs for beginners
You won't find such a complete and affordable golf set anywhere. Boasting of modern features, it has everything an up-and-coming golfer needs. The titanium driver, high-flight irons, and precise putter.
These clubs are designed with a titanium head. And various loft angles that offer incredible forgiveness. This also means you get to practice different techniques with the same golf set. It's impressive in that it's versatile and adaptable.
The fairway wood offers better launch angles and high flights. And you don't even need to practice for higher swing speeds for it. Its aerodynamic head shape offers an enhanced launch range. Including distance, stability, and feedback.
The iron wedges also abide by STRATA's high flight technology. Giving you the control you need for delivering longer and straighter shots. While most other packaged golf clubs offer either pitching or sand wedge. This one offers both which is a huge improvement.
Lastly, the stand bag that everything comes in is also durable. You may not think it but it's an important factor to consider for a beginner. With better grip legs, a solid and sturdy stand, and a handy strap. You can carry this golf bag around everywhere.
3. Callaway Women's Solaire Complete Golf Set – Best professional-grade golf clubs for beginners
The Callaway Solaire Complete Golf Set is a prize to behold. It's a super reliable choice that will change your game for the best. This is perfect for someone still struggling with golf.
Even as a beginner, there are a lot of things you can overlook. Such as hitting straight shots with slow swing speed. Maintaining an optimal and consistent distance as practice. And launch the ball with ease rather than too much force.
All these shortcomings can end up ruining your game. Not only that, but it can also ruin your confidence and dampen your golfing abilities. I highly recommend this beginner/intermediate set to improve those weak points.
And the graphite shaft material and flex on these clubs suit perfectly. They have a premium design that looks just as good as it performs. It includes a premium putter that offers better feedback and launch angle. So you're never in the dark concerning your actual game.
Lots of new golfers buy the Callaway Solaire for the simple reason that it's reliable. Callaway is a reputable brand for golf equipment and accessories. So it knows the basics as well as the technicalities of a good golf game.
As a beginner, you need that more than you need a better score. So buy this to build a solid foundation as a beginner. They are better than your "average" golf clubs. And you'll notice a difference in your performance right off the bat.
4. Precise Premium Ladies Women's Complete Golf Clubs – Best petite golf clubs for beginners
The Precise Premium Complete Golf Clubs has 10 clubs and a golf bag. Made up of graphite, it has an incredible flex on each and every club for women. Most especially, the ultra-light modulus graphite shafts. They really enhance your performance all day.
You'll fall in love with these golf clubs the day they arrive. They look just as amazing as they are to use. You'll see an instant improvement in your game using any one of these clubs.
The petite set is perfect for shorter heights. They're easier to launch. And are more tailored to women who hate using men's golf clubs for beginner training. Overall, these are lightweight and sturdy to use. Even if they're your first set of golf clubs, they're hard to beat.
So as you improve your skills as a beginner golfer, they'll still be useful. With incredible balance and control, you can elevate your distance even with slower swing speeds. The putter, which is an incredible addition to a beginner's golf kit, feels solid.
5. Confidence LADY POWER III Golf Club Set – Best practice golf clubs for beginners
This is a good starter golf club set for beginners. The overall quality of the clubs is up to mark. It includes high-quality woods, wedges and putter, irons, and other accessories. It's easier to invest in such a set because of its low price point. But this golf club set goes farther than that.
It's also one of the easiest golf clubs to pick. It's an entry-level set, to begin with. And it performs quite accurately like that. If you're looking for something with more forgiveness, this is your ideal choice.
It's lightweight and sturdy. The cavity-backed irons have a solid feel to them. And combined with other clubs such as the hybrid and driver. The feel and weight of these clubs really improve overall performance.
The shaft material is alloy steel which is just as effective. It builds power and stability where, as a beginner, you're lacking. Since beginners have to work with slower swing speeds initially. Not all golf clubs are able to match that skill set. But this one does so flawlessly.
It comes with a durable and spacious bag which is also weather-proof. It has legs that automatically pop out for better storage. And grips that don't give in no matter the weather.
6. Aspire XD1 Women's Complete Right-Handed Golf Club – Best lightweight golf clubs for beginners
Aspire XD1 is an affordable and valuable choice. It has a titanium driver head, 21-degree hybrid, and 15-degree fairway wood. The stainless steel construction ensures smooth and consistent performance.
The graphite shafts are lightweight and high-grade. It has great flex and it also goes a very long way. So this should be the most essential thing for a beginner. It also has a generous loft degree which is better than many standard picks.
The wood which has a loft of about 15 degrees is perfect for fairway shots. Not only that, but the feel and weight of the hosel also make it perfect for a better give. In this right-handed golf club set, you get 5 irons.
In fact, through the pitching wedge, you have something solid and foolproof. It can help you manipulate the ball easily to get through the green. Making it perfect for beginners to master a better golf swing even when you don't have a fast swing speed.
The solid and lightweight feel of the clubs are special. In that they allow you to take straight shots with a better launch and angle alignment off the wedge.
Everything about this pick works flawlessly. It has better composition, length, and performance. Perfect for beginners who want a petite and comfortable golf club option. It's lightweight, attractive, and sturdy to use for a long time.
7. Wilson Women's Complete Golf Set – Top Choice
The Wilson Complete Golf Set is of great value for beginners. They are not too expensive to buy. And what you get for the price you pay is unique and ideal. In golf, most players abide by this rule. What you pay is what you get. But at what cost?
This golf set for women is made specifically for better grip and weight. It's lightweight but it won't fall short when it comes to performance. It includes a strappy and sturdy golf bag. And in it, you'll find all the essential golf clubs you'll ever need.
If you're struggling with your golf swing, especially when you don't swing that hard. Then you can rely on this golf set to make that happen. The overall quality of the golf clubs is solid and reliable.
For a beginner to master golf swing using different techniques is important. And with this choice, you can learn even more expressively how to manipulate the ball in different directions. Without swinging very hard, you can achieve great things with Wilson.
The feel and weight of each club are professional. For the price you pay, they're a perfect match. And you didn't even need much, to begin with. This makes this the top choice for women golfers who are also beginners.
Best Women's Golf Clubs for Beginners – Complete Buying Guide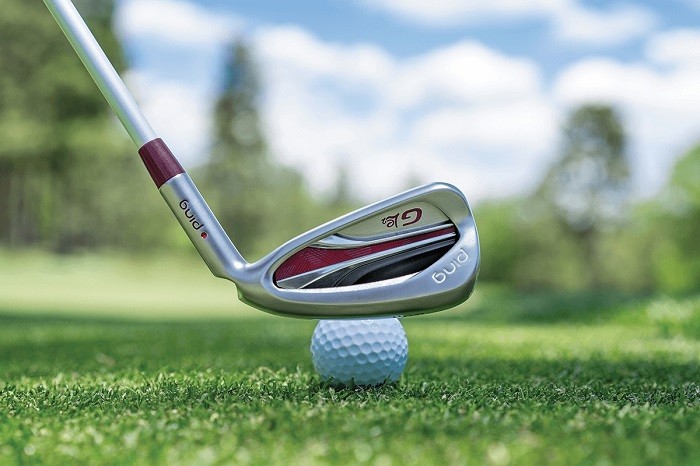 It does indeed seem daunting to buy the best golf clubs for women, let alone women beginners. Because, without a doubt, the options are slightly more restricted in comparison to men. But the dynamics are changing now, no two ways about that. More and more golf club manufacturing companies are striving to meet the growing demands of female golfers.
While that's happening, you cannot even entertain the idea of using a golf club set specifically designed for men. And that's chiefly because there exist natural physical differences between women and men golfers. Such as strength, build, and height. Needless to say, exceptions are always a part of the picture. Even so, the general rule includes these key differences.
In that light, golf clubs for women are comparatively lighter and shorter. Along with larger clubheads that offer extra forgiveness. And make it easier for beginners to launch. No doubt, there are other minor differences as well. That companies have to keep in mind in order to boost the effectiveness of the golf clubs for women.
For that matter, let's get into the specific details…
Factors to Take Into Account When Buying Best Golf Clubs for Women
Before you make your purchase, do take the following characteristics into consideration in case you're a beginner female golfer…
1. Skill Level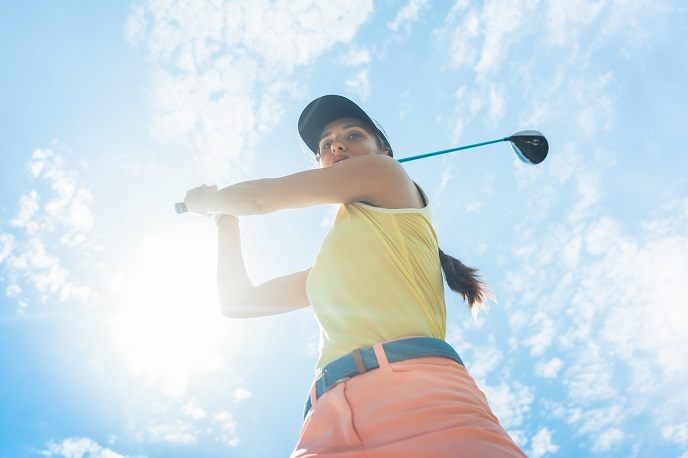 For the best women's golf clubs for beginners, what matters the most is maximum forgiveness. Beginners, be it male or female, place more importance on forgiveness. And not playability and control, as is the case with more experienced golfers.
So you have to choose golf clubs or a golf club set based on your skill level. More often than not, forgiveness comes in the form of a larger clubhead. This, needless to say, is much easier to strike. And it's extra forgiving on your bad swings, which are bound to occur. After all, it takes a lot of practice to grasp the correct golf swing movement.
2. Shaft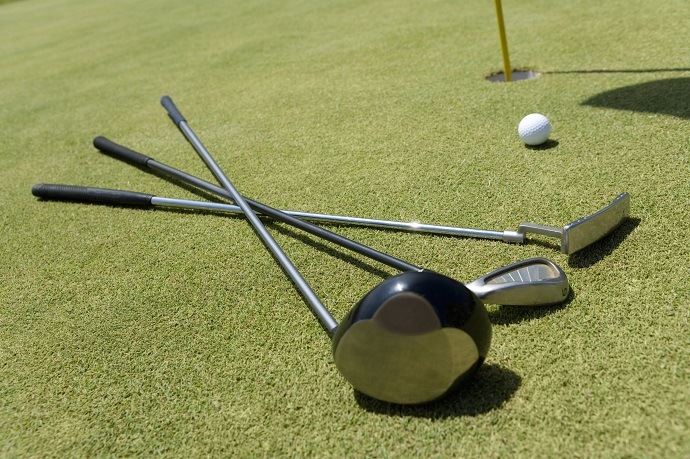 The majority of women golfers have a comparatively slower swing speed. So it's only common sense for ladies' golf clubs to have a more flexible shaft. More flex in the shaft, unquestionably, optimizes distance potential. But if you have a relatively fast swing speed, then a stiffer shaft is more suitable for you.
Then come the weight and length of the golf club shaft. These two factors also depend on your strength and height as a woman golfer. Lighter shafts i.e. graphite shafts, as opposed to stainless steel, are better for boosting swing speed. Therefore, maximizing distance.
In terms of shaft length, get yourself measured properly. Because the correct length, which, more often than not, is comparatively shorter for women than men, provides you with greater control.
3. Grip
Needless to say, the grip of your golf club should be proportionate to your hand size. Women's hands, comparatively speaking, are smaller than men. So it's only logical to choose a grip crafted with a smaller diameter.
Keep in mind that a grip that's not comfortable and firm makes all other important aspects of your every shot more difficult. Especially if you're a beginner!
4. Golf Club Set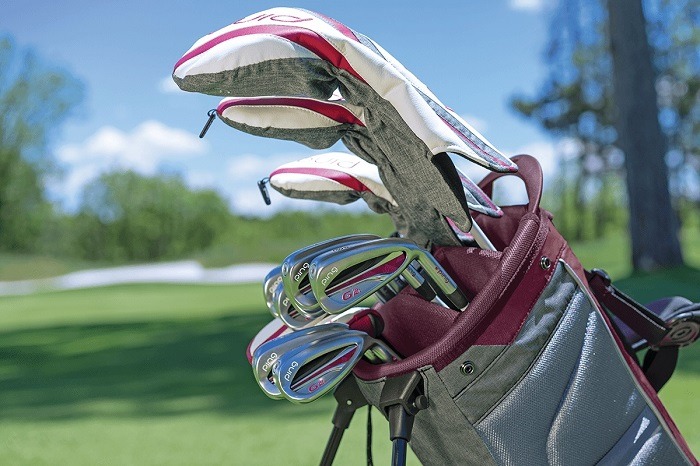 You obviously cannot expect every golf club in the set to fit your personal needs and preferences. Another undeniable truth is that there's no one correct size that fits all golf club sets. The best thing to do, at such times, is to figure out what your specific requirements and goals are. Also give some thought to your particular budget when buying.
For example, you already own a putter and driver. Along with maybe a golf bag. In that case, you only need to purchase the best women's irons or iron set. Or an iron and hybrid combination, right?
Since I'm on that subject, let me tell you that hybrids are incredibly popular among women golfers. And male golfers who prefer using a hybrid instead of the difficult-to-hit longer irons. So this rule applies to both women and men. And also to beginners and experienced golfers.
There's just no debating that hybrids offer much more forgiveness. Plus, these are way easier in terms of launching and hitting. That means the best women's golf clubs for beginners should always include 1-2 hybrids. Only then is it worth your time and money?
Now that you know what to get, what about golf clubs that are not but should be included? For instance, many golf club sets fail to offer a sand wedge. And that's bad news because the sand wedge is an extremely handy club. You can use it for your shorter chips. Or to get out of sticky situations, such as awful sand traps.
Make sure you're checking every golf club that is a part of the set. It should consist of a lightweight, forgiving driver. So you can have the upper hand on tee shots. On top of that, the loft ought to be higher for easier launch. This is very important in the case of slower swing speed. As for fairway woods, they're the most useful for longer holes.
Next on the priority list are your highly forgiving cavity-backed irons. If you're a beginner, go for these instead of the blade-style version. Because the latter delivers more playability and control. Thus, it's more difficult to strike accurately.
And last but not the least, putter and wedges. Along with the golf bag, which should be spacious enough, durable, and lightweight.
5. Cost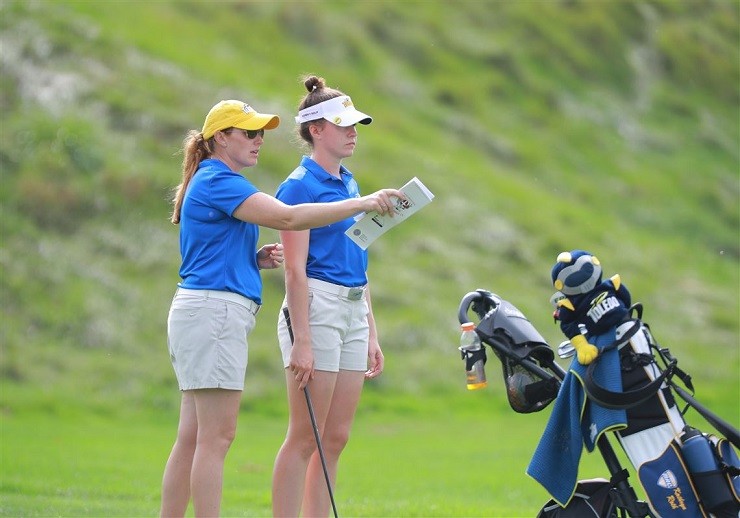 Your budget is also a very important factor. Especially when buying the best women's golf clubs for beginners. Because if you're serious about the game and want to improve. Then it's only advisable to spend a little extra to buy a high-quality golf club set. Otherwise, if you're only going to indulge once in a while. In that case, stick to a reasonable or affordable budget.
Nevertheless, there's no denying that some golf brands offer the best of both worlds. Meaning high-quality, high-performance golf clubs that don't cost a fortune.
6. Visual Appeal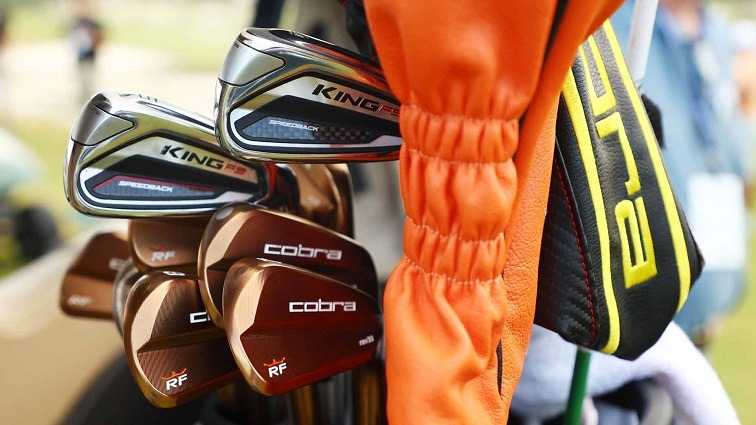 Both men and women golfers take the appearance of golf clubs into consideration. Be it a beginner or a professional.
Furthermore, the wide range of options available does indeed offer all kinds of different designs and styles. So you may get the opportunity to choose a golf club set that appeals to your particular taste and personality. After all, golf is also about enjoying the game.
7. Difference between Driver, Fairway Wood, and Iron
A standard driver for women is between 12 degrees or higher. This is the main loft angle, which determines how women launch the ball off the tee.
For men, the loft angle is a minimum of 9 to 11 degrees. If you aim for a higher loft angle, you can easily hit the ball. It's lightweight, speedy, and consistent. Beginners don't want to exert too much stamina while hitting. So a higher loft, for entry-level performance, helps with that.
As you advance in your practice, you can aim for a lower loft angle or 11 or 11 degrees.
Fairway woods have a higher loft angle. They are more versatile for women. Because you can choose a fairway wood with a range of 13, 12, 11 loft angles.
Irons have more flexibility than fairway woods. But they are relatively heavier than woods in terms of the head. Women who require a short and sturdy golf club often choose an iron. It caters to slower swing speeds and improves distance.
8. Wedge and Putter
A wedge and putter is in every golf club kit. If it isn't, do not buy it. This is the must-have accessory for all golfers, men and women. Especially beginners who want to improve their golf score around the green.
The average wedge count in a kit is one. But you can also opt for a pitching and sand wedge. A pitching wedge of 48 degrees loft angle is perfect for beginners. It helps them navigate through the dense greens.
A sand wedge has a higher loft angle of around 54 to 58 degrees. They're more accurate and give you incredible control.
Putters, be it blade or mallet, affects swing speed. You can aim for short and low speeds for better launch and speed. This is perfect for when you want to focus on a shorter distance.
How to Choose the Best Ladies' golf clubs for Beginners – Buying Guide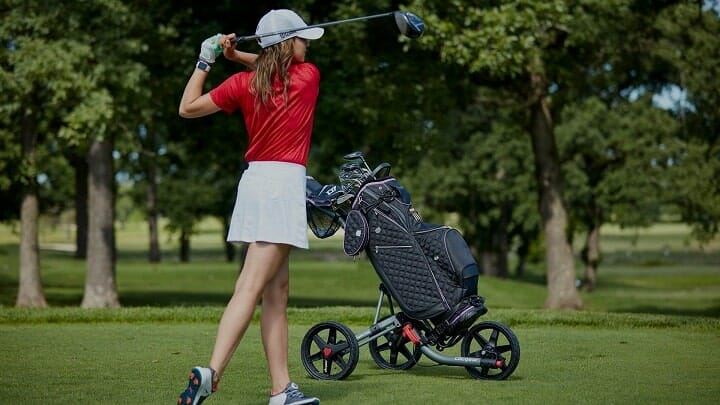 You don't see very many women-tailored articles these days. Especially for women golfers who need something specific like golf clubs and golfing tips. For women golfers, golfing is just as challenging as it is for men. So why should this be any different?
Buying a golf club for ladies is tough. But lucky for you, I have everything laid down for you. If you've read this far into the article, you want to find the best ladies' golf club. And these ladies' golf club reviews are the only thing you'll need.
The following buying guide has a lot to offer you. How to choose the best ladies golf club? And are the key differences between men's and women's golf clubs? And what does a complete golf kit for women include?
You can buy the best ladies' golf club based on the following factors…
Best Women's Golf Clubs for Beginners – What Matters the Most
#1 The Quality of the Golf Club Set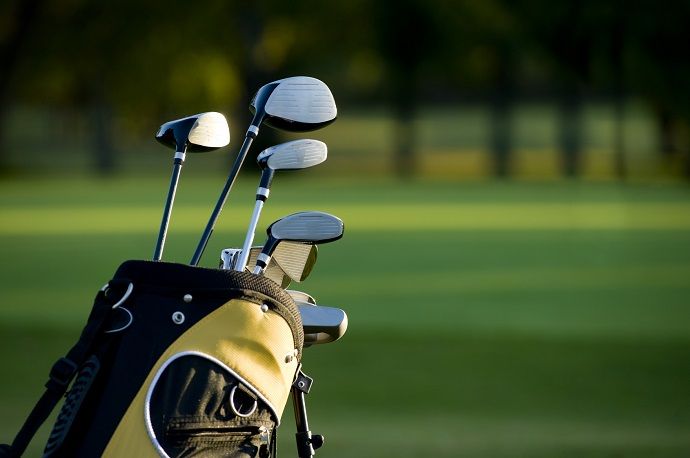 Buying a set of golf clubs, more often than not, seems like a huge investment. All the more reason to carefully evaluate the quality and construction of the golf clubs. Because there are consequences if you end up using cheap quality clubs that are poorly designed.
Right from the golf club's grip all the way to its shaft and clubhead; every component has to be well engineered. And the best way to make sure this happens is to select renowned golf brands. Such as Callaway, Cobra, Wilson, Aspire, etc. These are trustworthy golf club manufacturing companies that have spent millions into research and development.
#2 Woods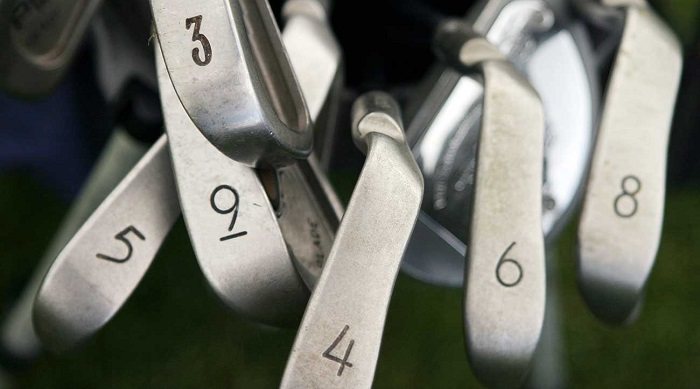 The best women's golf clubs for beginners are not often drivers. Simply because the driver is not such an easy golf club to hit if you're new to the game. So make it a point to avoid using a driver even when practicing. But just when you think your swing speed has improved a bit, you can allow the driver to take control.
Irrespective of whether or not you're a fan of the driver, it should be a part of your golf club set. That said, the driver loft has to be 12 to 13 degrees. And its shaft should be made of lightweight graphite material. This boosts ball speed i.e. distance better than heavier stainless steel golf club shafts.
If the set consists of such a driver, then you don't have to worry about unleashing your #1 wood.
#3 Irons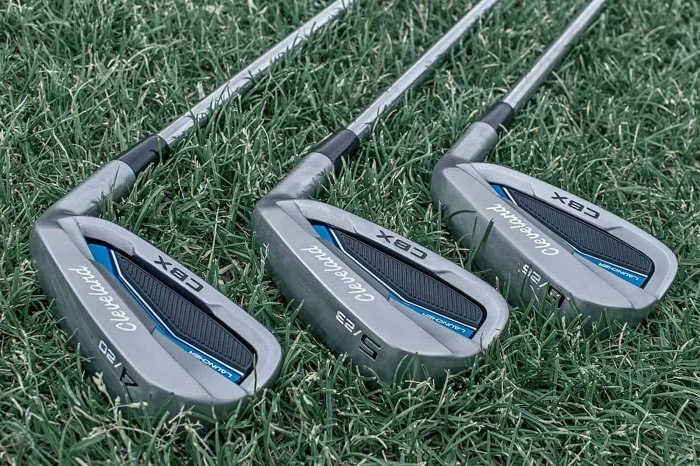 What type of irons should you look for in the best women's golf clubs for beginners? As far as golf irons are concerned, their material and quality are the most important. Along with their flex rating.
To be honest, finding the right irons in a golf set is very tough if not impossible. Irons with a graphite shaft and ladies flex are ideal. These consist of a relatively softer flex for easily returning the clubface to your golf ball in the perfect square position during impact.
Such kinds of irons give you an improved feel off the clubface both during practice and play.
#4 Wedges and Putter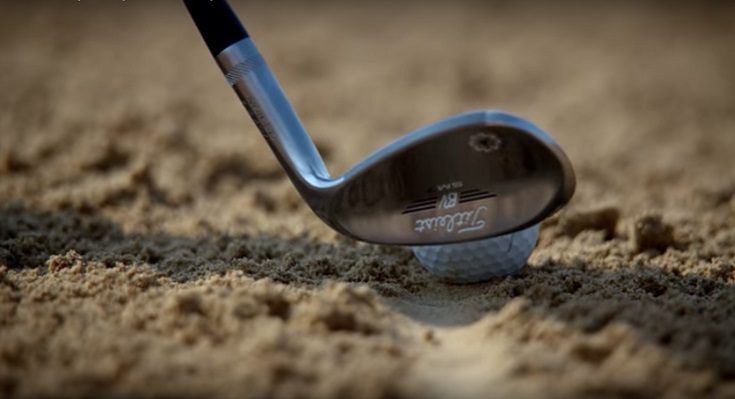 How to lower golf scores? This is a commonly asked question. So do you know what the simple answer is? Just improve your golfing skills around the green. And such an improvement is only possible when you ace your wedge game. And also when you steady the putter on the green. Easier said than done, right?
But choosing the right wedges and putter can make it easier for you to achieve that goal. However, it's a little troubling to find out that most golf club sets feature only a single wedge. Another common problem is that the majority of these sets consists of a 48-degree loft pitching wedge.
And if you're a beginner, then your style of play and golfing skills demand a higher lofted wedge. Only then does it become easier for you to navigate through high rough and sand.
As for the putter, it's all about your personal preferences. Your options are mallet putter and blade putter. So check which style does the golf club set offer. Because if you don't, it's likely you'll end up paying more money for a putter that doesn't serve you.
Difference Between Male and Female Golf Clubs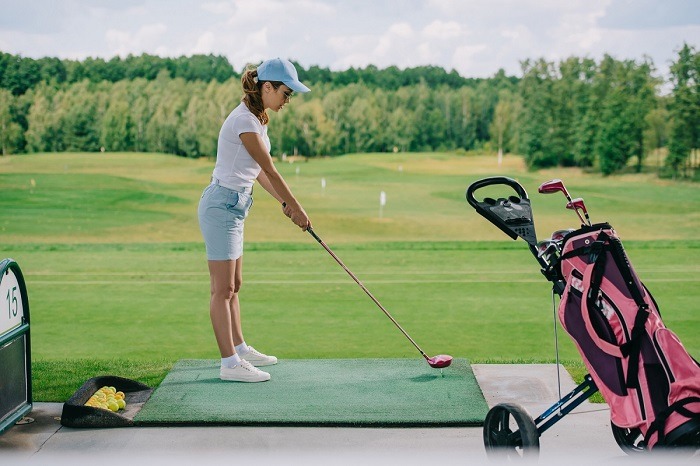 Golf clubs for women have smaller grips. This is a minor difference.
The major differences are associated with the swing speed of men and women golfers. On average, women golfers have a slower swing speed than men. So it's only logical for ladies golf clubs, especially those for beginners, to have a larger i.e. more forgiving clubhead. And a lighter, more flexible shaft. That way you can maximize both distance and ball height.
Here's the only reason why professional women golfers use modern golf clubs that are often used by their male counterparts as well. Simply because these experienced players have exceptional swing speeds.
In the case of specific golf clubs, like the driver, it has a higher loft for women (12-13 degrees). This is added for promoting ball flight. As for irons, they have a lightweight graphite shaft to improve your swing speed. Graphite shafts also offer a softer flex for the same purpose.
Moving on to clubhead weight, it's heavier in women's golf clubs. So the head stays closer to the turf. As a result, it improves contact during impact.
Conclusion
I have presented only the best women's golf clubs for beginners. Out of which, it's the Wilson Women's Complete Golf Set that I consider to be the #1 choice. The golf club set, no doubt, is of the highest quality, well assembled, and even highly functional for the price you pay for it.
Each golf club included in the Wilson set is comfortable to use, forgiving, and outright effective. Such a combination is ideal for a beginner who has a lot to correct and improve. The technology that the brand has employed is the most appealing aspect.
So now you're all well equipped to make your decision based on your golfing skills. And even your budget as a matter of fact.
Read more: