Are you having problems with your golf practice and determining critical improvement areas? If so, investing in the best golf simulator for under $1000 might be your ideal solution!
Top-quality golf simulators are valuable companions for golfers who want to enhance their skills and enjoy their practice better. Indeed, they help you lessen the burden of dealing with challenging golf courses.
We found golf simulators advantageous in honing our skills and reveling in our golf experience even more. In this post, we want to share the top golf simulators we've used to help you in your golf game.
Remember, it's best to test the available options before picking one. Carefully read our buying guide and product reviews below to help you select the best choice.
Let's get the ball rolling!
If you are in a hurry to know the result of our test, we find the OptiShot 2 Golf Simulator for Home as the Best Golf Simulator Under $1000.
Our Top Picks for the Best Golf Simulators Under $1000
Top 5 Best Golf Simulators For Under $1000 – 2023 Reviews
1. OptiShot 2 Golf Simulator for Home: Best indoor golf simulator for portability, user-friendly setup, and reasonable price (Top Pick)
Key Features
Quick setup and excellent driving range
High-density foam and top-quality turf for a realistic golf experience
It consists of 15 courses and instantaneous feedback.
More active games for multiplayer
How does it work?
The OptiShot 2 tracks the path, face angle, and club speed with dual rows of high-speed infrared sensors. It records every movement whenever you move your club from the rear row of sensors to the front row.
This input is transmitted to your PC or Mac via this simulator's interspersed simulation software. You can enjoy actual feedback with each swing on every shot. Since it tracks your club, it's okay if you don't use a ball or use plastic or foam balls instead.
As a result, we found the OptiShot 2 a more flexible option in terms of space and location.
What's included in the package?
Once you buy OptiShot 2 Golf Simulator for Home, you get the following:
Optishot 2
2 foam practice golf balls
Adjustable rubber tees
Software
Golf hitting net
USB cable
Golf mat
Who should use OptiShot 2?
All types of golfers (newbies or advanced) and for multiplayer
Who should not use OptiShot 2?
People looking for realistic shots and significantly improve their golf game
2. Blast Golf – Swing and Stroke Analyzer: Best for the most advanced swing and stroke solution in golf games
Key Features
Quick feedback via an app
Offers one-touch and instant access to metrics, video highlights, and performance history
Can measure a significant amount of metrics
Features a robust motion analysis and performance insights
How does it work?
You only need to attach the sensor to your club or putter to start swinging. Afterward, pair it with an app on your mobile device to quickly provide you with feedback. This way, you can practice more effectively.
This swing and stroke analyzer is an excellent option because it helps identify the precise areas that need improvement. Furthermore, it helps you analyze the details of each swing or stroke with graphs and stats.
What's included in the package?
The package includes:
Golf swing and stroke analyzer (sensor)
putter and club attachments
A charger.
Who should use Blast Golf – Swing and Stroke Analyzer?
Golfers seeking to enhance all elements of their ball striking and swing
Who should not use Blast Golf – Swing and Stroke Analyzer?
Beginner golfers who find it hard to understand the breadth and depth of golf data
3. Voice Caddie Swing Caddie SC300 & SC300i: Best for portability and host of useful features
Key Features
Measures ball speed, swing speed, apex, carry distance and launch angle
Features easy-to-adjust loft angles
Equipped with Doppler radar Technology
Provides quick feedback through an LCD
How does it work?
The Voice Caddie SC300 is pretty easy to set up on the range and displays data on a large screen. Surprisingly, this launch monitor also speaks, making it unnecessary for you to look down. It lets you compare clubs and outcomes on your schedule and leisure.
It's reliable in giving you honest averages and yardages for every club. It determines the efficiency with which you hit the ball with the smash factor, club speed, launch angle, and ball speed.
More importantly, it lets you master your distances better.
What's included in the package?
The package contains:
The Voice Caddie Swing Caddie SC300 device
User manual
USB cable and cover
A remote.
Who should use the Voice Caddie SC300?
Serious golfers and people looking for an excellent practice companion, especially at home
Who should not use the Voice Caddie SC300?
Golfers with a limited budget and weekend golfers
4. Garmin Approach G80: Best for course selection, accuracy, quality, and extended battery life
Key Features
Integrated launch monitor, slim and transparent touchscreen display
15-hour rechargeable battery lifespan with GPS
Both the launch monitor and GPS are averagely accurate
Pre-loaded with over 41,000 detailed color golf course maps globally
How does it work?
The Garmin Approach G80 is an outstanding golf practice companion during your driving range or home sessions. The GPS and launch monitor features are functional and convenient, eliminating purchasing two separate units.
This device can easily fit in your pocket and fasten to your carry bag, push cart, or electric cart. Similarly, the game modes and practice functions are simple to set up and use.
They provide excellent data and feedback in your practice session. We liked the yardages and maps for over 41,000 golf courses already pre-loaded into the device.
What's included in the package?
The Garmin Approach G80 package comprises:
Approach G80
Documentation
USB cable
Trolley/Cart mount
Lanyard carabiner
Who should use Garmin Approach G80?
Golfers aiming for consistency and distances and who want to focus on practicing their shots
Who should not use Garmin Approach G80?
Golfers merely looking for a GPS, golfers who prefer pocket-friendly 2-in-1 device, golfers who only play for fun
5. Sports Sensors Swing Speed Radar: Best for sustaining consistent swing speeds for irons and better distance control and precision for wedges
Key Features
2-instruments-in-1 design with a simple single-button operation feature
It does not require hitting an actual golf ball.
Provides instant feedback that identifies swing improvements
Equipped with a radar that works with sponge golf balls
How does it work?
This Swing Speed Radar is the tool you need if you prefer working on the stroke of your swing. It does a great job of acquiring precise data and excels in correlating your former and recent shot results.
It features radar that works with a sponge of golf balls, making it useful even without a golf simulator. This radar logs your tempo time and club head speed for enhanced swing consistency.
What's included in the package?
The package contains only one item:
Sports Sensors Swing Speed Radar.
Who should use Sports Sensors Swing Speed Radar?
Instructors and club makers who want more convenience and flexibility in the golf course or home-based setups
Who should not use Sports Sensors Swing Speed Radar?
Golfers unwilling to spend a bit for a Swing Speed Radar
Best Golf Simulator for Under $1000 – Buying Guide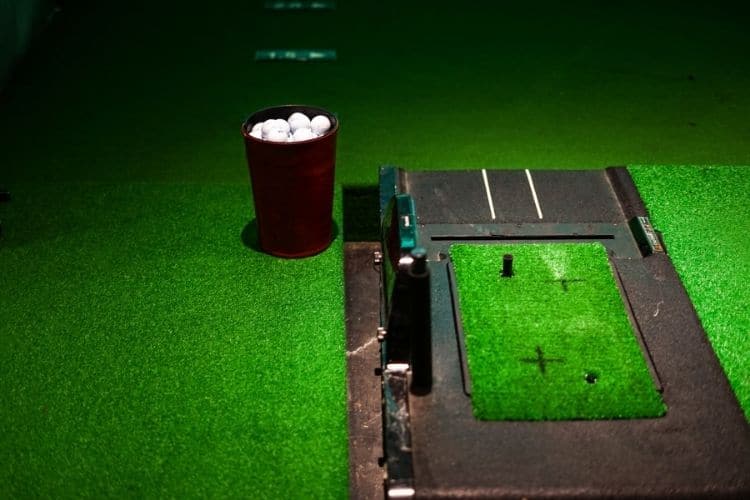 1. Budget
Remember that the less you spend, the less you'll commonly get top-quality options in terms of software and equipment.
Top-of-the-line golf simulators are generally expensive; however, you're guaranteed quality, functionality, and performance.
It's best to save more than settle for less, compromising your expectations. The golf simulators we used and reviewed above are primarily pricey but worthwhile investments.
2. Portability
Choose golf simulators that are lightweight and portable so that easy transport won't be a problem. If portability is specifically advantageous for you, ensure that transporting your net and mat is a cinch.
Luckily, most quality golf simulators nowadays offer more mobility and convenience; therefore, carrying them around is straightforward.
3. Room Specs
The room specs required measure 9 feet high, 10 feet wide, and 12 feet long. That said, ensure you have a larger room when building a golf simulator.
Typically, you'll need more height, width, and length for your impact screen and launch monitor setup.
4. Size
Look for a golf simulator with sufficient room for your tracking device, hitting mat, and net. This way, you'll have adequate space to swing your longest club without obstruction.
To do so, measure your space's height, length, and width and match it to the minimum space requirements. Your space should readily accommodate a net setup that generally requires roughly nine feet high.
5. Impact Screen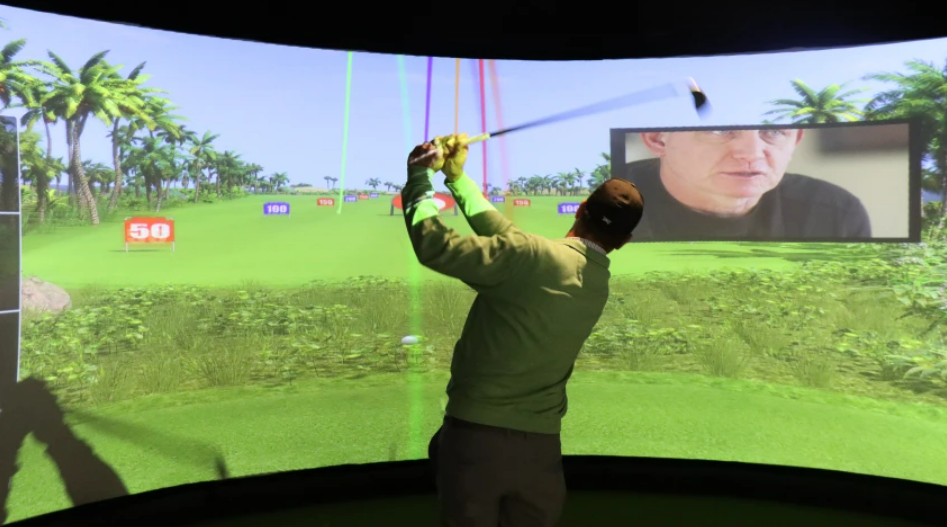 Your impact screen should be incredibly durable to withstand continuous hits whenever you practice or play golf. It should be shock-proof and capable of canceling out most of the noise generated by the impact.
6. Net vs. No Net
Screens and projectors unquestionably increase your spending; hence, consider if you need them. Consider if you're okay without using balls, or using plastic or foam balls, and simulator only.
It's essential to figure out how valuable it is for you to take natural golf shots using actual balls. Undeniably, it will help level up your game experience and make it more realistic.
7. Projector
It's vital to check the projector's detailed description to ensure that it comes with all the necessary features you want. Additionally, check if it has the features you need for your golf simulator.
Always identify the specifications and names of each model. Select versions that are compatible with golf simulators.
8. Software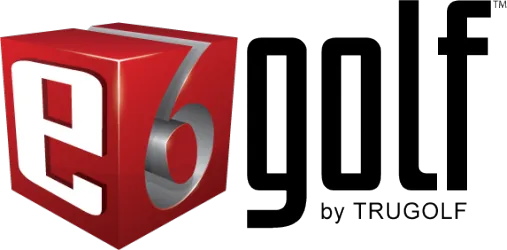 Consider what software features you want, and you can pair them with your golf simulator. Generally, you need to spend more if you want more courses.
Pick software that enables you to do lots of practice and play several distinct types of games. Some software allows you to do alternate shots, stroke play, better ball, and match play.
9. Data
Pick a launch monitor data that helps track club data to gain insight into areas you need to improve. Doing so can serve as an exceptional training beneficial for your golf performance.
Launch monitor data like launch angles, carry distances, swing speed, and ball speed helps you hone your skills. They allow you to identify the required adjustments to attain more excellent scores.
FAQ's
1. Is purchasing a golf simulator worth it?
Yes. Golf simulators are worthwhile investments because they help you hone your golf skills by improving your weak areas.
2. How accurate are indoor golf simulators?
You can consider indoor golf simulators accurate since they're meticulously tested and equipped with advanced technology.
While there's no such thing as perfect golf simulators, you can do something to make them more consistent and precise.
For this reason, it's crucial to understand why a golf simulator may display the number it's displaying.
3. How big of a space do you need for a golf simulator?
The minimum space requirement for an indoor golf simulator setup is 10 feet wide, 12 feet deep and 9 feet high.
But, larger rooms or spaces are better, and the ideal room size is 15 feet wide, 15 feet deep and 10 feet high.
4. What's the best, most affordable golf simulator?
There's no denying that golf simulator costs generally vary depending on their features and quality level.
Speaking of affordability, quality, and functionality, the OptiShot is a foolproof option. Therefore, if you want to save more without compromising quality, this brand is what you should look for.
5. What's the best and cheapest golf simulator?
We consider the OptiShot 2 Golf Simulator the best and cheapest option available. It contains several components, unlike other available models available on the market today.
This device is also great for maximizing your practice and leisure experience. We highly recommend it for newbies and pro golfers since it's easy to set up and use.
6. How much does a decent golf simulator cost?
Ultimately, decent golf simulators can cost anywhere between $150 and $70,000.
Your options range from high-end, mid-range, and entry-level models. High-end golf simulators usually cost approximately $15,000 or more, while the mid-range versions may cost roughly $5,000 to $15,000.
Expect to pay around $150 to $5,000 if you go for entry-level golf simulators.
7. What golf simulator does Tiger Woods use?
Tiger Woods uses the FULL SWING GOLF PRO SERIES.
8. Is OptiShot worth the money?
Yes. It's not the most affordable option, but it's jam-packed with functional features, taking your golf experience to the next level.
9. How much does it cost to have a golf simulator installed?
The cost depends on the type of setup you prefer. Generally, swing simulators cost approximately $250, while larger setups may cost roughly $4,000 or above.
Final Thoughts
We find the OptiShot 2 Golf Simulator as the best golf simulator for under $1000 because of its outstanding features. Besides featuring excellent courses worldwide for all types of golfers to practice, it includes adjustable tees and foam balls.
Using it first-hand, we uncovered that it does wonder in providing us a more realistic golf experience. It's not the most affordable option, but we still consider it the best pick because of its impressive features.
While we highly recommend the OptiShot 2, we still encourage you to check the correct option per your requirements. It's critical to consider your individual preference and needs to make the best decision.
Matt Stevens is the founder of Golfrough.com. He holds a Postgraduate in Sports Marketing and has played golf since he was four years old. Having experienced every high and low golf has to offer, his writing helps the average golfer avoid the mistakes he has made in 28-years on the course.