We believe that shoes have the power to turn everything around on the golf course. A golfer walks an average of five miles when playing the 18-hole. Golf shoes with better arch support will give you the proper connection between your feet and the ground.
Golfers deal with soft, wet, and muddy ground: your game will depend on the condition of your feet, even if you have the most advanced golf equipment (like golf clubs). Your swing is also dependent on the condition of your feet.
Even great professional golfers, like Jack Nicklaus, know the importance of the feet when you swing. Nicklaus once said that the lower body has a tremendous effect on achieving the distance and direction of the golf ball. The feet also lead the way in timing and the stability of your swing. 
We tested some of the best golf shoes with arch support: so you may know the right one for you. But you can try and test the one that matters and is most affordable to you.
Our Top Picks for the Best Golf Shoes With Arch Support
For Women
For men
Best Golf Shoes With Arch Support For Men and Women – Best Reviews 2023
For Women
1. Skechers Women Max Golf Shoe (Cheap Price)
Women at play on a typical golf course will find the Skechers Max Golf Shoe the best relief in arch support. It comes in more than 30 color combinations, like the Black & White Sport and the Mesh Navy & Pink. 
Key Features
Material blend of soft & smooth synthetic mesh uppers.
The pair is spike-less with a TPU outsole.
Who should use this product?
Ladies seeking more arch support without sacrificing their look inside the course should use the Max golf shoes. The Skechers Max is a shoe that is comfortable from heel to toe. The responsive cushioning is through the inventive Goga Max insole and Ultra Flight midsole.  
2. Adidas Women W Tech Response Golf Shoe
The W Tech Response Golf Shoe is perfect for women golfers who prefer spiked shoes to improve lateral stability. The arch support of the Adidas W Tech is quite impressive: it provides soft convenience with lightweight cushioning.
Key Features
The leather upper is microfiber with a Climastorm feature.
It comes in a 6-spike ThinTech outsole with Adiwear feature.
Who should use this product?
Women golfers at play in hilly and uneven terrain should wear the Adidas W Tech Response. The footwear will give them more traction while climbing uphill and going downhill. The Response also has EVA insoles for added stability and comfort.
3. Skechers Women Go Walk 2 Sugar Relaxed Fit Golf Shoe
Playing on a golf course all day requires footwear that protects and supports your feet. The Skechers Go Walk 2 Sugar Golf Shoe will keep you relaxed as your arch is fully supported.
Key Features
The Skechers Relax Fit is 100% synthetic.
The sole is 4 inches wide at the widest point.
Who should use this product?
The Go Walk 2 Sugar Relaxed Fit Golf Shoe by Skechers is perfect for petite or average height lady golfers. The spike-less golf shoes come in three US sizes such as 5.5, 6, and 6.5. Although it has only two colors available, the arch support is immense. Diminutive women golfers will not have difficulty walking across the course wearing the shoes.
4. FootJoy Women Flex Golf Shoe (Overall Best)
FootJoy shoes are becoming more popular among golfers of the new generation. One of FJ's most notable golf shoes is the FootJoy Flex Golf Shoe. We are impressed with its qualities: the Flex seems like a trainer. However, it is not ideal for a dampened fairway.
Key Features
The footwear has performance mesh for comfort & breathability.
It has an EVA midsole for impressive foot cushioning.
Who should use this product?
Women golfers preferring to play the 18-hole should wear the spike-less FJ Flex Golf Shoe because of its all-day comfort. The arch support of the Flex provides a long-lasting effect even if you are playing the whole round for extended hours. But make sure the area is dry.
5. Adidas Women Climacool Knit Golf Shoe
The Adidas Climacool Knit Golf Shoe has a lightweight rubber sole with a circular knit upper, which is 100% textile. The shoe comes in a wide range of sizes from 5 to 11. Even the color will fit your lifestyle. 
Key Features
A spike-less shoe with adequate traction for a dry golf course.
The Cloud Foam insole is highly comfortable.
Who should use this product?
Ladies who are not adept at lace-up closure, you could use the Adidas Climacool Knit Golf Shoe. It has a Velcro strap closure for quick wearing and taken off if you are always on the go. 
For Men
1. Adidas Men Tech Response Golf Shoes (Cheap Price)
Many experienced male golfers feel Adidas Tech Response Golf Shoes have something to do with upping their performances in the fairway. The lightweight and synthetic upper makes them more comfortable and stable even when walking several miles in a single round. 
Key Features
The soft EVA sole provides more stability during a swing.
The full arch support is evident.
Who should use this product?
Men with any handicap must wear the Tech Response if they want more stability in the green. The shoes offer one of the best values for money if men want to keep their performance at the till. The extensive arch support of Response gives better control and endurance playing 18-hole.
2. Skechers GO GOLF Men Max Golf Shoe
Skechers have long been the leader in comfortable street shoes, but nowadays, they branched into golf shoes. Many golfers seek the Go Golf Max for men because of its modern and more stylish look. The Skechers Max has a woven-mesh fabric rarely seen in other brands.  
Key Features
The shoes have a responsive ULTRA FLIGHT midsole.
It features the GOGA Max technology for the cushiony insole.
Who should use this product?
Young and even senior golfers who want water repellent uppers should use the Skechers Go Golf. The uppers have a Dri-Lex moisture management interior keeping feet dry on the course. The outer fabric will do a great job keeping your feet dry in an early morning round.
3. Skechers Men Arch Fit Oxford
Although the Skechers Arch Fit Oxford golf shoe is better for flat feet, anyone could enjoy its immensely comfortable fit. The price range may not be more convincing to start-up golfers, but the shoe is more breathable. You can wear the footgear anywhere. 
Key Features
The shoe is spike-less with exceptional durability.
It has a firm but stable platform.
Who should use this product?
The Skechers Arch Fit is perfect for people with flat feet and over-pronation. The pair does not only offer comfortable arch support, but it also minimizes the risks of injuring your foot and leg.
4. Skechers Men Pivot Spike less Golf Shoe (Overall Best)
So, what reasons do you want to buy a pair of Skechers Pivot Golf Shoes? The Pivot offers full-arch protection so; you keep your game grounded. You can also count on its spike-less outsole for better traction in any terrain. 
Key Features
The synthetic sole enhances air circulation.
It provides an even distribution of pressure on the feet.
Who should use this product?
Beginners or amateurs need stability during a swing. Here is a golf shoe that could give you stable stances while still learning how to swing correctly. The Pivot is a better alternative for expensive golf shoes while you are new to the game.
5. FootJoy Men Fj Flex XP Golf Shoes
The FootJoy Fj Flex XP Golf Shoes are not only golf shoes with arch support: You could also select the best type for your feet. Whether they are narrow, wide, or extra wide, there is a size available that fits. The shoes start at their smallest size of 7 up to 15 (US sizes). 
Key Features
The shoe comes in solid colors.
The waterproof mesh is lightweight for a more comfortable feel.
Who should use this product?
Golfers seeking a maximum range of motion for their feet should consider wearing the Fj Flex XP Golf Shoes. It has a waterproof guarantee of two years, more than enough time to hone your skills in golf. By this time, you will be able to benefit from the immense arch support to level up your performance.
Factors to Determine When Picking the Best Golf Shoes for Arch Support
1. Special Insoles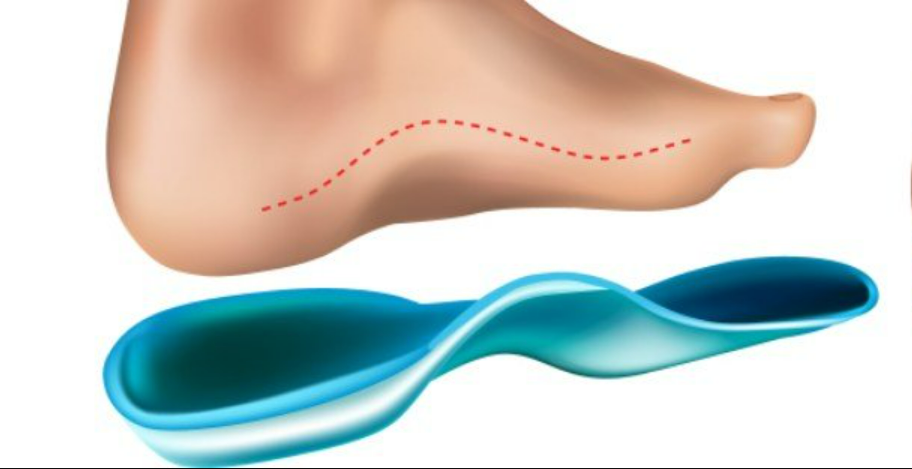 The insoles do a lot of arch support for comfort. If you have flat feet: the insoles should also be flat but soft: The arch support keeps you in a better position providing the needed comfort and stability.
2. Wide Toe Boxes
Picking golf shoes with wide toe boxes may help in enhancing arch support. It will facilitate smooth toe mobility and flexibility in walking and doing golf movements. The wide toe box also provides a better feel if you have an aching toe.
3. Cushioned Foot Beds
The shoes we tested all have the appropriate cushioning. The synthetic material makes a golf shoe retains excellent comfort and adjustability in any circumstances inside the course. We found that the Skechers Women Max and FootJoy Men FJ Flex XP Golf Shoes lead in this field.
4. Synthetic Sole
The leather material in shoes makes them waterproof all the way. But modern synthetics provide a lightweight, soft, and more comfortable feel. The premium synthetic material is also better in arch support.
5. Lightweight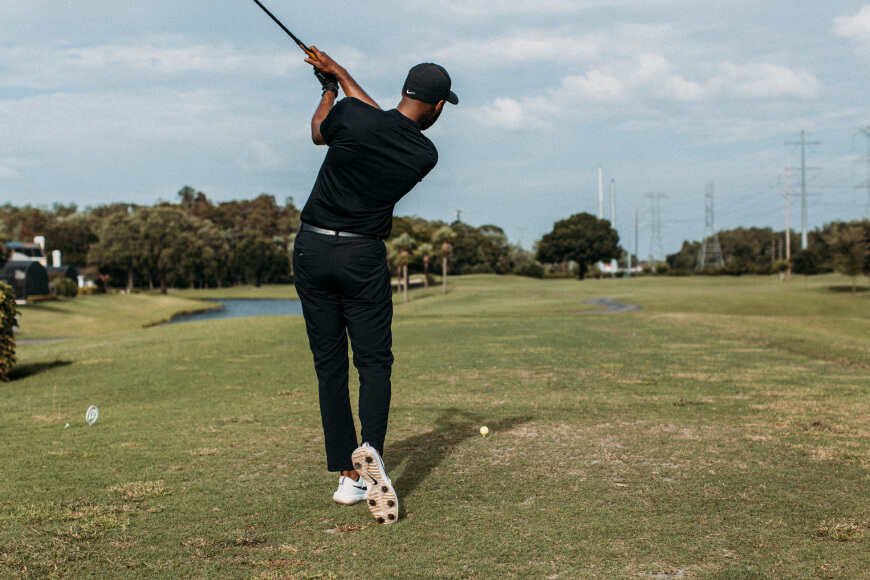 A lightweight shoe equates to healthy foot care. You do not need heavy golf shoes that could make your feet pain with inflammation. Lightweight shoes also provide adequate arch support in every move.
Do Golf Shoes Have Arch Support?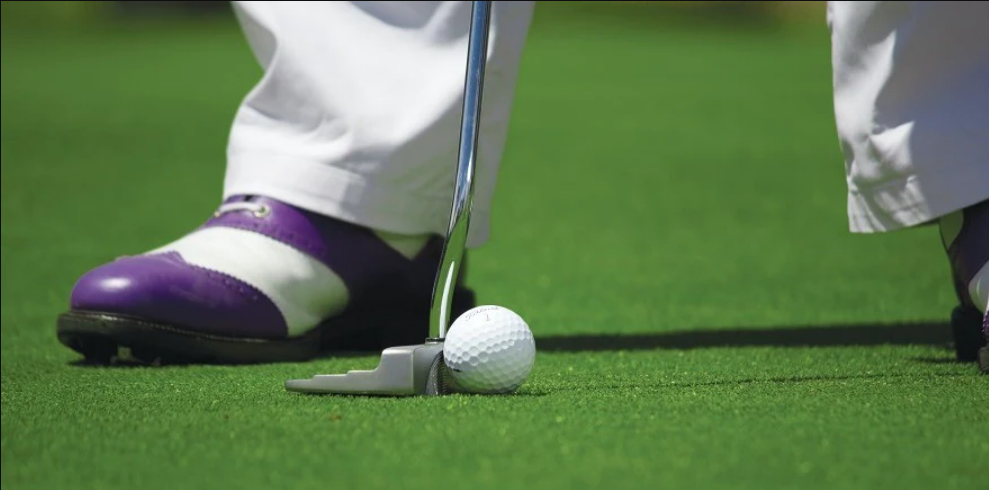 Not all golf shoes have arch support inserts. Shoes with an arch support system come with synthetic insoles to make them more balanced and stable for wearers. 
Golf shoes with built-in arch support like the products we tested: help to improve your swing and balance. The additional insole with adequate arch support, matching the contours of your feet, makes the difference.
Why You Need Better Arch Support?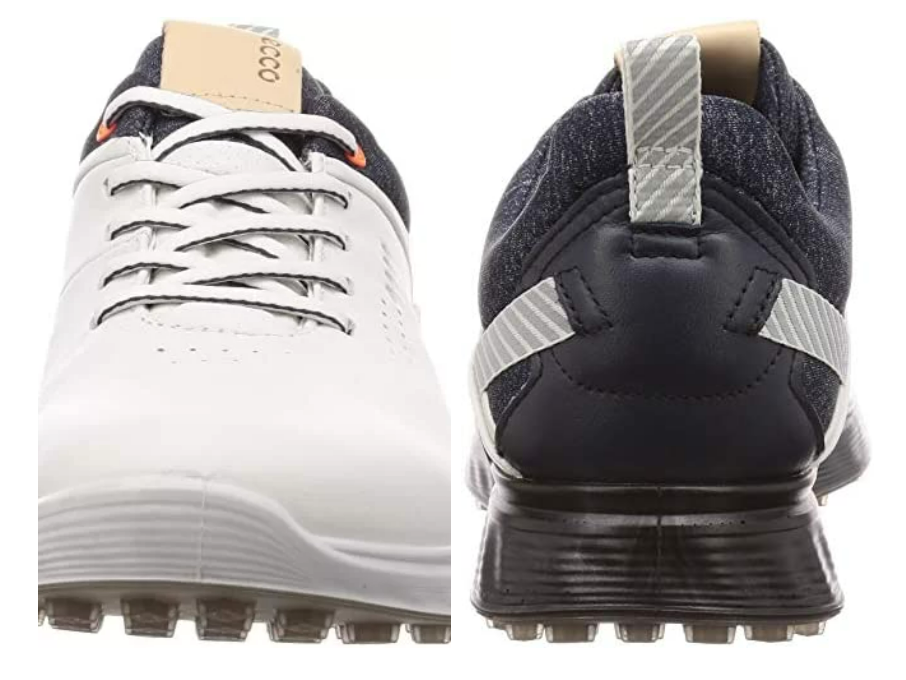 Some arch support system that comes in with golf shoes sometimes does not match the profile of your feet. It is more common in flat and wide feet. The mismatch may happen if the arch support is rigid or has too hard of a material. So, pick the one with flexible arch support like the shoes we tried and tested.
Difference Between A High Arch And A Fallen Arch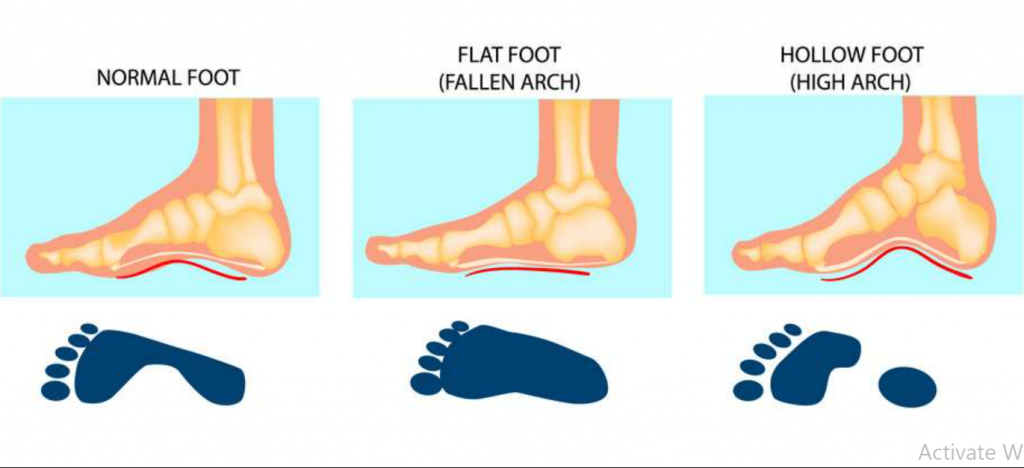 The human feet come in many sizes and shapes. Persons with fallen arch (or flat feet) have foot arches lower than usual. The arch is the curved area along the bottom of the foot or at the center of the foot.
Not all people have an arch on their feet; most were born without it. People without feet arch are flatfooted. They have no visible arches, or the arches disappear as they grow old. Flat-footers are more prone to dysfunctional walking patterns or foot pain. But they can wear shoes to minimize the effects of being flatfooted.
High arches, on the other hand, are rare among people. It is a condition where the arch elevates. The condition may cause pain while going about daily activities and make it harder to find shoes that fit comfortably. 
In both circumstances, people with these conditions (high and fallen arches) bothering them should seek the care of a podiatrist.
FAQ's
1. Which golf shoes have the best arch support?
We can assure you that the golf shoes we reviewed offer some of the best arch support systems on the market. You only need to find the one that comfortably fits your feet. For petite women golfers: we suggest wearing the Adidas Women W Tech Response Golf Shoe. Its arch support is enhanced by the Cloud foam insole design providing ultra-light cushioning and comfort.
For male golfers seeking ultimate arch support in a spikeless golf shoe, you can try the Skechers Men Pivot Golf Shoe. It has a shaft that measures from mid-top to arch. Our male friends who tested the shoe found it more comfortable and breathable because of the perforation on the side panels.
2. What golf shoes offer the best support?
Men and women golfers can consider the golf shoes we reviewed if they want better arch support. Skechers, Adidas, and FootJoy offer a wide range of choices with prices corresponding to size and quality. 
These brands are some of the most popular in protecting the feet in any condition. But for men with fallen arches (flat feet), one of the most notable golf shoes is the Adidas Men Tech Response. For women, the Skechers Women Go Walk 2 Sugar Relaxed Fit Golf Shoe makes a lot of difference.
3. Are ECCO golf shoes good for your feet?
Yes, they are. The Chicago Tribune describes the ECCO shoes in detail: 'The ECCO golf shoes have designs with utmost attention to how your feet relate to your golf swing and constructed to provide outstanding support and comfort. 
We are 100% agreeable with this statement. The shoes also reduce lower-back strain and foot stress, as the Tribune asserted. However, ECCO golf shoes are some of the most expensive in the market. 
5. Do pros wear spike-less golf shoes?
Yes, they do! Some pros who like wearing spike-less golf shoes include Justin Rose, Adam Scott, and Lee Westwood, among others.
5. What are the best orthopedic golf shoes?
Some of the best orthopedic golf shoes are the Adidas Tech Response for men and; the Skechers Go Walk 2 Sugar Relaxed Fit Golf Shoe for women.
You can match your golf shoes with the proper knee braces to complete your protection against the elements.
Conclusion
It is not as hard as you think to find a golf shoe that offers the best arch support. Several brands claimed they make the perfect pair, but now we knew.
If you are looking for the cheapest golf shoe with arch support, we recommend the Skechers Women Max Golf Shoe. The pair is ideal for everyday use while you remain in style.
Adidas Men Tech Response has one of the lowest price ranges but offers the needed comfort and stability. The Tech Response has a low-profile construction keeping your feet closer to the ground for added stability and comfort.
For our top pick of the best golf shoes with arch support: we highly recommend the FootJoy Women Flex Golf Shoe and Skechers Men Pivot Spikeless Golf Shoe. The FootJoy rubber sole provides a better cushion in enhancing the efficacy of its arch support. Its versatile traction and EVA midsole are comparable with ECCO golf shoes for just a fraction of the price.
The Skechers Pivot, on the other hand, gives men a grounded feel while playing. Its GOGA Max technology insole makes high-rebound cushioning; while the water-resistant upper keeps you dry all day.
We suggest you invest in one or more pairs of different brands of golf shoes you can wear in various conditions.