Are you wondering how to organize a golf bag to maximize your golf experience? The delightful news is that you don't need to be a professional golfer to master the trick.
There's no denying that you need to have total concentration and a clutter-free mind to play good golf. Therefore, investing in a functional golf bag to keep your golf stuff organized matters.
Accessing the required clubs and accessories when playing golf becomes effortless when you arrange everything in the right place. And this is where you will recognize the importance of having a top-quality golf bag.
If you need help in arranging your golf balls, clubs, and other golf essentials, we're here to help.
Explore the organizing golf bag steps below to keep things accessible and handy and level up your golf performance.
Covering Every Size When Organizing Your Golf Bag
Organizing your golf bag is vital in keeping you focused on the golf course. There are several methods to arrange your golf bag, and some of these include the following:
How to organize the 4th-slot golf bag?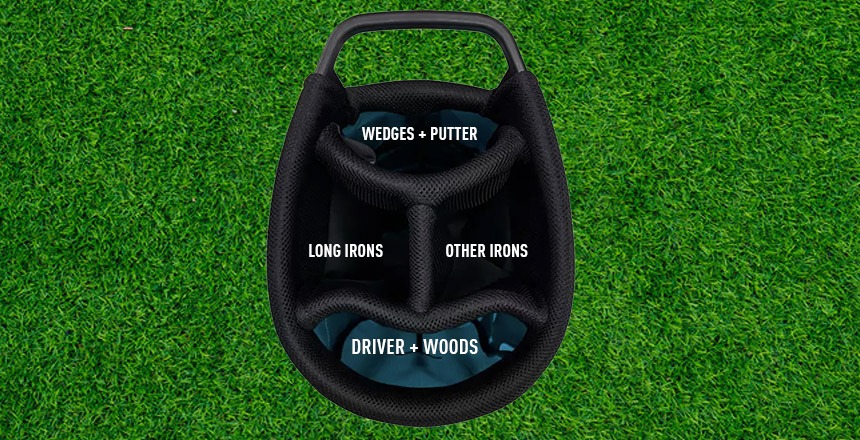 The 4-slot golf bag lets you instantly retrieve or replace the clubs while playing. This slot is also ideal for walking the entire golf course's length since it's lightweight and comfy.
This slot on your golf bag doesn't require you to fit your golf clubs in special compartments. It would help to put the fairway woods or driver at the top. Additionally, position the long irons on the middle left section of the 4th slot.
Meanwhile, store the short and medium irons on the middle right portion. Finally, place the putter and wedges in the bottom section.
How to organize the 6th-slot golf bag?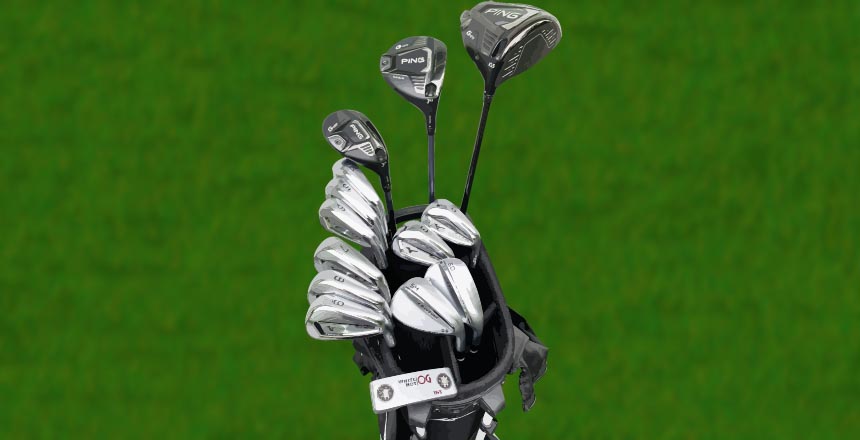 The 6th slot practicably keeps your golf clubs used for long games separate from those used for short games.
You store the irons between the two. It's ideal if you find the 14th slot way bigger.
The rear two slots in your golf bag are where you should position the hybrids, fairway woods, and the driver.
Place the medium and long irons in the middle two. Lastly, use the front slots for the putter, wedges, and short irons.
How to organize the 7th-slot golf bag?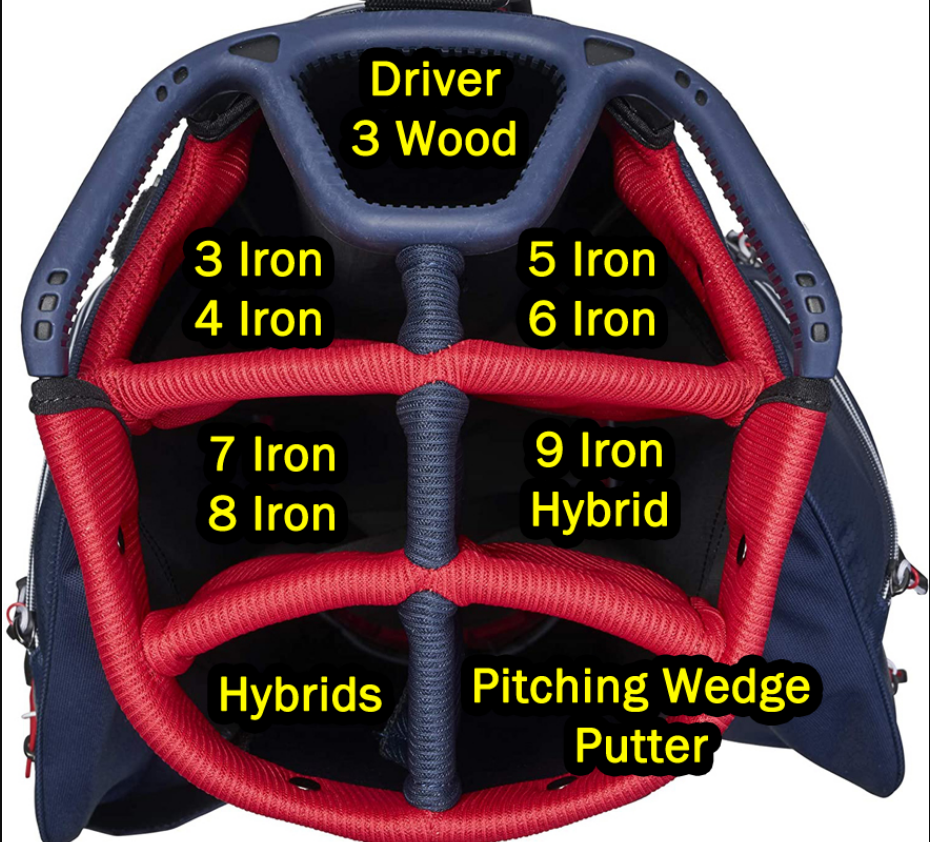 This slot features seven dividers purposely for storing 14 golf clubs you're allowed to bring. It's advantageous for golfers to instantly separate short game clubs from long ones.
When using the 7th slot, position the three wood, driver, and hybrids in the single huge rear slot. The middle two rows are purposely for the medium and long irons.
Put the wedges, short irons, and the putter on the front two slots of the bag. Be sure to place the clubs in a numerical arrangement.
How to organize the 8th-slot golf bag?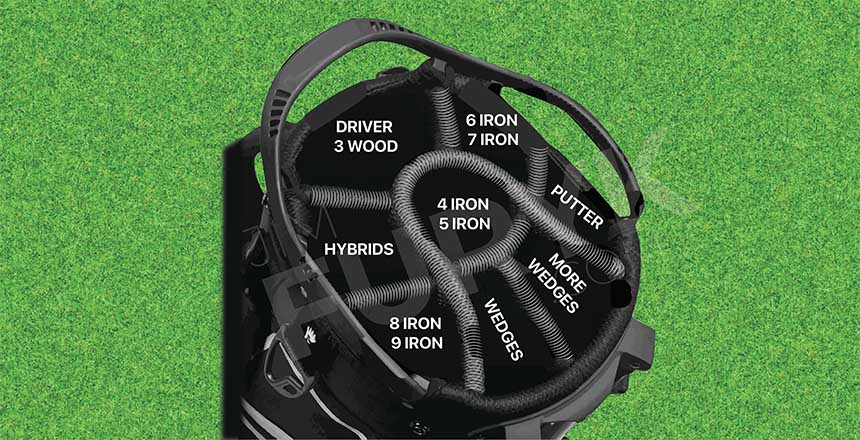 This slot is more lightweight, making it a breeze and comfier to carry during a nine or 18-hole walk.
When using the 18th slot, combine similar clubs and position them in the same slots. Then, position the woods and driver together, followed by the medium and long irons, hybrids, and wedges.
It's also vital to allow one slot available for your putter. Be sure to position the longest clubs in the rear slots. It should move down to the wedges and putter in the front slots.
How to organize the 14th-slot golf bag?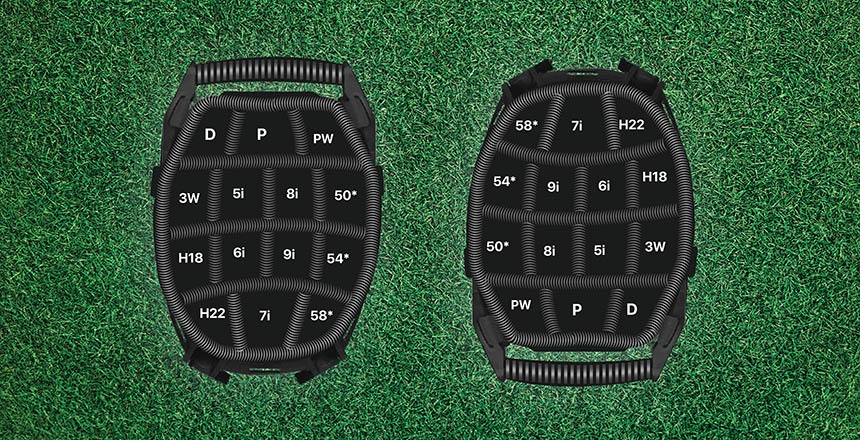 This slot features one divider for every golf club. You store the driver in the top right slot, followed by the hybrids and irons, then the wedges and putter. Storing the larger drivers and woods on top for added convenience is what matters.
It would help if you placed each club in a tube or sleeve in the 14-slot divider of your golf bag. This technique makes it easier to pull or replace the club instantly.
We recommend arranging your golf bag with the longest clubs in the back and the shortest club in the front.
Indeed, it's better to discard the plastic tubes that serve as dividers in the golf bag. The plastic is likely to break the shaft of the golf club.
How to organize the 15th-slot golf bag?
You can use the 15th slot in your golf bag for carrying extra golf gear. Alternatively, you may use this slot to store the putter and the extra gear in the 14th slot.
While having a 15th slot golf bag is valuable, we don't recommend bringing more golf clubs around the golf course. Please note that you can't have over 14 golf clubs.
Keeping the same arrangement with the long golf clubs at the top is vital. Moreover, store the short golf clubs at the bottom portion.
How Do I Load My Golf Bag?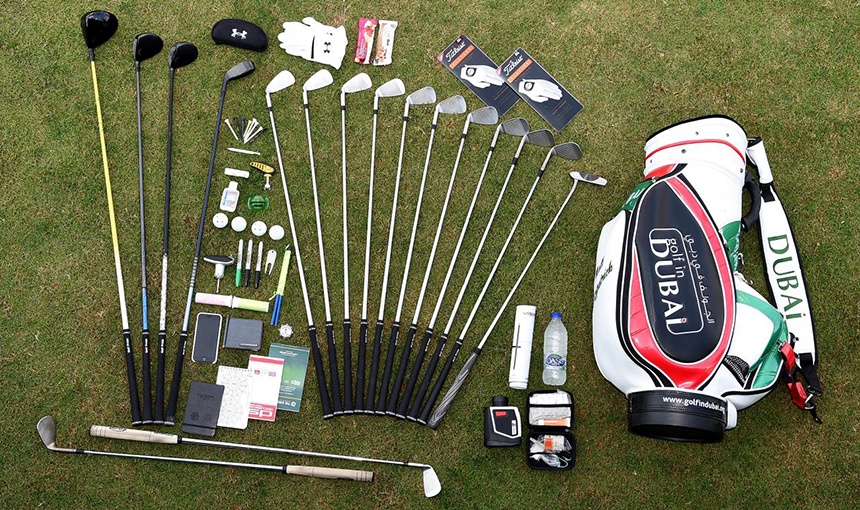 Start loading your golf bag by following these simple guides:
Golf Balls
Pick a golf bag that features multiple pockets for keeping various golf items. One of the best brands you can consider is TaylorMade golf bags.
Ten is ideal if you're curious about the number of extra golf balls you should carry.
Apparel
It would help to store your golf apparel in your golf bag's full-length pocket. It's necessary to fold the apparel neatly when storing it to save more space. Avoid storing other items in this section.
Drinks/Refreshments
Store your refreshments or beverages in your bag's insulated cooler pocket. You may also store some snacks in this section.
Likewise, you may find golf bags that feature a water bottle holder. Close the lid or cap tightly to avoid spilling your drinks.
Valuables and Other Accessories
How much you can store in your bag commonly depends on the number of pockets or storage sections it has.
A golf bag is generally pocket-heavy and features dividing sections for clubs, markers, pitchforks, gloves, tees, etc.
Golf bag manufacturers designed the storage spaces for different purposes. Most golf bags are designed with waterproof capabilities and velour-lined, making them ideal for storing other tiny stuff.
Other Essential Golf Items
Golf bags that feature clips are great options because they offer additional convenience when carrying other golf items.
These clips are helpful for storing windproof brolly, golf ball cleaner, umbrella, golf club membership tag, etc.
How Do I Arrange My Golf Bag Properly?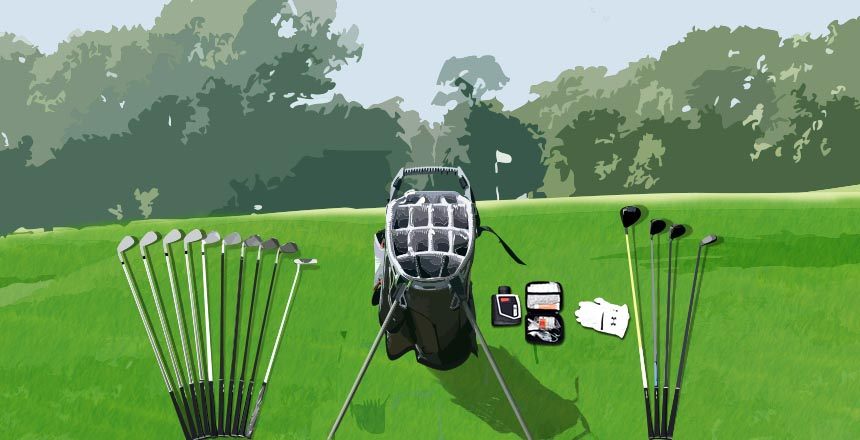 You can start arranging your golf bag by:
Step 1: Emptying the entire golf bag
You can keep your golf bag clean and free of unnecessary items by removing what you don't need.
Organizing the essential golf items helps avoid making your golf bag heavy to carry around.
Step 2: Collecting/categorizing essential equipment
When you remove the unnecessary items, the next step is to put your putters, drivers, and irons in one section.
Position all the items you need in a single place after tidying up your golf bag. Organize the clubs, and keep your wedges and irons in an easy-to-access place.
Step 3: Cleaning the contents of your golf bag
Be sure to keep your golf bag clean and dust-free. Clean it regularly to get rid of food crumbs and other dirt accumulation.
Use a gentle cleaning agent and a damp cloth when wiping your bag to keep it clean and smelling nice.
Step 4: Organizing your golf clubs
Position the medium and long irons or clubs right beneath the driver in your golf bag. Arrange them from the longest to the shortest.
Meanwhile, position the medium and long irons from left to right to balance your golf bag when transporting.
This technique makes it a cinch to pick out the club you need when playing golf easily. Use the front of the golf bag for storing your wedges. Place the pitching or sand wedges to the right of the irons.
Step 5: Arranging your golf accessories
The side pockets in your golf bag are ideal for storing golf items you use often. It would help to store the tees, markers, and spare balls on your golf bag's top or front pockets.
FAQs
1. What goes in each pocket of my golf bag?
The golden rule is to store golf balls and tees in the most accessible compartment on your golf bag. The biggest compartment is for storing your hat, socks, and raincoat.
Similarly, you can store your refreshments in the cool compartment of your golf bag. Some golf bags feature unique compartments for mini gadgets.
It's up to you what you store in each pocket in your golf bag. However, be sure that doing so doesn't slow down your pace in playing golf.
2. Where do I put the golf balls in a golf bag?
The rear pocket of a golf bag can be an ideal storage area for new boxed or used golf balls. Or you may also store your golf balls in any of the three front pockets in your golf ball.
Nevertheless, be sure to store ten to twelve golf balls only to avoid making your golf bag heavy.
Please note that a golf ball's different pockets or compartments are designed for different golf items.
While whatever you store in each pocket depends on your preference, consider the pocket size when storing items.
3. How to avoid breaking the clubs when replacing or retrieving them in the golf bag?
You must lift the club's head from its reposing position carefully. This technique allows the effortless release of the shafts and grips. Afterward, you may gently pull or replace the club necessary for the shot.
4. Which pockets in the golf bag should I position the markers and tees?
You may use one of the front pockets of the golf bag for pitch repairers, markers, and tees. These golf items are generally used, so you need to keep them handy and accessible.
5. Where should I keep the towel and umbrella in the golf bag?
You may see the provided clips for towels on golf bags. It will help if you wet the towel before playing golf.
Unfortunately, the spin and flight of the golf ball are usually affected when your club's face contains dusty grooves.
Meanwhile, find the tiny Velcro strap or umbrella sleeve on the side of your golf bag. You use the strap or sleeve to secure your umbrella.
Final Thoughts
A golf bag is a worthwhile investment, helping you keep your golf items accessible and in place.
Being an organized golfer doesn't merely enhance the quality of your performance but also your overall experience.
A well-organized golf bag is a more systematized method of retrieving and replacing your golf clubs. Hence, keeping your golf bag organized is one of the ways to become a pro golfer.
Did you like the tips and tricks we shared in our post about "how to organize a golf bag?" Please feel free to share it with your friends to help them enhance their golf experience even more.
The following two tabs change content below.
My name is Byron Nelson and I am an experienced professional golfer who has expert product knowledge in equipment and golf coaching. I've been playing and competing in golf since I can remember. I first picked up a golf club when I was 2 years old and have played hundreds of golf courses across Europe and America.
Latest posts by Byron Nelson (see all)