Are you a golf enthusiast? You might know now that a golf bag is essential to the game. It may be a stand bag, a tour bag, or a carry bag. But whatever you prefer, American-made golf bags seem a choice of many golfers, in and out of the USA.
In the ongoing globalization, many believe that most golf bag manufacturing is outside the US. They are wrong!
We have the list of the top 11 companies manufacturing golf bags made in the USA.
What Are the Top Golf Bag Manufacturers Based in the US ?
Here is a list of top golf bag manufacturers owned by Americans and based in the US.
1. Sun Mountain
The Sun Mountain Sports Company manufactures the Sun Mountain golf bags, a company located in Missoula, Montana. American Rick Reimers founded the firm in 1981. 
It is the first golf equipment manufacturer to use the backpack technology (Front9 model) to develop a lightweight and non-collapsible carry bag. In 1986, the Eclipse was introduced by Sun Mountain, becoming the first golf bag to stand on its own.
One of the current designs of Sun Mountain golf bags we recommend is the Sun Mountain C130 14-Way. The 14-way bag stands alone and weighs just 7 lbs. (3kg). It does need a stand even when fully loaded.
2. MNML
MNML Golf (or Minimalgolf) is a new golf equipment company based in Manhattan Beach, California. MNML stands for Modern Natural Materials LLC, which the company uses in its golf bags. Sam Goulden (CEO and founder) launched the company in January 2020 in Redondo Beach, California.
Their golf bags come in two styles: the carry bag and the stand bag. But what many tech-savvy golfers like about these bags are their modern and convenient features. Both designs have a Bluetooth speaker and an integrated solar panel. 
3. Belding USA
Belding golf bags are probably one of the most recognizable stick bags by veteran golfers, including the pros. These bags are handcrafted and customized for golfers with discriminating tastes.
Illah and Jack Perrin founded the company in 1972. The company builds bags in Oxnard, California. As a premier bag designer, Belding uses leather and locally-sourced hides for their bags.
If you want a golf bag with classic and timeless designs: we recommend the BELDING American Collection Vintage Golf Carry Bag. It is a superior carry bag with seven dividers, perfect for beginners and senior golfers. But still, many pros and veteran golfers utilized this bag when playing casually.
4. Flag Bag Co.
Another handcrafted and locally-manufactured golf bag is the newly-established Flag Bag Co. USA. The firm was founded in 2020 by the Smith brothers, Josh and Matt, and operates in Portland, Oregon. 
The firm makes bags out of recycled golf flags: The Smith brothers partnered with Macdonald Leather Goods, which became the handler of the manufacturing processes.
5. Sunday Golf
Ronan Galvin is the CEO and co-founder of Sunday Golf Company. The company has its headquarters in Petros Field, San Diego, California. Sunday Golf offers a line of super light golf bags for weekend golfers (hence, the name).
Pleasure players wanting a lightweight golf bag with few dividers will love these bags. The bags are thinner than average bags serious golfers bring to the course. The minimalist design of Sunday Golf Bags is a hit among recreational golfers.
6. Steurer & Jacoby
Another 100% USA-made golf bag is the Steurer & Jacoby. The firm is the former Royal Dublin Golf Company, established in the mid-1980s. The company has its headquarters and manufacturing facilities in Louisville, Kentucky.
The raw materials for the vintage and traditional-style bags are sourced across the United States and assembled in Louisville. The Firebird Group, Inc. crafts the brand's bags using natural leather as the raw material. 
7. ORCA Golf Bags
ORCA Golf Bags USA is more than you bargained for in a custom golf bag. The golf company is the first all-female-owned firm in the USA and was founded by Deborah and Erica Bennett in 2017. The enterprise manufactures bags in Fort Lauderdale, Florida.
The company offers top-of-the-line stand bags, tour bags, head covers, cooler caddies, and other lifestyle bags. In early January 2021, the LPGA reported a partnership with Orca Golf Bags. 
8. Jones Golf Bags
George Jones founded the Jones Sports Company in 1971. Their headquarters are in Portland, Oregon. Jones was a taxi driver and started the company in his basement.
Jones golf bags are made in the USA and have a minimalist design. Jones Sports offers stand bags, backpacks, tees, and head wears. The Jones golf bag R-series features recycled and rip-stop materials. They are weaved from purely PET single-use plastic bottles, which are water-resistant and durable. 
9. Nelson Hill
One of the newest American-brand of golf bags is Nelson Hill. Eric Riner founded the company in 2019 and has an operational base in Kansas City, Missouri. Riner solely makes the design and assembles his golf bags using his hands. 
The single proprietorship offers timeless and vintage leather golf goods for its golf bags. Each bag is handcrafted in small batches. 
10. Vessel Golf Bags
Ronnie Shaw founded Vessel Golf Bag Company in Carlsbad, California, in 2012. Before introducing his innovative golf bags, Shaw noticed that the golf industry seeks more customized bags for tour pros and judicious greenhorns.
Each bag Vessel Golf produces is handcrafted, reflecting the unique trait of every customer.
11. Mackenzie Golf
The American-made bag has the highest quality more pro golfers admire. Mackenzie Golf was founded in 1985 by Peter Jacobsen, a native of Oregon. 
The bags are premium leather sourced from tanneries in California and Texas. Each leather bag ranges in price between $1,000 and $2,300. But they are now offering cheaper military-grade ballistic nylon bags with a starting price of $450.
Selecting The Proper Golf Bag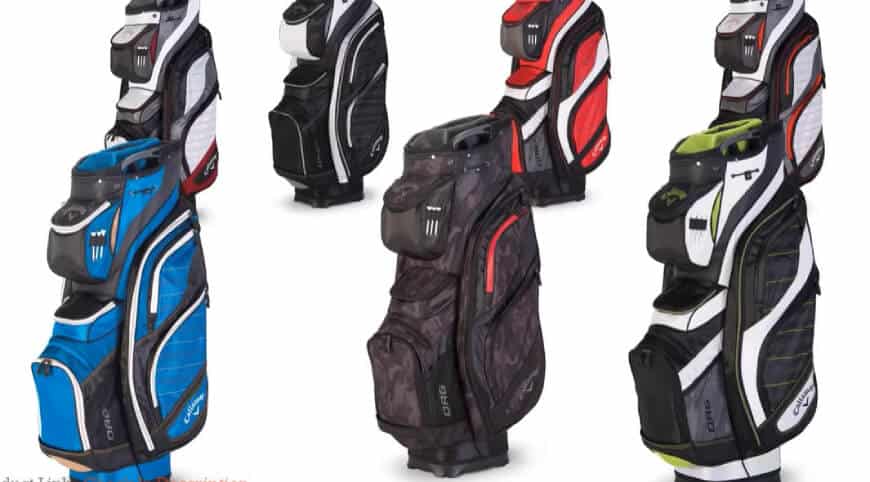 Four types of golf bags are available in the market. Here is the description of each.
1. Tour or travel bag
Pro golfers use this bag. It has more space for every golf gear. Aside from golf clubs, a tour bag has plenty of room for extra clothing, waterproofs, golf balls, gloves, etc.
2. Stand bag
It is a golf bag with a built-in and retractable stand. The bag is ideal for golfers who want to walk at play. It is similar to a cart bag but with shoulder straps for easy carrying around the course.
3. Carry bag
Also called a Sunday bag, carry bags are lightweight and designed to carry on the shoulders. Young and energetic golfers prefer this bag. It is the most lightweight golf bag. It weighs only from two to four pounds.
4. Cart bag
Cart bags are for golf carts. This bag sits on a push cart or a golf cart. A full-size cart bag, similar to a travel bag, has many spaces for various golf accessories. 
Tips Before Buying a Golf Bag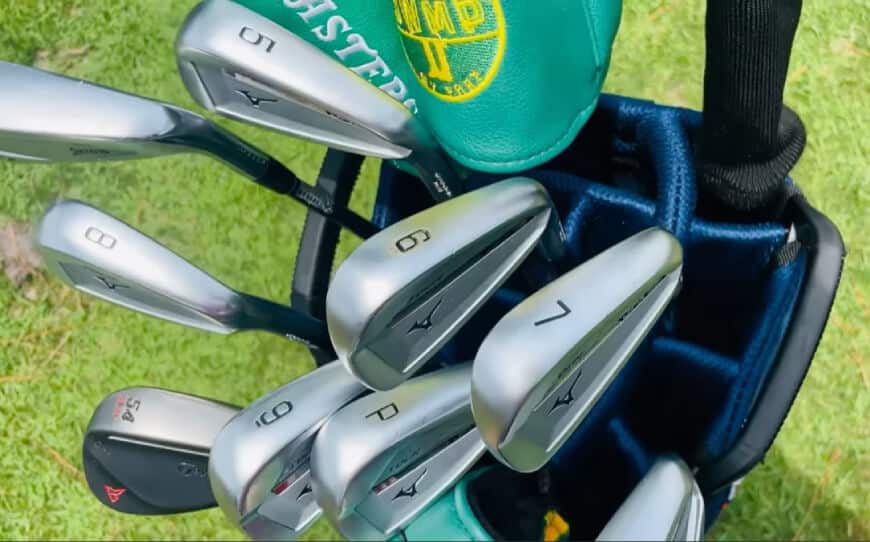 1. Dividers Needed
The minimum number of clubs you can carry is five. The maximum number of clubs you can bring in your bag is 14. Pick the bag with enough dividers (or slots) corresponding to the clubs you prefer.
2. Adequate Number of Storage (or Pockets)
Aside from pockets, ensure that the bag you will buy has sufficient slots for other golf gear and valuables. Ensure your valuables, such as mobile phones and jewelry, are safe.
3. Golf Bag Weight
Consider a lightweight bag when buying one.
Even though you use a golf cart, it necessitates carrying the bag on your shoulder. When it is heavy, it consumes much of your energy.
4. Budget
One of the most admirable things about US-made golf bags is their simple (or minimalist) design. They are also more durable than cheap bags. Although American-made bags may have a higher price tag than other brands, there is always a cost that fits your budget.
5. Beware of fakes!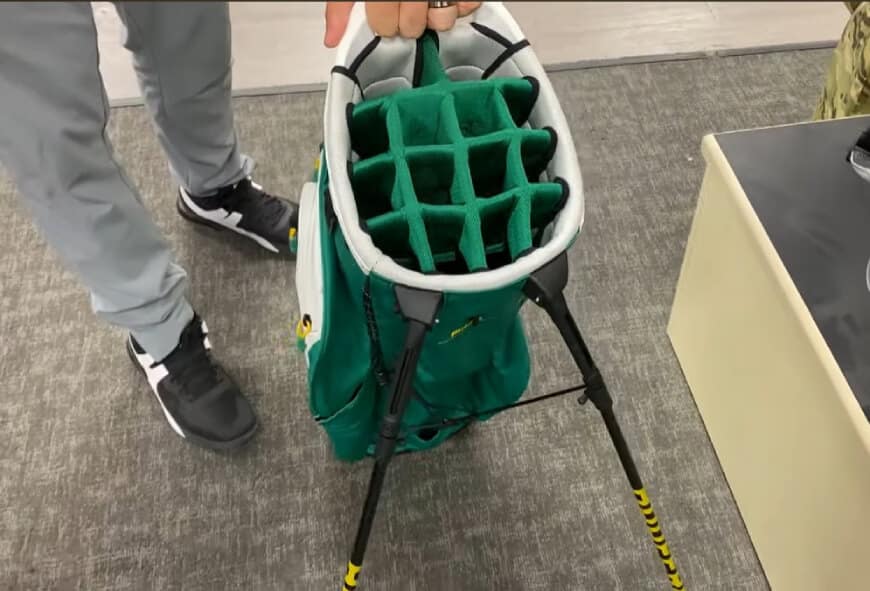 One of the most notable practices in identifying fake or counterfeit products is their questionably cheap prices. So, check out the cost of each American-made bag and compare the price, probably on Amazon.com. It is public knowledge that Amazon does not sell fake products.
6. Logo details
Logos of US-made golf bags are the easiest to recognize when buying. Compare authentic logos from their websites before you buy a particular brand.
7. Low Seller Rating
Check out the feedback of buyers from respected review websites. If sellers have low ratings, it is an indication these vendors offer fake or low-quality products.
8. Inadequate info is given
Once an online seller refuses to provide you with sufficient info about the product you are buying, beware! A bogus deal is most likely at hand. So, you should proceed to a nearby American-made golf bag shop and see the product personally.
Proud Owner of Golf Bags USA Made
We assure you that the products discussed are 100% American-made. Be a proud American by patronizing and supporting our products.
FAQ's 
1. Where is Sun Mountain golf bags made?
Currently, the Sun Mountain golf bags are made in Missoula, Montana.
2. What are the materials of Sun Mountain golf bags?
Most Sun Mountain golf bags are cow leather (natural leather). Its other models have military-grade ballistic nylon. Both bags are water-resistant.
3. Who owns Sun Mountain golf bags?
Solace Capital Partners acquired Sun Mountain in 2022. Its current CEO is Ed Kowachek, the company's previous president.
4. Is Sun Mountain a good golf brand?
Yes, it is. It is one of the American golf bags built to last. Many golfers consider it a luxury golf brand because of its high-level quality and above-average price. 
5. Where is Titleist golf bags made?
Most Titleist golf bags are manufactured in Asian countries like Vietnam, Japan, and China.
6. Where is Jones golf bags manufactured?
Jones Sports has a manufacturing plant in Portland, Oregon.
7. Who manufactures Titleist golf bags?
The Acushnet Company in New Bedford, Massachusetts, manufactures Titleist golf bags. However, some of the individual parts may come from Japan or China.
8. Where are Callaway bags made?
Sixty percent (60%) of Callaway golf bag components and other equipment are manufactured in China. The remaining 40% is made in its assembly plant in Carlsbad, California. 
Conclusion
There is nothing wrong with being a patriot in your own home, even if you add a little amount to buying a golf bag. 
We exerted lots of effort in finding authentic golf bags made in the USA. We discover that many American-made golf bags are mostly leather and have a minimalist design. It is truly an American way!
Read more: Best Hybrid Golf Bag