Golf courses come in large areas, but they differ in many ways: like the size and types of hazards. The land size (or the number of acres) needed to build a course varies in many areas, especially in the United States.
Typical large-area golf courses average between 150 and 160 acres (60-64 hectares). It is not a land area standard; its size might be lower or higher in some golf courses.
We tackle the varying sizes and know how many acres of a golf course are needed to build a modern golf facility. You will also know the acres needed for 9-hole and 18-hole golf courses.
How Big Is A 9-Hole Golf Course?
Typical 9-hole golf courses usually have half of the area of an 18-hole course. It is logical in every aspect. But many 9-hole golf courses have bigger or smaller land areas than ordinary 9-hole courses.
But many 9-hole golf courses in the United States have between 80 and 100 acres. The domain includes the driving range, a clubhouse, practice greens, and other facilities. Our rough estimate for the land area of different 9-hole courses varies widely due to other factors. Know these factors later.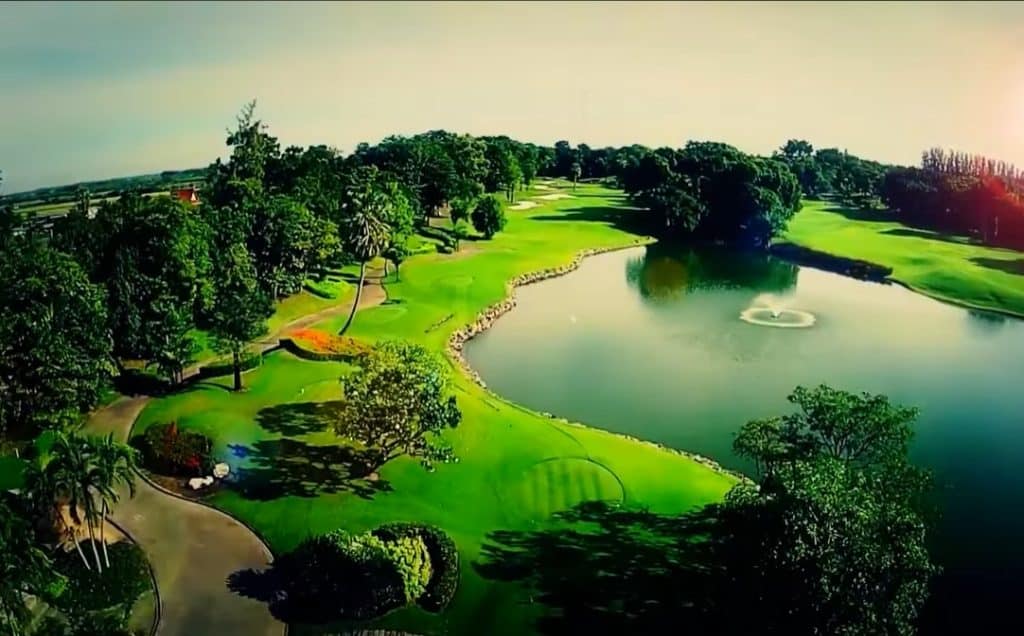 How Much Land Is Needed For An 18-Hole Golf Course?
The ASGCA suggests an 18-hole golf course of all short Par3s be built on a land area of at least 30 acres. The association also reiterates executive or intermediate golf courses with 18 holes of par 3s and 4s may require 75-100 acres.
The association added that a full-size Par 72 golf course needs 120 to 200 acres of land. The property should not include unusable areas, such as wetlands, lands not part of the golf area, and restricted zones. 
How Much Land Is Needed In A Championship Golf Course?
Championship or regulation golf courses may have a minimum size of 120 acres. Other championship courses are more than 200 acres of land. The executive golf courses are usually shorter than Championship courses.
How Many Acres for a Par 3 Golf Course?
A Par-3 golf course usually needs 30 acres of land for nine holes with a Par of 70 to 72. The assumption is that the nine holes have similar distances to the Par-3 holes of other courses.
How Many Acres Is A PGA Golf Course? 
The PGA Tour operates the Tournament Players Club (TPC). Several public and private golf courses usually cover 150 acres (60 hectares). The area has an average walking distance of 7,200 yards (about 6,583 meters), covering all the holes (18 holes).
How Many Hectares Is A 9-hole Golf Course?
Many 9-hole golf courses cover an average of 12 hectares of land area. They usually have similar lengths of holes as the average golf courses with Par 70 to 72.
Elements Affecting the Number of Acres building a Golf Course
Here are aspects to consider in determining the number of acres in building a golf course.
1. Length of the course
The yardage or distance between holes is the main factor in determining the size of a course. The average regulation 18-hole courses have four short holes. Par-3 usually has 130 to 200 yards.
Par-4 typically has ten holes averaging 350-400 yards per hole, while par 5 has four long holes. Each pin in Par-5 usually has an average distance of 450 to 550 yards.
2. Difficulty
The high difficulty of a golf course has influenced its number of acres. But if the owner decides to build a not-too-difficult terrain, it may lead to smaller acres.
3. Practice Range Area
Many golf customers prefer a spacious practice range with improved turf varieties. The course size also depends on the putting green and long game ranges.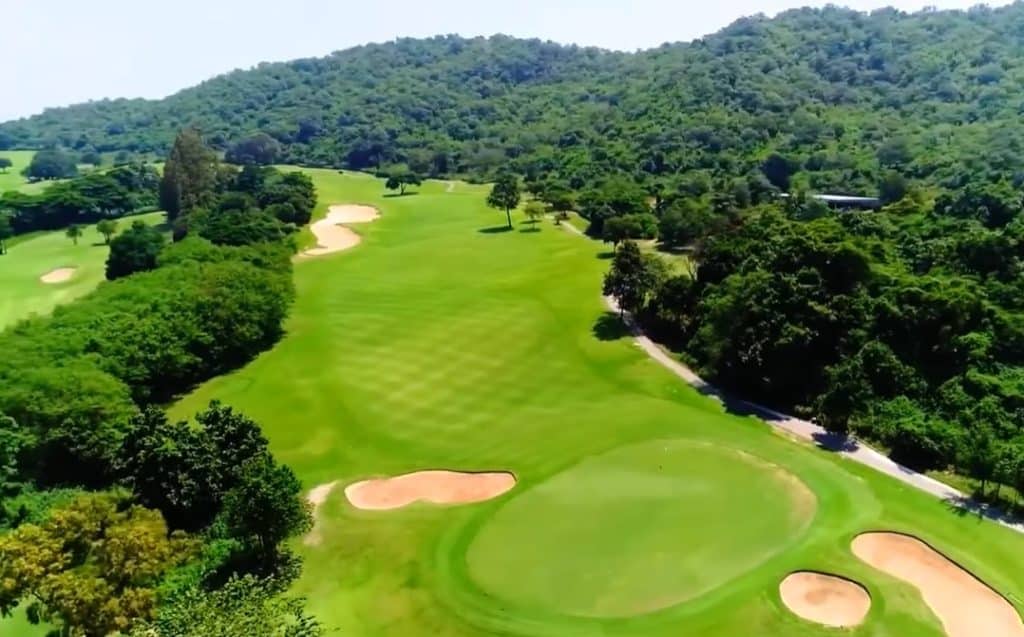 4. Size of a Clubhouse
A spacious clubhouse is a golfer's paradise retreat inside the golf course. It may house several amenities like a golf shop, a fine dining restaurant, drinks in a fridge, etc. A massive clubhouse requires a large land area.
5. Design
Natural features like lakes, sand traps, and other hazards take big cuts on the increasing size of a golf course. Complicated course designs tend to enhance the land area of a golf course. Other golf courses have between 5000 and 7000 yards, which slightly have average-sized features.
How Do Fit A 7,200-yard Golf Course Into 50 Acres?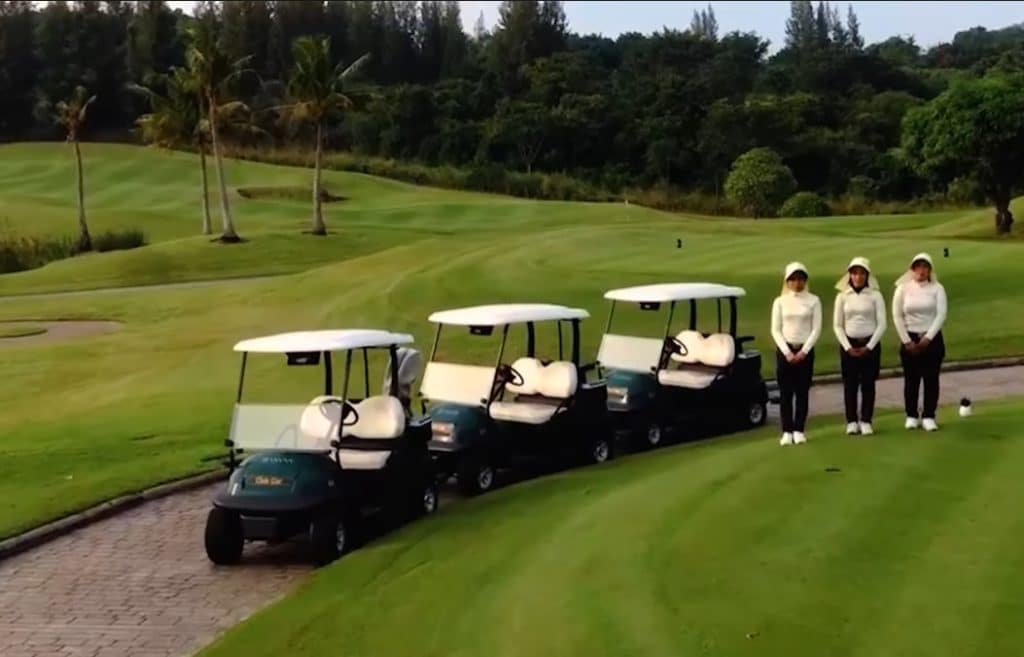 Fitting a 7,200-yard golf course into a 50-acre (about 20 hectares) land area is very challenging for designers. The 7,200-yard is the standard span of an 18-hole golf course for PGA Tour games.
Many golf course designers adopt a rectangular-shaped course to fit the 7,200-yard into a 50-acre land. In this manner, the four golf zones are in each corner of the rectangle; the fifth zone is placed at the center. It creates a Par 3 possibility.
This blueprint allows for an 18-hole full-length golf course. Moreover, the designs also permit play features in two or three distinct holes with intricate hazards and bunkers. The plan allows two of the five greens to use three to four times in different directions.
The greenside bunkers provide more visibility and playability from the fairway. The practice area putting green is provided with distinct hole positions making it multi-functional. It is also an ideal practice area for short games.
How Long Is The Average Golf Course In Yards?
The average golf course is typically 6,600 yards long. It is about 3.75 miles or 6 kilometers of walking distance. A golf course consists of Par-3, Par-4, and Par-5 zones. Every hole on an 18-hole golf course has a distinct length or span.
The sum of these aggregate lengths determines the total distance of a golf course. The five main components of a golf course are the tee box, fairway, rough, green, and hazards. Here are brief descriptions of each part.
Tee Box
The tee box is the teeing ground with mown grass where the game starts. It is the area where you place a tee marker to begin the shots of the game. The area usually requires six acres on average.
Fairway
The fairway typically occupies 29% (about 30 acres) of the total land area of a golf course. It is the stretch between the tee box and the green running 30 to 50 yards. Mostly, it is the second shot from the fairway that is one of the easiest to make than in any other area of the course.
Rough
The rough is one of the most hated areas by golfers on the course. It is a place golfers want to avoid landing their golf balls. This area has long grass: where the ball is more difficult to hit.
The rough area may cover about 67 acres of land (27 hectares), on average. The zone is almost 60% of the land area, including the hazards and out-of-play areas in most large golf courses.
Hazards
This area has two distinctive types: bunker and water hazards. It is also the area to avoid landing the ball. The bunkers include sand traps, trees, and other solid obstacles inside the golf course.
FAQs
1. How long does it take to build a golf course?
Building a golf course may take between 6 and 12 months in a continuous process without delays. Additionally, it will take about 12 to 18 months for the grass to grow and groom before the course opens for play.
2. What is the average golf course length in yards?
Many golf courses have an average length of 6,600 yards. Most regulation courses have about 7,200 yards, including PGA Tour golf courses. An 18-hole golf course with an average length of 6,600 yards takes about three to four miles of walking distance.
3. Are Golf Courses Profitable?
The 2022 Golf Cart Report said most golf courses have annual revenues between a few hundred thousand dollars and more than $ 5 million. Not all golf courses in the United States are the same: be it in size, location, services, popularity, and revenue. 
4. What is a Par 3 golf course?
Par 3 in a golf course is the shortest course in the golfing area and requires only a single shot. All golf courses have a Par 3. It also has the easiest holes for scoring and runs in length between 150 and 200 yards.
Read more: Best Hybrid Golf Clubs for Beginners and High Handicappers.
Conclusion
The average price of building a golf course in the United States runs between $12 and $14 million. The price does not include land. The cost eventually becomes higher depending on the land size.
Knowing how many acres for a golf course gives an idea of the size of land you should prepare: if you are interested in building one. It is added info if you plan a joint venture with golf course developers.
Matt Stevens is the founder of Golfrough.com. He holds a Postgraduate in Sports Marketing and has played golf since he was four years old. Having experienced every high and low golf has to offer, his writing helps the average golfer avoid the mistakes he has made in 28-years on the course.