I prefer the Titleist Pro V1 golf balls because of their lesser spin, softer feel, and flat trajectory. It is better than the Pro V1x, which is more focused on lengthy distances. Sadly, the Pro V1 price drains my budget: the same as the Pro V1x. But I love both of them.
In this regard, many golfers asked if there are Pro V1 alternatives. There are plenty, I supposed. Sometimes these alternatives have similar or even better qualities than the Pro V1. There is the Kirkland Signature, Cut Blue, Mizuno RB Tour, TaylorMade TP5, and more. 
Many pro and amateur golfers prefer the better performance of the Pro V1. However, the best-performing golf ball comes with one setback: its price. A dozen Pro V1 golf balls may cost around $50: too costly for many amateur players. So, they look for a more budget-friendly option.
In this article, we tackle some alternatives for Pro V1 golf balls, which you may not know exist. We discuss the distances covered, prices, designs, and other traits that may lead you to use them. 
What Golf Balls Are Similar To Pro V1? 
Here are some of the well-known brands (although some are least heard of) that can match Pro V1 qualities.
Like the Pro V1 golf ball, the Bridgestone Tour B XS is a premium brand but cheaper at a minimal cost. A dozen Bridgestone B XS golf balls may cost around $32-$47. It comes in two colors (white and yellow). The yellow ones are cheaper.
But how do the two brands compare? The Tour B XS is an older model than the Pro V1. We give one of their differences. The former has a dual-dimple pattern that maximizes wind resistance resulting in maximum distance. 
On the other hand, the Pro V1 enhances speed due to the dual-energy core. It absorbs the forces created by your swing to maximize speed and distance.
Comparing the Titleist Pro V1 to Cut Blue golf balls, we are talking about half the price. Yes, that is right, a dozen Cut Blue golf balls only cost around $24-$25, almost half the price of a Pro V1. The former might be the best alternative for amateur golfers with average swing speeds.
But how Cut Blue performs? Cut Blue is a 4-piece construction golf ball with a compression rating of 105. It has a urethane cover and suits all types of golfers. The ball has less wedge spin than Pro V1 but with a higher driver carry distance (1.4% greater than Pro V1).
The Kirkland Signature golf balls are becoming the less expensive alternative for Pro V1. I have the chance to try and compare these two amazing balls one summer day in a humid environment. What I found out might interest you.
You might not believe it, but Kirkland Signature is just a fraction of the price of Pro V1 balls. Some online dealers keep their price around $13-$15 per dozen for these balls. Kirkland Signature has three layers with a urethane cover.
The Kirkland feel is mid-soft compared to Pro V1's soft feel. It has a low spin when hit from the tee, unlike the latter's mid-spin at the tee.
The Mizuno RB Tour has a slightly lower price tag than the Pro V1 ($40-$42 per dozen). The ball has low-launch but high-spin features ideal at the green. It may not offer enhanced distance off the tee, especially for beginners.
The 4-piece urethane cover and 360-dimple RB Tour may not be for everybody, but the traits are more similar to Pro V1. It has a compression rating (91), almost the same as Pro V1. The ball is manufactured in Vietnam with strict quality.
5. Snell MTB Black
It is good to know that the Pro V1 spins more than 400rpm (for 6-iron) compared to Snell MTB Black. However, the former (Pro V1) has a lower ball speed (about 25mph less) than the MTB Black from the tee.
The two balls might be ideal for more experienced and amateur golfers. Their similarities are quite impressive. Both have identical launch angles and yardage for wedges. When using a sand wedge club, the difference in ball speed is minimal for the balls.
Golfers more concerned about precision, touch, and greenside control (and for the lower cost) may prefer the Srixon Z Star. Although the Pro V1 is more consistent on ball flight and enhanced distances, the S Star is not far behind.
Both golf balls feature multi-layer technology optimizing their performances in varying conditions inside the course. The Srixon Z Star costs around $31-$33 per dozen.
Many pro players have difficulty deciding whether to use TaylorMade TP5 or the Pro V1 in delicate course conditions. If you ask for their price difference, the TP5 sells for less than $1 or $2 per dozen than the Pro V1.
But for the performance, both perform well in every aspect of the game. The Pro V1 is more consistent and provides excellent control for pros. However, the TP5 has a better feel on all shots. 
If you are uncomfortable with the Pro V1 or the Pro V1x, the Vice Pro Plus is your alternative. The Vice Pro Plus sells for around $33-$35 per dozen, a cheap alternative for many advanced golfers.
Vice Pro+ is very similar to Pro V1, especially in the feel. However, the former has a quiet and low-pitched sound. Both balls have thin cast urethane covering, enhancing short-game spin with maximum feel. 
The Volvik S3 golf balls usually come in many colors, such as orange, yellow, and red. The extremely soft cover of the S3 is similar to the Pro V1. The S3 has a cheaper price (around $43 per dozen).
The Volvik S3 also has identical performances to Pro V1, where you can work it out right or left. However, the S3 easily scuffs its cover, especially in rugged and sandy terrain.
The Wilson Staff Model golf balls are comparable to Pro V1: including the price. The ball fetches around $48-$49 a dozen, nearly identical to Pro V1. 
The Staff (2-piece) is softer than the Pro V1 (3-piece), with a compression rating of 100 (Pro V1 is 90). The former offers a similar distance to the latter, but it is not recommendable for fast swingers. 
Pro V1 vs Alternatives (Comparison Table)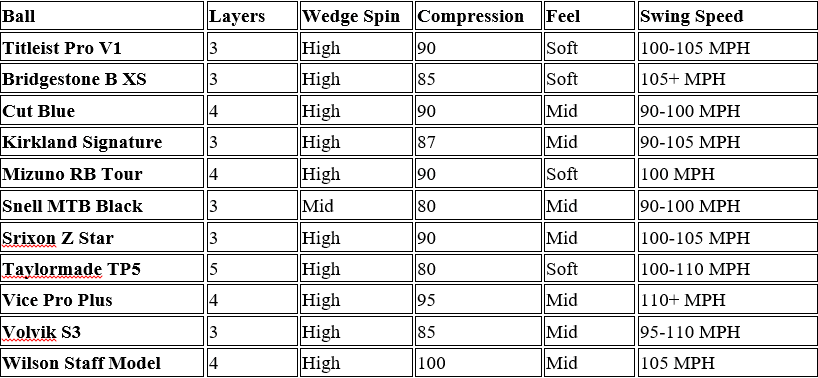 Things to Look For When Replacing Pro V1?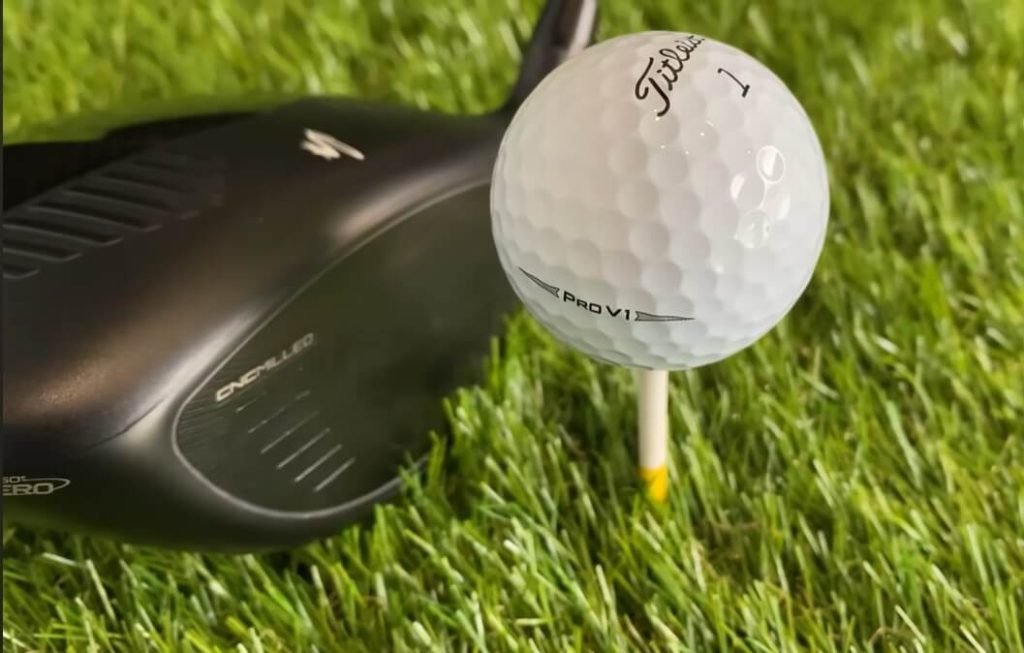 Let's say you want to switch from Pro V1 to any alternative you find more convincing: Here are some things you may consider.
1. Distance Coverage
Every golfer wants distance. The Pro V1 proves to provide great distances, especially from the tee. But the cost of each golf ball might be too much for your budget. 
The Pro V1 is designed to clear the gap between tour and distance golf balls. If you find an alternative with a swing speed capability of at least 95mph and the price suits your budget, go for it!
2. Game Control
Pro V1 is also more suitable for short games around the green. Its more penetrating ball flight allows you better control in short and long games. It also has more greenside spin but a low long-game spin. 
3. Better Spin Control
The Pro V1 leads the pack for golfers who are approaching the cup. It makes it simple for experienced golfers to decide whether to stop the ball once it is near the hole. The penetrating power of the ball lessens your struggles with the wind.
4. Sound, Design, and Feel
It's not all perfect for Pro V1. But the premium ball has designs unique to other brands. Its covering (thin urethane) makes it sound smooth and the soft feel impresses many pros.
5. Longevity
Many experts estimated average golf ball life spans at seven rounds. At this stage, the ball may show signs of deterioration. We have seen our Pro V1 balls last more than seven rounds.
Is TP5 Comparable To Pro V1?
Yes, it is. Both golf balls are designed for advanced players seeking farther distances but with better control. The price difference is too minimal than other alternatives. 
Golfers who are more focused on accuracy and distance might prefer the TP5. However, players looking to improve spin control go for the Pro V1.
| | | |
| --- | --- | --- |
| | Pro V1 Golf Ball | TP5 Golf Ball |
| Layers | 3 | 5 |
| Wedge Spin | High | High |
| Compression | 90 | 80 |
| Feel | Soft | Soft |
| Swing Speed | 100 MPH | 100-110 MPH |
Which Kirkland Golf Balls Are Like Pro V1?
The 3-piece Kirkland Signature golf ball is more similar to Titleist Pro V1. The two balls have similarities in short-game spin and forgiveness. The balls might differ when hitting longer (like off the tee). Pro V1 has a better feel on this field.
Are Vice Golf Balls As Good As Pro V1?
It may depend on the preference of users. However, the balls have almost identical specs. But the Vice Golf Pro Plus balls are more suitable for swings above 110mph. Vice golf balls are also more rigid than the Pro V1.
FAQ's 
1. How Much Could You Save Buying Cheaper Golf Balls?
When buying TaylorMade TP5 in bulk (say four dozen), you can save at least $4-$5 buying the same quantity as Pro V1. It might not be too much, but when you sum it up in the long run: you save a lot!
2. Is Titleist AVX better than Titleist Pro V1?
Although the AVX might be comparable to Pro V1, it has lower ball flight and the lowest game spin than Pro V1. However, AVX golf balls may still perform inside the green, as well as premium brands. 
3. Does Kirkland Golf Balls Similar to Pro V1?
Many expert golfers have different opinions about this. But for me, the Kirkland balls have firm feels than the Pro V1. The former may not be harder for some, but the latter is more responsive and feels softer.
4. Why Are Pro V1 Balls So Expensive?
Pro V1 golf balls are expensive because Titleist invested so much in research, development, and high-grade materials. Many pro and experienced golfers consider Pro V1 one of the golf balls with the highest quality. Brand recognition also added to the cost.
5. Is It Better to Get Titleist Pro V1 or Pro V1x?
Golfers seeking high ball flight but low long-game spin prefer the Pro V1x. But those who want a low-ball flight with a lesser spin on long games prefer the Pro V1.  
6. Which Golf Ball Is Comparable to Pro V1?
It might not be difficult to decide if you want to switch balls. For us, we find the TaylorMade TP5 as the most comparable golf ball to Pro V1. You can review what we said above to refresh your memory about TP5.
7. Can high handicappers use Pro V1?
Economically, we do not recommend Pro V1 to high-handicappers. We all know that high-handicap players still have more to learn. Investing in expensive golf balls is not a good idea.
8. Do I want Pro V1 or Pro V1x?
The decision lies in what you need. The majority of golfers prefer the optimal ball flight of Pro V1. On one hand, the Pro V1x flies high and can attain the highest elevation further downrange. High-speed swingers achieve more carry distance when using the Pro V1x.
9. Which Vice Golf Ball is like Pro V1?
The Vice Pro Plus Golf ball is comparable to Pro V1. It is like the Pro V1 in the sense that they almost have the same carry distance. They also have similar ball speeds and launch angles in most irons. However, the Pro Plus cost lesser by $10 to $13 (per dozen) than Pro V1.
Conclusion
We may now say that one of the best alternatives to Pro V1 is the TayloMade TP5 golf balls. The TP5 is an ideal replacement for a premium ball when you want continued improvement in the game.
Their similarities will not hinder upgrading your skill in any condition. But no matter what ball you prefer, the desire of improving your game keeps you going. 
Read more: