Just because you're wearing the best golf shoes for flat feet, doesn't mean they have to be boring. My picks for the best shoes certainly aren't.
Having flat feet is not a shortcoming, as many golfers believe so. It's just as normal as not wearing the same sized shoes as everybody else.
You need something specific to your needs. And not all golf shoes are the perfect match for you. For flat footers, cushioning and support is important. It deals with heel pain, stiffness, and foot fatigue.
So when buying new golf shoes for flat feet, you have to be very careful. Even though an ideal pair of golf shoes is not that hard to find. It can be quite a challenging task to start from scratch.
Allow me to help you increase your chances of finding the perfect fit. We have the chance to wear and test all the products that we recommend below. But you have all the freedom to try and test the best one for you.
Our Top Picks: Best Golf Shoes for Flat Feet
Best Overall: Adidas Men's Tech Response Golf Shoes
Best comfortable golf shoes for flat feet: New Balance Men's NBG1701 Spiked Golf Shoe
Best spikeless golf shoes for flat feet: ECCO Men's Biom Hybrid 3 Gore-tex Golf Shoe
Best golf shoes for men: PUMA Men's Ignite Nxt Lace Golf Shoe
Best golf shoes for women: Skechers Women's Go Golf Birdie Golf Shoe
Best Golf Shoes for Flat Feet in 2023 – Top 5 Choices
#5 Skechers Women's Go Golf Birdie Golf Shoe – Best golf shoes for women
The Skechers Women's Go Golf Shoe is fit to support your feet all day. It's the best choice for women in that it's comfortable and lightweight. The upper is 100% water-resistant.
The GPU grip sole improves balance and flexibility. So long with the impressive upper material, it's a delight to wear and play. Ideal for plantar fasciitis, this shoe has a lightweight infused construction.
It doesn't cause back pain, heel pain, or stiffness. It is quite forgiving and flexible. Thanks to the max insole which provides responsive cushioning on the spot.
This is not like those half-supportive women's golf shoes. Where only a section of the foot feels comfortable. While the rest of the insole is either too stiff or too soft. These attractive and powerful shoes are supportive right from the start.
The soles are easier to clean even after you knock grass clumps off. The subtle and eye-catching design can withstand more heavy use than you think. The soles even have an outstanding grip for walking up and downhills.
All-in-all, it's a great shoe for flat feet. It's perfect for women with flat and wide feet. And it's perfect for women with flat and narrow feet. The comfort and support of the shoe are exceptional and far-reaching.
Key Features
The mesh fabric is lightweight and breathable.
The TPU grip outsole offers more flexibility for flat feet.
It has a 100% water-resistant upper.
Who should use this? 
Aside from women golfers with flat feet, lady players with wide or narrow feet could wear the shoes confidently.
The Skechers GogaMax Insole design provides more flexibility and better cushioning than traditional golf shoes. Also, petite lady golfers should wear this footwear for active walking. It is lightweight and much better at preventing plantar fasciitis.
Who should not use this? 
Golfers playing under heavy rain or snow should not wear this footwear. Although the footgear is water-resistant, it may not withstand prolonged wetness or dampness.
#4 PUMA Men's Ignite Nxt Lace Golf Shoe – Best golf shoes for men
The PUMA Ignite Golf Shoe has an attractive design. You can also buy any one of its other color patterns. It has a textile and synthetic upper and sole. It has an impressive performance-driven mesh construction.
These shoes stay dry even if the green is not. It wicks away moisture and rain. With the anti-clog sole, it doesn't even attract mud and dirt. It cradles your feet while maintaining optimal support and stability.
The Ignite foam and TPU are its best features. It provides plenty of heel support while taking away most of the heel pain. The upper and foot-bed even regulates temperature to increase breathability.
These are truly one of the best comfortable golf shoes for flat feet. They're also amazing for golfers with plantar fasciitis. The bottom of food relieves arch pain from standing and walking around too long.
If you're tired of squeezing your flat feet into standard golf shoes. You need something specific to your feet's needs. This pair of good-looking and performance-driven shoes are worth a shot.
It might seem a little tight in the beginning. But you just need to break the shoes in. You'll only do this by wearing them out every day. Eventually, in a day or two, the tightness of the build starts loosening up.
Then it will fit you exactly the way you want it to. No stiffness, no pain, and no soreness after an enjoyable day of golfing.
Key Features
The footwear has a thick midsole.
The fabric is Performance Mesh with TPU.
The outsole has Organic Traction with hexagonal lugs.
Who should use this? 
The Puma Ignite NXT golf shoe has a lace-up closure. It is a better alternative for players who prefer laces as closure than Velcro or slip-on. Also, those who want to keep their feet dry in a damp environment after heavy rain in the course.
Who should not use this? 
Anybody can wear these shoes, whether they have flat or wide feet: select the proper size. But the sizes start at 7, so; those below this size should not use the shoes. It may be awkward looking if you have too small feet.
#3 ECCO Men's Biom Hybrid 3 Gore-tex Golf Shoe – Best spikeless golf shoes for flat feet
This shoe is designed for maximum support and cushioning. Not all golf shoes are best known for their performance that are also spikeless. But the Biom natural motion structure of these shoes is worth considering.
Since they're spikeless, they improve stability on a whole new level. No foot pain. No toe stiffness. And no back pain for golf players on a bad day. Spikeless shoes can take away the risk of all these things happening to you.
So if you're tired of wearing spiked shoes for your flat feet, you have the ECCO Hybrid. It's a comfortable pair with all expectations met. It has plenty of giving and it stabilizes your feet quite impressively.
The leather upper, rubber sole, and ergonomic footbed. All these features make for a very important and premium shoe. The proper cushioning in its foot-bed is necessary for golfers with flat feet.
It reduces pain, discomfort, and most importantly, stiffness. I highly recommend this if you experience heel pain on a daily basis. You don't have to think a lot about this shoe. It's got all the qualities of a standard sports shoe. But only that it's more carefully engineered for golfers.
Key Features
The material is 100% leather.
It is certified waterproof footwear.
The YAK leather uppers enhance breathability.
Who should use this? 
The GORE-TEX Waterproof technology on the ECCO Biom Golf Shoes is superb! It combines optimized better support, breathability, and protection against harsh elements. Golfers who are unstoppable in playing in a wet (after heavy rain) or snowy environment should wear these shoes.
Who should not use this? 
Those who are out of budget should not purchase these shoes. The cost may be too much a burden for them.
#2 New Balance Men's NBG1701 Spiked Golf Shoe – Best comfortable golf shoes for flat feet
If you're looking for something that suits you right away, go for this choice. It reduces common shoe problems such as arch pain and stiffness. Most men find it hard to find the perfect shoe that fits. But not anymore.
The New Balance Spiked Golf Shoe is professional and durable. It has a great rubber sole and a microfiber leather construction. It feels feather-light, especially for golf shoes with spikes.
Flat footers want something between soft and hard. This is in terms of foot-bed cushioning and sole support. This is what makes the best golf shoes for flat feet more enjoyable.
With superb arch and side support, it also reduces foot pain and soreness. The toe construction is wide so there'll be plenty of room for movement. This also translates to improving breathability.
And we all know what happens when you stop feeling your shoes on the course. You start focusing on your golf game more and make it enjoyable. So if what you're looking for are balance and support, this is the perfect shoe for you.
It makes the perfect shoe for hot, humid, and rainy weather. The rubber insole and outsole provide all the water resistance you need. Nor does it attract moisture to it or sweat from the inside.
Key Features
The pair has Champ Slim-Lok removable cleats.
It has an EVA midsole for a comfortable cushion.
The rubber outsole is perfect for any terrain.
Who should use this? 
The New Balance NBG1701 Spiked Golf Shoe for men has one of the lowest price ranges in this category. Men golfers seeking more comfortable footwear in golf courses with rugged terrain should try to use these shoes.
Who should not use this? 
The NBG1701 golf shoes have a water-resistant microfiber leather upper, ideal during rainy days and hot weather. But golfers should not use this footgear on a snowy golf course.
#1 Adidas Men's Tech Response Golf Shoes – Top Pick
The Adidas Tech Response Golf Shoes is all over the place. It's a popular choice for its comfort, stability, and support. With a mesh and synthetic build, it's a solid choice for flat feet.
It features a synthetic upper that increases resilience and balance. So even if you need to walk the whole course, these golf shoes won't bite.
The towering customer feedback and reviews on this pick are convincing enough. The shoe's soles are infused with Thintech cleats. Now, these soles are no ordinary choices. They are customized to improve long-term use. Inviting balance and cushioning to all your walks.
Flat footers know how difficult it is to walk through the fairways and the entire course. In any standard golf shoes, you'd be so uncomfortable by the end of it.
These shoes have a unique low-profile construction technology. The 6-spike sole builds enough traction and balance for you to keep up. Best for walking 18, you won't get stuck in any hot spots with these on.
Besides, these shoes feel so light and stable. You won't feel anything but a great grip on them. Thanks to the soft EVA insole that is breathable and lightweight. It doesn't attract odor, sweat, or stuffiness from wearing shoes too long.
This saves you time: keeping them clean and tidy is no longer going to be wearisome.
Key Features
The Tech Response has a 6-spike ThinTech outsole.
The shoes have a lightweight EVA midsole.
The pair is breathable in humid weather.
Who should use this? 
Players with any type of feet, especially flat-footed, should wear these golf shoes. It comes in various sizes (from sizes 7 to 15) and five color combinations (from light to dark). If you want total stability, comfort, and support on every game: the Adidas Tech Response is worth every penny.
Who should not use this? 
Golfers should not wear the Adidas Tech Response Golf Shoes in damp areas, such as highly-drenched tall grasses. Although the shoes resist water, they may not withstand wetness all day.
Best Golf Shoes for Flat Feet – Buying Guide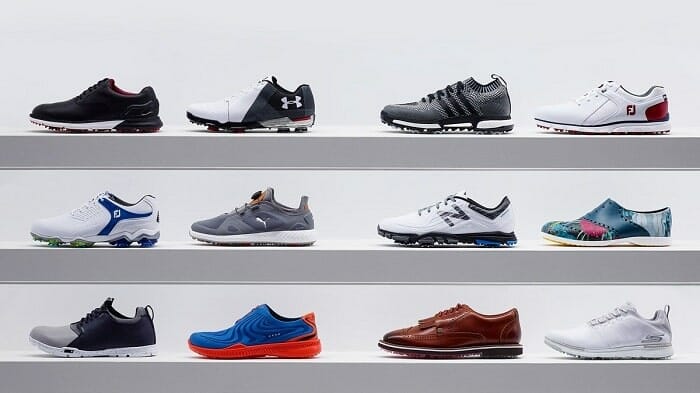 It's always a good idea to wear something best suited for your condition. If you already wear a specific type of shoe such as sneakers and sports shoes. Why not also wear the best golf shoes for flat feet?
Today, golfing footwear has reached new heights. There is more than just one type of golf footwear for men and women. Such shoes don't look clunky and old-fashioned anymore. They're quite stylish and functional.
As a flat-footed golfer, you'll need something supportive and comfortable. This may not be tough to understand. But if you enter a footwear store, it can be tough to track down.
That's why I'm here to help you.
Of course when buying a new pair of shoes, if the shoe fits, it's for you! However,  for golfers, it's not only about whether the shoes fit. It's about how they improve your balance and performance while playing.
That being said, here's what you need to know.
Spiked vs Spikeless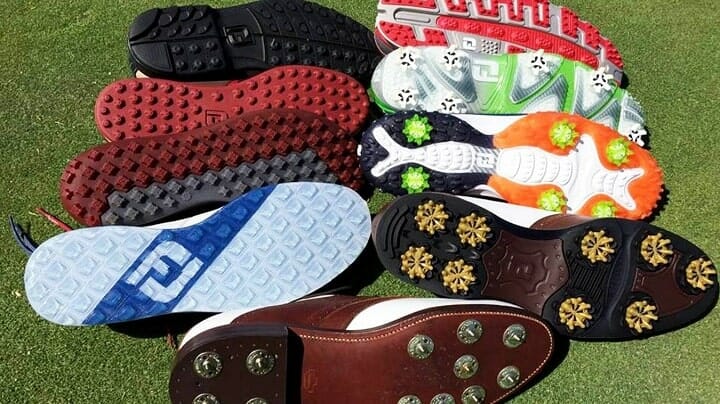 The spikes that are at the bottom of the shoes differentiate between spiked and spikeless shoes. In spiked shoes, it's these pointy ends that come into contact with the ground. And in spikeless shoes, you guessed it right, it's the sole that does.
There have been many instances when golfers have slipped as they've swung the ball. This usually happens with spikeless shoes. Spikes provide the traction and grip a golfer's needs.
On the flip side, spiked shoes give a lot of golfers foot pain and back pain. Though it's a matter of personal preference, you can see how this affects golfers.
Spikeless shoes have evolved over the years too. With better-forged soles, they offer grip and stability. You can play in them in versatile conditions. And they're great for walking around too.
Spiked shoes provide strength and agility for serious players. They even improve flexibility for walking around. But they're dedicated to playing. And that's what makes spiked shoes a performance-driven choice.
Soles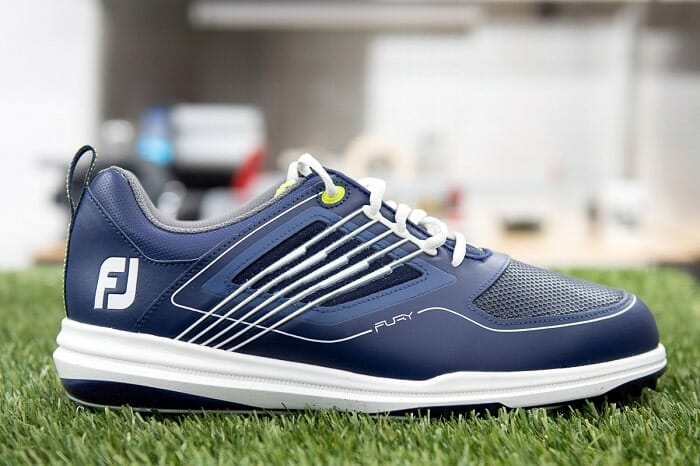 Golfers always consider their soles for a better match. Got it? It's what regulates proper body temperature. So that your feet won't sweat or feel inhibited. Even if it's not hot outside, the soles of shoes can really make it seem like it.
Soles also do other wonders like supporting your feet. For golfers with flat feet, this often means fighting foot fatigue and heel pain. You want the soles to feel a little firm, not too tight.
This is the only way golf shoes can correct your posture. Whether you're standing, walking, or swinging. If there's incorrect foot alignment, there's incorrect play. And if things get even worse, especially with flat footers, it can lead to severe health problems.
You can opt for insoles that support and cushion your flat feet. These are special insoles that go that extra mile for you. Other standard golf shoes don't. Such insoles might cost a little extra but they're surely worth it.
Waterproofing technology
Waterproofing technology is essential in the footwear industry, especially in golf. Although golfers do not play during heavy rain (rarely do some groups do it), they continue playing after the downpour. But at this time, the golf course may be soaked in water.
Golfers who do not want to play after the precipitation may not need waterproof or water-resistant shoes.
Golfers playing early in the morning may encounter a wet fairway due to last night's dews. At this time, you also need water-resistant shoes. The water in the surroundings may dry out in a few hours. So, you need shoes that can repel water on your feet.
This technology is crucial in making golf shoes. It will keep your feet dry even if the turf soaks in water during a light rain. All golfers do not feel comfortable playing with wet feet: their performance suffers a lot.
Comfort and breathability
Golf shoes providing better breathability make players more comfortable in playing the game, no matter the weather is: When you feel at ease during a play, it will enhance your performance, like having complete control of your swing.
Proper arch support
Pick a golf shoe that has an appropriate arch support insert. The support would feel like a broad ramp that is smooth and uniform, like the Puma Ignite, ECCO Biom, and the Skechers Go Golf Birdie Shoes. The inserts should run from the front to the back of the arch.
Significant stability
It is one of the reasons you wear golf shoes when playing: they provide stability on your feet, especially during a swing off the tee. Furthermore, choose a golf shoe that offers more flexibility to keep you more stable on any surface you stand, bend, or squat.
Notable traction
Spiked golf shoes will give your flat feet more traction on the golf course. Better traction is better in any terrain. The Adidas Tech Response Golf shoe is one of the leading brands in this category. The shoe has a low profile bottom improving traction and stability.
Things To Avoid When Buying Golf Shoes For Flat Feet
1. Unreasonably narrow or too wide
Golf shoes lose their functionalities when they are too wide or too narrow for your flat feet. So, the best thing to do is pick the appropriate size and fit.
Flat feet do not adapt to weight diffusion. They could remain in an atypical position when unsupported. With this, you become more uncomfortable walking and doing other activities.
2. Too soft insoles
The insoles should not be too soft when picking a golf shoe. An overly soft insole may become softer over time. It may not bear your weight properly when you wear arch support. So, find insoles that are firm, smooth, and distribute weight equally.
3. Rigid uppers
Choose a golf shoe that does not have rigid or hard uppers. They will restrict your movement inside the golf course. All of the products we reviewed do not have stiff uppers. They are flexible and soft to the skin but with strong fabric.
FAQ's
1. Can I play golf with flat feet?
Of course, you can! Beginners may have doubts about this.
Flat-footed people may experience uneven distribution of weight. It may affect your swinging and balancing when playing golf. But there is a solution: wear golf shoes that provide support.
2. What type of shoes is best for flat feet?
Generally, flat-footed people should wear wide-fit shoes. Avoiding shoes with a narrow or pointed front is recommendable for them.
3. Is it better to golf in flat shoes?
Yes, it is better to golf in flat shoes if you have flat foot. These shoes offer a better flat feel and immense arch support. The shoes also increase comfort and the lightweight feel.
4. Do flat feet need high arch support?
Yes, they do. High arch support inserts reduce and even eliminate the pain. When the arch support is placed correctly, it provides comfort to all four arches.
5. Can you reverse flat feet?
Arch supports will not cure flatfoot. They only minimize symptoms. Flatfoot people have short Achilles tendons; proper exercises may help strengthen them to reduce symptoms.
6. What are the best golf shoes for over-pronation?
Some of the best golf shoes for over-pronation: Adidas Men Tech Response, Puma Ignite NXT, and the Skechers Go Golf.
7. Do flatfoot golfers need to play with spike or spiked-less golf shoes?
Spike-less and spiked golf shoes are both suitable for flat feet. Find a pair that allows a more comfortable feel but provides adequate traction.
Many experienced golfers prefer to buy more than a pair of golf shoes. They usually buy a pair of spike-less shoes for hot afternoon rounds. But for the wet or cold season: they have soft spike golf shoes.
8. Is waterproof technology an essential golf shoe trait?
It highly depends on the weather condition. But if you want to be prepared in any circumstances, it is better to buy golf shoes with a waterproof guarantee.
A golf course may be wet even if you are not playing in the rain. Most often than not, there is moisture on the grass in the morning and at dawn. However, you could buy several pairs of golf shoes for different conditions.
Conclusion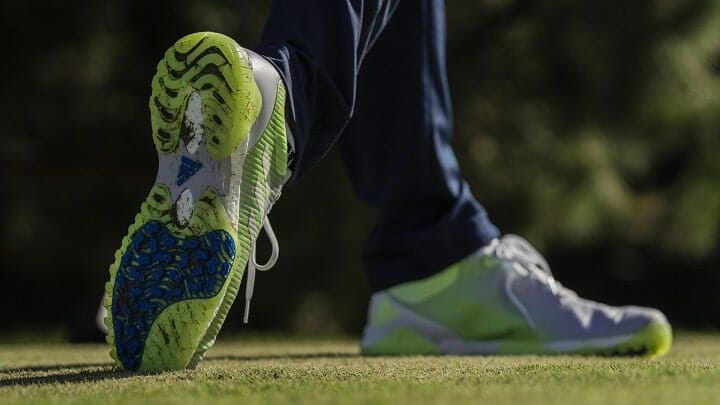 It's hard to say no to Adidas when you're looking for new golf shoes. Especially when it's the premium Adidas Tech Response Golf Shoes. These shoes are for people who suffer from the toils of heel pain and foot fatigue.
If it's ruining your golf game, you need to switch to better options. Shoes like Adidas are worth considering. They hug your feet, make you feel comfortable all day long, and are durable.
If you don't find shoes for flat feet, as a golfer, this can really ruin your game. What's worse is having to put up with the pain while, and even after, playing golf. There are plenty of golf shoes to pick from. You only need to know where to begin. This article takes care of that for you.
RELATED POSTS: