If you've ever suffered from any kind of knee pain, you know how important knee braces are. The most common use of a knee brace for golf is protection and support. Knee braces protect the knee from injuries while supporting the proper movement.
In this article, I will be comparing and reviewing the best knee braces. Many that professional golfers vouch for and use daily. And many that beginners find are the perfect companions for long-term practice.
If you're a senior player experiencing knee pain, you don't want that to interfere with your game. That's why the best knee brace for golf is so essential. It helps you stay active during your game. And alleviates any kind of pain, stiffness, or soreness during and after.
Best Knee Braces for Golf 2022 – Table Comparison and Reviews
What are the best features of a knee brace? It should be the perfect size for you. Designed to provide support but without the tightness. And most importantly, it should not restrict movement. While, at the same time, it doesn't allow the knees to splay out as that can lead to injury.
With these features in mind, I've found the perfect knee braces for you!
| Name | Rating | Material | Closure Type |
| --- | --- | --- | --- |
| Mava Sports Reflexology Knee Support Sleeve | #8 | Cotton | Pull-On |
| Bauerfeind Sports Knee Support Brace | #7 | Air-Knit Fabric | Pull-On |
| Copper Health Knee Brace | #6 | Copper | Pull-On |
| RiptGear Knee Compression Sleeve | #5 | Nylon, Spandex | Pull-On |
| EzyFit Knee Brace Support | #4 | Neoprene | Hook-and-Loop |
| Modvel 2 Pack Knee Brace Compression Sleeve | #3 | Spandex, Nylon, Latex Fiber | Pull-On |
| Crucial Compression Knee Brace Compression Sleeve | #2 | Nylon, Spandex | Pull-On |
| UFlex Knee Compression Sleeve Single Wrap Knee Brace | #1 - Editor's Choice | Nylon-Mesh, Spandex | Pull-On |
8. Mava Sports Reflexology Knee Support Sleeve – Best lightweight knee brace for golf
Pros
Good for reducing pain and stiffness.
Proper cushioning and lightweight.
Great support with breathability.
This knee brace is designed to provide immediate pain relief and support. Whether you experience stiffness from a sprain, a medical condition, or overexertion. The Mava Sports Knee Support is a superior and functional choice.
It adds stability with comfort at an affordable price. Perfect for day-long use. It has versatile purposes including walking, running, climbing, and other gym uses. The contoured padding over the knee cap offers incredible compression.
The compression is light but powerful. It won't feel stuffy or restrictive. Even if it's hot outside, the fabric stays cool and keeps the skin dry.
Lots of golfers complain about their knees "giving out." With this best knee brace for golf, you do not have to worry about any such thing. The functionality of this knee brace is supportive and long-lasting.
7. Bauerfeind Sports Knee Support Brace – Best active knee brace for golf
Pros
Better stabilization and breathability.
Super comfortable and protective fabric.
Better long-term assistance from stiffness and pain.
Cons
It may roll from the edges.
The Bauerfeind Sports Knee Brace is a superior technology option. Known for its medical-grade compression, it's stable and long-lasting. It's an excellent product that has shown great results in terms of performance and durability.
For golfers, it is sized perfectly. With an optimally balanced weight, it feels light and supportive. Ideal for golfers with former injuries, stiffness, and knee pain. This knee brace for golf is built for improving knee movement.
It disperses heaviness and stiffness on the knees. The knitted fabric of the brace feels tight and firm. Enough to activate muscles for better performance. And to boost muscle recovery and warmth after.
Whether you're a golfer who's also a runner. Or you go to the gym every weekend for extra power training for golf. Wearing this support brace can keep your knees protected and pain-free.
6. Copper Health Knee Brace – Best ventilation knee brace for golf
Pros
Lightweight and soft fabric.
Well-ventilation and anti-odor.
It protects from injuries and stiffness.
The Copper Health Knee Brace is a good option for most golfers. It's perfect for all-day use. Comfortable, supportive, and long-lasting. It has a smooth and soft inner lining. So even if you wear it all day, it won't leave a mark.
For the cost, it's a valuable and effective buy. Not too thin, or flimsy, or stiff to walk around in. It has a supportive structure with a pull-on closure. The copper fabric reduces pain, alleviates stiffness, and improves breathability.
The double anti-skid special weaving design improves how your knees feel in the brace. The spandex and copper nylon material is breathable on a whole new level. It keeps your skin dry and perspiration-free. While the fabric keeps from slipping down or moving sideways.
So if a supportive and functional knee brace is what you're looking for. Then this is the best knee brace for golf – beginners and advanced players.
5. RiptGear Knee Compression Sleeve – Best knee brace for surgeries/medical conditions
Pros
It alleviates pain and stiffness.
Keeps the knees warm and dry.
Ideal for medical conditions.
Cons
The fabric may feel too heavy.
RiptGear Knee Compression Sleeve has many perks. Its material construction and functionality are spot on. It offers support, pain relief, and mobility. And it provides an exceptional level of comfort and cushioning to avoid pinching.
You can re-adjust the sleeve to allow a little movement. For golfers with a former knee injury or arthritis, it even allows the padding to restrict extreme movements. The cost of this knee brace is affordable and cost-effective.
This knee compression sleeve is also good for medical purposes. That is if you've undergone surgery or tendon pain or meniscus. The padding keeps the knee warm and comfortable. And you won't feel like you're wearing a compression sleeve while you're wearing it.
Even if you do wear it for a long period of time. It's easy to walk in. It doesn't feel too hot or sweaty. And it's very non-restrictive. It reduces swelling and inflammation often associated with stiffness. For knee support, I highly recommend this knee brace for golf.
4. EzyFit Knee Brace Support – Best mid compression knee brace for golf
Pros
Effective and functional support.
It reduces pain and discomfort from injuries.
The hooks are smooth and irritation-free.
Cons
It restricts bending.
It's time to start treating your knee responsibly with a knee brace that has it all. The right level of compression, a secure fit, and breathable design. This is one of the best and most functional knee braces for golf.
For starters, the EzyFit Knee Brace never slips down. In terms of size, it's a bit on the larger end of the spectrum. So it's a reliable and must-buy choice for plus sizes. If you've suffered from a knee injury and you need proper support, this is the brace you need.
It's not very comfortable because it's firm and tight. Having said that, it offers proper support and pain relief because it is not cushiony. If you want a knee brace that keeps your knee from splaying, this is what you'll need.
You can wear them for hours without feeling uncomfortable. The brace is made of velcro and it has a hook and loop closure. So you can adjust it just a little bit and feel completely at ease and supported by the construction.
3. Modvel 2 Pack Knee Brace Compression Sleeve – Best high compression knee brace for golf
Pros
The fabric stays dry and cool.
The grips stay in one place.
Comfortable and easy to wear.
Cons
The material is too thick.
In a nutshell, a knee brace is something you wear to prevent injuries. But you can also wear one to reduce pain and discomfort if you are experiencing it. For golfers, this means wearing a knee brace to stop letting pain interfere with your golf swing.
Most golfers worship knee braces because it's super-functional and useful. And wearing one means you take your golf practice seriously. This knee brace is one of the most comfortable options out there.
It's good for pain relief, muscle recovery, and mobility. It offers support and compression for arthritic knees or common knee pain. Stiff joints, soreness, pinching, restrictive movement. The solution to all these problems is in this knee brace.
It's designed for both men and women. In a wide variety of sizes and colors, the fabric is durable and efficient. Enough for you to machine wash the knee brace and it won't lose its shape. The sleeves fit well without slipping down.
Taking into consideration how this knee brace is designed, it's you'd prefer it over everything else. It's supportive, breathable, and durable.
2. Crucial Compression Knee Brace Compression Sleeve – Best easy to pull knee brace for golf
Pros
No skin irritation or tightness.
The grips stay in one place.
Great support and functional compression.
Cons
The sizing chart is a bit inaccurate.
You need a knee compression brace if you're experiencing arthritic pain. The compression on this knee brace for golf is tight but supportive. For somebody with extreme knee problems like stiffness, soreness, restrictive movement, etc. You should definitely give these a try.
It's so good you can wear it for daily activities outside of golf too. The fabric is nylon and spandex so it's super long-lasting. It doesn't give you a hard time in hot and humid weather. The fabric is smooth and breathable.
The dotted design is what keeps the knee brace from sliding down. So it's anti-slip, grippy, and firm. The fit is so great and functional that you won't know you're wearing them. Besides the fact that the compression is firmly tight. So it keeps the joints cushiony and warm to relieve pain.
This is a good and reliable knee brace for golfers. It's a great choice to relieve extreme pain and discomfort. Even if you feel a pinching sensation in your knee while you're standing. This is an all-around and functional pick.
1. UFlex Knee Compression Sleeve Single Wrap Knee Brace – Editor's Choice
Pros
Excellent compression and support.
Long-lasting material and rubber grips.
Good for boosting blood flow and ventilation.
Cons
It does have a plastic-y smell.
These are the best compression knee sleeves for golfers. Designed to provide pain relief, muscle recovery, and optimal compression. The breathable, anti-odor knee brace design is good for beginners to advanced players.
For lots of new golfers, joint pain is a great hindrance. It can stand in between you and your best game yet. With a knee compression like the UFlex, you get the optimal support you need. Known for its anti-slip design which is made of silicone. The wave design of the wrap feels solid and stays stable.
The nylon-mesh and spandex material is known for improving air circulation. And also for managing and maintaining an unrestricted range of motion. So for players experiencing stiffness in movement, especially around the knee joints. This is the best knee brace to take the pressure off.
Complete Buying Guide of the Best Knee Brace for Golf
How Does Knee Braces Work?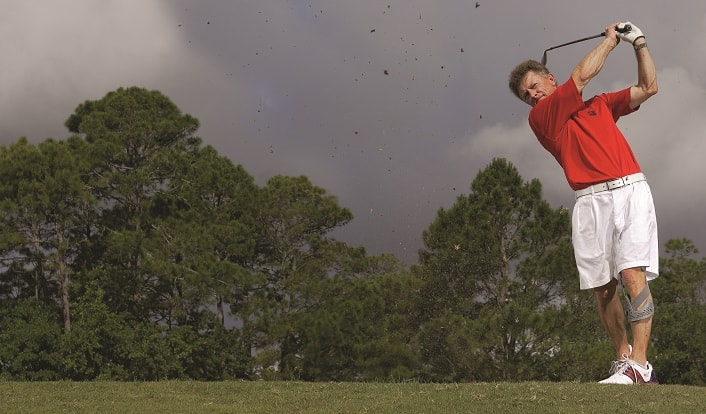 A knee brace to support golfers is designed for a speedy recovery in case of a knee injury. It also drastically minimizes the likelihood of knee injuries, to begin with.
And how knee braces work is they keep your knees from making certain abnormal movements. They push your knee caps outward at the time of movements. So the joints don't get into pain or injury-inducing bent or straight positions. Thus, reducing the chances of golfers developing any sort of knee injury, no matter how old.
Why Put On A Knee Brace When Playing Golf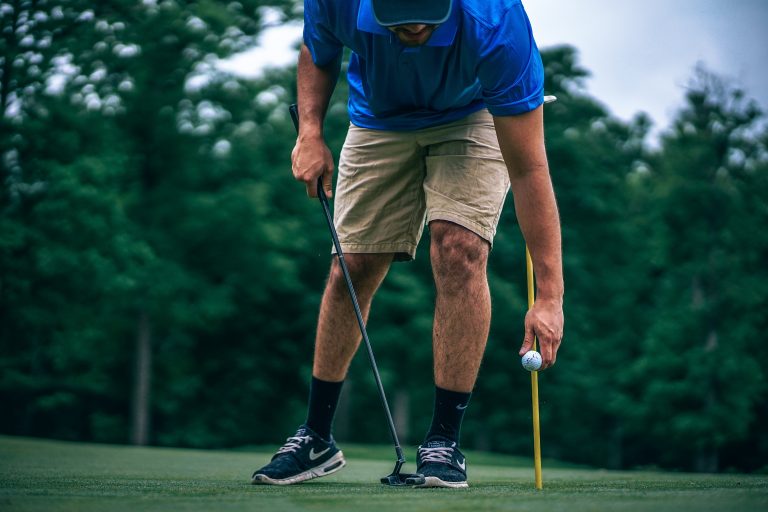 When you pick up golf balls, you're bending, squatting, and performing other such movements you're probably not even aware of. Then, on top of that, there's so much walking involved too. And when you combine all of this, it means a lot of stress on your knee joints. Even more so if you're an avid and/or maybe an older golfer!
Speaking of being a senior player, arthritis seems to be a common medical condition. And we don't need to tell you that osteoarthritis tends to weaken your knee joints. So it's only natural to have to deal with knee problems because of golf.
At such times, whatever your age or how many ever times a week you choose to golf, protecting the knees goes a long way when it comes to preventing pain or injuries. So when you wear a knee brace, you're increasing proprioception and enhancing stability.
At the same time, knee braces help a great deal in terms of speeding recovery in the case of a knee injury that has already transpired. The medical-grade compression of a good knee brace assists with healing. And no, this is not something you get with standard braces and neoprene sleeves.
A knee brace specifically engineered for the game consists of a 3D flat kit fabric. This hugs the knee joint tightly. In the process, draining out all the lactic acid build-up for supporting recovery. And this extra support, no doubt, stabilizes your knee joint without restricting your movements. That means you can putt, chip, drive, etc. as much as you want.
Types of Knee Braces In Golf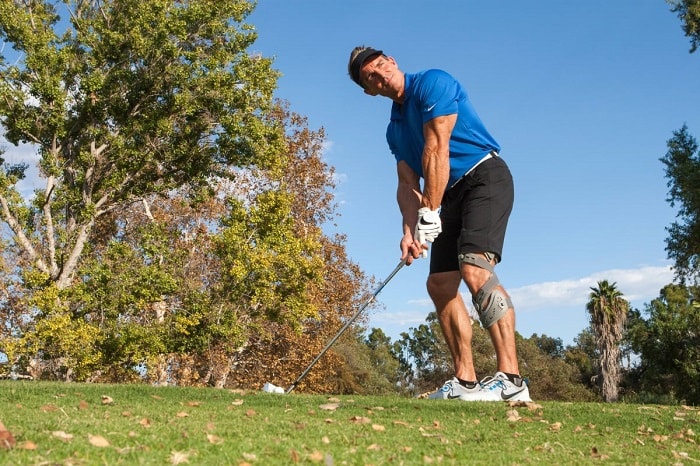 It's important to keep in mind that the wrong kind of knee brace tends to increase rather than decrease your chances of injury. In fact, it can also cause a torn meniscus. When the brace is too tight, it restricts blood circulation. Therefore, aggravating the condition rather than healing it. Likewise, very loose knee braces fail to provide an adequate amount of support.
When dealing with a minor tear, a flexible knee brace like a knee sleeve gives your joint all the warmth and compression it needs for alleviating pain and other such symptoms. However, it's not so great for stability.
If stability is your major concern, because maybe the tear is more severe, then you need an unloader knee brace. This one's more effective as it's made for taking the weight and strain away from the affected region. And then transfer this weight to the healthy side of your knee.
Things to Take Into Account When Buying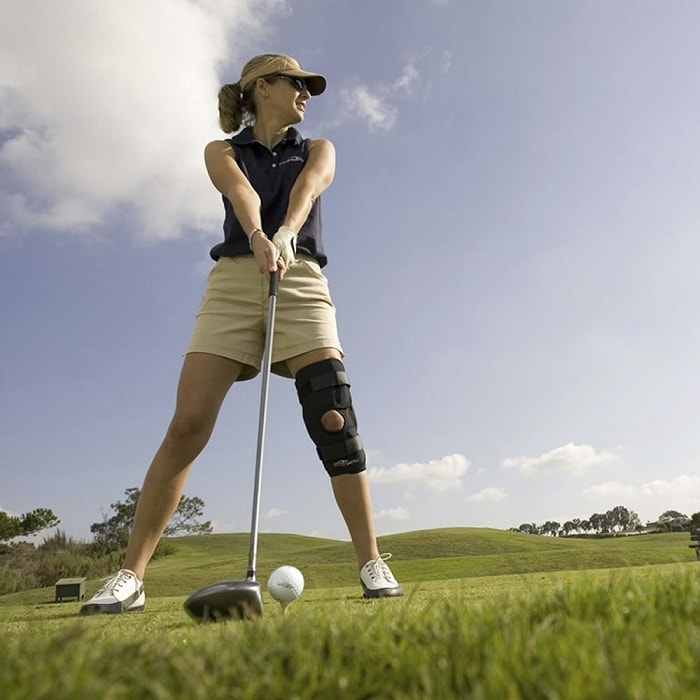 1. Size
There's just no point in wearing a knee brace if it isn't doing any good. The extra support is indeed supposed to protect your knee. And it's only going to do that if the knee brace fits around your knee cap properly.
So before you purchase, check the measurements printed on the label. The right size is the only one that works.
2. Level of Support for the Knee
This factor plays a crucial role when choosing knee support for a sport. Because not all knee injuries are the same. Likewise, not all knee support is the same. There are some injuries that demand a higher level of support.
In that context, buying a knee brace built with more support makes sense for deeper, faster pain relief and recovery.
3. Material
There are knee braces built with plastic, fabric, neoprene, metal, and more. So which material is the most fitting choice for you? It actually, once again, depends on your personal needs and preferences. For example, if you jog every day, then a knee brace made of a high-impact material for more stability and support during movements is a must.
How Much Does the Best Knee Brace for Golf Cost?
The price of a knee brace is determined by several factors…
The Type of Knee Brace
Not every knee brace is built the same, meaning not every one of them serves the same purpose. There are prophylactic knee braces for preventing ligament injuries. And these, no doubt, are more expensive in comparison to the rehabilitative knee braces. The latter is better suited for avoiding harmful or sudden knee movements.
Support and Severity of the Condition
Knee braces, you know the ones designed for pain relief purposes, as in the case of arthritis, are priced at around $500. Then there are much more affordable neoprene knee braces that cost below $100. And these are made to deliver just minimal support.
The Material of Knee Brace
Metal knee braces are costlier than their plastic counterparts. Simply because the former is much more durable and stronger. So every material has a different price.
Treating Golf Knee Injuries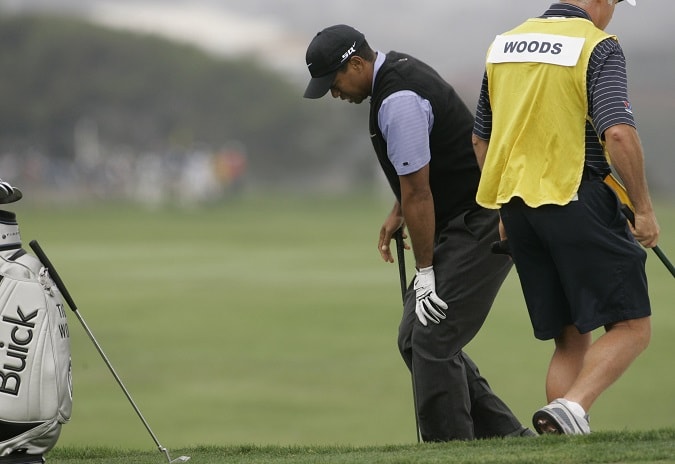 Paying a visit to a physiotherapist or doctor is the most important when dealing with a golf injury. They, more often than not, recommend the following treatment…
For Arthritis
When the treatment method is non-surgical, the solution involves wearing a supportive knee brace for golf. Along with ice or heat therapy and physiotherapy exercises.
For Sprains and Strains
You can and should treat common, not-too-severe strains and sprains with the RICE treatment method. This includes Rest, Ice, Compression, and Elevation.
Also called Patellar Tendinitis, Jumper's Knee rarely ever requires surgery. This means treatment methods like doing these exercises can really help with healing. Sometimes even anti-inflammatory medication and corticosteroid injections are effective forms of treatment.
One last thing – before you try to do anything on your own to treat your knee or any other golf-related injury, please consult a doctor. It's better to let a medical professional decide what works best for you.
Conclusion
The UFlex Knee Compression Knee Brace is a great choice for most pro golfers. Whether you are experiencing knee pain from an old injury or overexertion. A knee brace will offer support and compression. It relieves discomfort associated with stiffness and soreness.
Knee braces act as corrective guides for proper movement and stability. It ensures your knees don't "give out" or feel misaligned during play. The patella which is prone to tilting can often cause pain and discomfort in golfers.
So to protect the knees from that, and much more, a knee brace is essential. You can wear a knee brace on both knees or just one. It depends upon the level of discomfort or stiffness you feel.
The controlled and medical-grade compression of a knee brace provides warmth and cushioning. And that is why you need the anatomically-shaped benefits of a knee brace. And not just any knee brace to do the trick.
SEE MORE:
Top 5 Best Golf Shoes for Flat Feet That Are the Most Comfortable
The following two tabs change content below.
My name is Byron Nelson and I am an experienced professional golfer who has expert product knowledge in equipment and golf coaching. I've been playing and competing in golf since I can remember. I first picked up a golf club when I was 2 years old and have played hundreds of golf courses across Europe and America.
Latest posts by Byron Nelson (see all)