Even though plantar fasciitis is a common foot problem. It affects millions of people in the world every year. There are not enough performance-driven golf shoes for plantar fasciitis. Or maybe there are – only you don't know about them?
All that is going to change now. In this article, I talk about some of the top-ranking golf shoes for plantar fasciitis. And a bonus guide about the basics of buying golf shoes. And what you need to avoid wearing when you have plantar fasciitis.
If the golf shoes you're wearing right now are causing you more pain. It's about time to replace them with something that is pain-free and 100% supportive. These shoes will ensure you never have to complain about foot pain ever again.
Best Golf Shoes for Plantar Fasciitis – Table Comparison and Top 10 Reviews
Construction, toe design, sole, and arch support. These are the features that make golf shoes for plantar fasciitis dependable. Because not all golf shoes are built the same, here's a look at each one of them. You can't go wrong with either of them. They're all superior in their own way.
10. Callaway Men's Golf Shoes – Best golf shoes for wide feet
Pros
The perfect balance of comfort and support.
Extremely durable and waterproof.
The Callaway has some of the best qualities for golfers with plantar fasciitis. It is a supportive and durable shoe. You won't find such shoes at such a reasonable price on the market. It offers adequate support and protection for your feet.
These shoes look good and are easy to put on. They fit well right out of the box. The material is not only protective of your feet. But it's also protective of itself. This means it doesn't get very dirty very fast. It stays clean and retains its original shape easily.
It's also waterproof to prolong shelf life. It keeps your feet dry and cool even if you're standing on moist greens. The midsole is perfect as it provides an optimal level of balance. You don't need to go a size up or down to be able to feel comfortable. For wide feet, it's the ideal choice.
9. Nike Golf Men's Lunar Control II Golf Shoe – Best golf shoes for narrow feet
Pros
Thick but flexible construction.
Sturdy and responsive sole construction.
Ideal support during the backswing.
Cons  Not very long-lasting.
It's hard to say no to a pair of Nike shoes, right? These golf shoes will the best Nike shoes you'll ever own. They're supportive, professional, and durable. The Microsuede Arch Band is an excellent addition. It improves the way your feet moves inside the outside.
The full-length TPU plate ensures smooth and stable movements. No feet rolling on the outside, no stiffness, and definitely no fussing over the fit. The shoes have a softer feel, a steadier fit, and incredible arch support.
The fit is also true to size. And the midsole and outsole are highly responsive. So it has a firm construction that reduces shocks and wobbles. So during your backswing and followthrough, you have a sturdier backbone to fall back on.
All in all, the smart lacing system is not at all hard to use. The fabric is firm but flexible so you don't even have to break the shoes in! You can wear them right out of the box without a fuss.
8. FootJoy Men's Hyperflex Golf Shoes – Best durable golf shoes
Pros
Excellent waterproof construction.
Soft and supportive cushioning.
Rounded toe box plus lateral support.
It's not easy lining up the best golf shoes especially when there are so many good choices. And to pick only one of them as the top pick is harder still. The FootJoy Hyperflex could just as easily be a top pick, on any list! It's smart, well-construction, and durable.
The Flexgrid 2.0 Technology and Soft FTF 2.0 Cushioning are great additions. They really enhance the look and feel of this shoe. Something that golfers with plantar fasciitis will appreciate.
The NEO traction is a new-generation and sturdy feature. It improves the way you perform in the shoes. Lightweight, stable, and performance-driven. These shoes are soft but have an extra thick bed for supportive cushioning.
The construction of these shoes is also waterproof which is a huge advantage. The mesh and synthetic fabric deliver a smooth and flexible fit. But it still retains its original shape and feels after heavy use. So you have nothing to worry about.
7. Callaway Men's Balboa TRX Golf Shoe – Best waterproof golf shoes
Pros
They fit right out of the box.
Easy to get into and take off.
No need for breaking them in.
Cons
The toe box feels a little narrow.
Would you believe me when I tell you that this is a beautiful shoe? For the price, these shoes are so tempting and irresistible to buy. They work well as golf shoes for plantar fasciitis. Super comfy, cozy, and cushiony. The three Cs that every golfer looks for.
These are spiked golf shoes with an EVA sock liner. It has a slim and well-designed style. With a waterproof and climate-control liner. And a rubber outsole, EVA midsole that complements the way your shoes feel and fit.
There are side and arch support. But it's not as spacious as the other golf shoes for plantar fasciitis. They have incredible traction and support. And they do no look worn out easily. Considering the price you pay for them, they're a huge steal!
The toe area, midsole, and heel support are all in alignment. If you're looking for solid workmanship, this is where to look.
6. ECCO Men's Street Golf Shoe – Best lightweight golf shoes
Pros
Superior stainless steel lace system.
Low-friction construction to minimize shocks.
Dirt-repellant and easy-to-clean material.
Cons
It doesn't stand up to heavy use.
For something basic and defined, go for the Ecco Street Golf Shoe. These are the most comfortable pair of golf shoes you'll ever own. And it helps to know that they're really popular too.
These shoes have a steady and consistent grip. The shoe construction is tight but not compressing or heavy-duty. So it assists you during your backswing. And balances your feel where you need it the most.
For plantar fasciitis feet, it's light and cozy. The direct-injection polyurethane construction keeps the material flexible and firm. So during the backswing and followthrough, you will feel no stiffness or pain.
The TPU construction feels great too. The shoe's height makes you feel as if you're much closer to the ground. And because of the lower depth, it's more consistent to use. You'll enjoy wearing these shoes no matter what you do on the course. It's stable, supportive, and durable.
5. Adidas Men's Adipower 4orged S Golf Shoe – Best spikeless golf shoes
Pros
Affordable and long-lasting design.
Comfortable and grippy golf shoes.
A responsive midsole for extra support.
Cons
The tongue pokes out.
The heel is lower than Ecco's.
The Adidas Adipower 4orged S Golf Shoe is a pro-light and competent shoe. By design, it's a pretty simple golf shoe. It has everything golfers need for support and stability. The forced microfiber leather and textile upper. The thin TPU film. The spikeless outsole. And forefoot cushioning.
There is nothing that this shoe doesn't take credit for. In fact, it goes a little bit further with its cushioning and responsive midsole. Incredibly lightweight and comfy, this is the perfect pair. It doesn't cut through your feet (including your toes) to cause arch pain.
The comfort level of the sole and upper is phenomenal. It has that extra cushioning around the ankle area that makes foot mobility smooth. And it has great stability targetted at the center. This, coupled with the TPU film, feels breathable and comfy for plantar fasciitis feet.
Overall, the look and feel of these shoes are superior in every way. Very comfortable with superb traction and stability.
4. Skechers Men's Mojo Waterproof Golf Shoe – Best golf shoes for men
Pros
Effective and long-lasting waterproofing.
Supportive and stylish construction.
They don't roll over or feel too tight.
Cons
The size runs a bit small.
The Skechers Mojo Waterproof Golf Shoe has leather construction with a rubber sole. This means it's a functional and performance-driven golf shoe. And with a wide foot construction and lateral support. It's the best choice for plantar fasciitis.
The construction has an ultra-flight foam. This means it's super lightweight and supportive. This is a spikeless golf shoe with a Gripflex construction. So when you compare it to spiked shoes, it's not at all flimsy or inaccurate.
These shoes look and feel great. They'll last for a very long time. And even after heavy use, they don't look worn out or dirty. These shoes have a slip-on design which is incredibly easy. And the lack of a "tongue" design makes them super supportive.
It has plenty of side and arch support. And even enough room for an insole if you want extra support. The construction is waterproof which is hard to find in golf shoes for plantar fasciitis nowadays.
3. Skechers Women's Go Golf Birdie Golf Shoe – Best golf shoes for women
Pros
Excellent shock absorption with EVA sock liner.
Strong and flexible dura-rubber outsole.
Optimized synthetic and mesh upper.
Cons
The toe box is too narrow.
This gorgeous and stylish women's golf shoes have a synthetic upper and sole. It's a blend of style and functionality at such a good price. The Skechers is not a shoe brand that will disappoint.
It'll be a long time before you will need to replace this excellent shoe. It's good for women who play golf occasionally or all the time. The upper and insole offer effective traction and stability. And the shoe's construction doesn't show signs of wear and tear. It keeps your feet dry.
The shoe offers really good and reliable support. No matter the playing conditions or duration, they really look nice. And perform just as well right out of the box. You won't even have to break these shoes in. They're flexible and supportive.
The reasonable price, long-lasting performance, and foot support. All these are great benefits of buying the Skechers for plantar fasciitis. So why the wait?
2. New Balance Men's NBG1701 Spiked Golf Shoe – Best athletic golf shoes
Pros
Extremely comfortable and lightweight.
Durable and waterproof construction.
It keeps your feet cool and dry all the time.
Cons
The spikes are of poor quality.
The New Balance NBG1701 has an excellent and comfortable fit. It's perfect for wide feet. And unlike the next pick, it has a great waterproofing lining. If you have plantar fasciitis, you know how important a lightweight fit is. And that's exactly what these shoes have to offer.
A lightweight fit and high-quality construction. It has plenty of arch and side support. The soft spikes are not this shoe's best feature. That would be the waterproof lining and sole support. But the spikes the stable and supportive enough for heavy use.
When I say this shoe is perfect for wide feet. It means the toe support and construction is slightly wider. So it prevents your feet from sliding inside the shoe during play. The excellent lateral support and feather-light fit make this shoe a tempting offer.
1. Adidas Men's Tech Response Golf Shoes – Editor's Choice
Pros
Incredible support and stability.
The traction pattern is superior.
Plenty of ankle flexibility and arch support.
Cons
The size runs a bit smaller.
The Adidas Tech Response Golf Shoes is a lightweight and sturdy choice. It has a mesh and synthetic upper. And a soft EVA insole that complements how breathable the shoe feels. If you're too tired to go through any more pain because of your plantar fasciitis. Then I think you should buy these shoes right away.
The wide base and spiked sole improve balance and comfort on the greens. But this is good for more than just stability. It enhances traction while providing cushioning to soften the blow. The EVA insole makes sure of that.
The microfiber leather and mesh golf are really attractive. They're great for walking or standing in one place for long periodsThe traction pattern prevents moisture buildup. And the 6-spike configuration also ensures a comfy and dry environment.
For the price and build quality, this is a fantastic golf shoe.
How to Buy Golf Shoes for Plantar Fasciitis?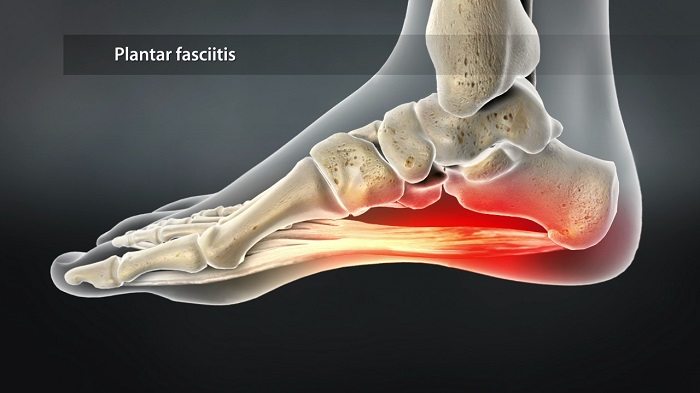 It's easy to buy new golf shoes when you know their best features. For golfers with plantar fasciitis, this may get a bit tricky. But don't worry. What follows next is a comprehensive guide on what makes a good golf shoe for plantar fasciitis.
So if you're at all stuck, this is what you need to know about.
Foot Support
This includes arch and heel support. Golf shoes that do not provide lateral support aren't ideal for plantar fasciitis. Your foot needs proper cushioning and protection against stress. Sudden movements can cause more arch pain and roll.
Excessive stress and strain can lead to a foot injury very easily. So the top priority for any golf shoe is arch and heel support. The features that provide incredible foot support are:
Inner Sole
In golf shoes, you will come across three types of inner soles. EVA is the most recommended of them all. The other being TPU which provides comfort but not as much as EVA.
EVA has a more adaptable construction. It adjusts according to your feet shape and form. Not the other way around. This prevents foot pain and stiffness tremendously. And it gives you plenty of comforts and cushioning during movement.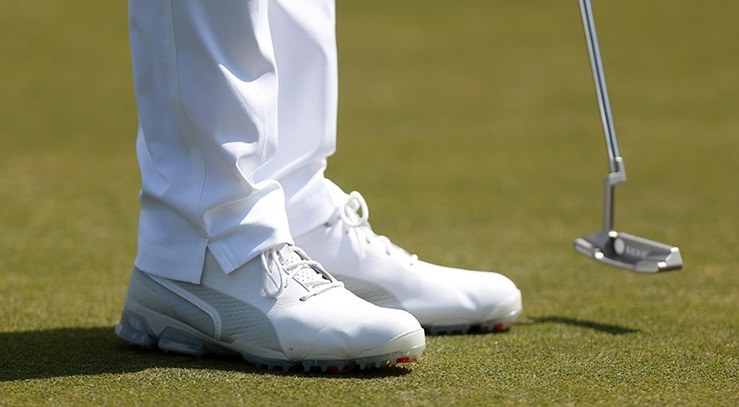 Outer Sole
Most outer soles are made of rubber. But modern golf shoes have synthetic outer soles. Synthetic fabrics are more moldable in that they offer incredible flexibility. And this, for plantar fasciitis translates to comfort and stability.
The quality of the outer sole also depends on whether the shoes are spiked or spikeless. If the sole is lightweight with a sturdy grip, you can expect decent traction from your golf shoes.
Midfoot
The shoe that fails to provide midfoot cushioning is a bad choice for plantar fasciitis. It's the midfoot region of any golf shoe that takes the most beating. And it affects the soles of your feet, including the soles of the shoe.
With midfoot cushioning, there's more shock absorption. So the impact is felt less and as a result, there's less strain on your feet. Whether you're walking or playing or standing in one place, the midfoot area is always activated.
So you need proper insoles to maintain a proper balance. Plush padding along the midfoot distributes weight evenly. As you walk, there's less tension on your ankles and arch. And your feel feels less under pressure during the backswing and followthrough.
So cushioning is key when looking at the best golf shoes for plantar fasciitis.
Your Checklist for Golf Shoes for Plantar Fasciitis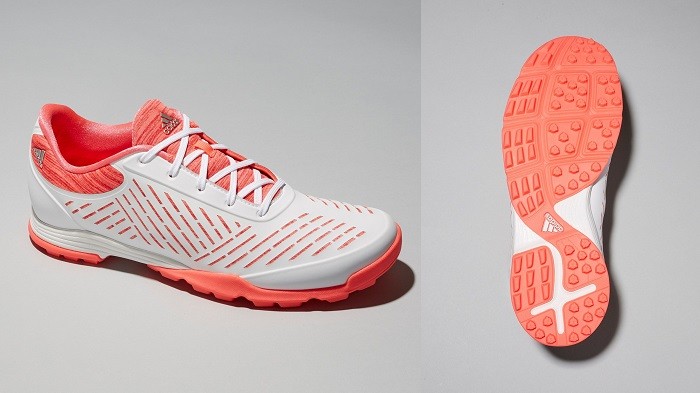 If you want a quick way to find the best golf shoes for plantar fasciitis. Here's what you need to keep in mind.
Wide foot box for easy toe movement.
Wide heel construction for shock absorption.
Superior midfoot cushioning to arch support.
Lightweight construction.
Breathable upper material.
Easy-to-use lace system.
Do Golf Shoes Alleviate Foot Pain?
Yes, if you wear supportive golf shoes, you can reduce foot pain. This also includes foot pain associated with plantar fasciitis. Unsupportive shoes that are too stiff to wear do the opposite.
That's why so many golfers feel uncomfortable and frustrated in stiff shoes. It not only ruins your day but spoils your entire game.
Only proper golf shoes can offer adequate support. Much of what you feel when playing golf is because of the protection and support the shoes provide. So it's very important to look for the right pair of supportive shoes for plantar fasciitis.
It reduces heel pain, rolling, and arch stiffness. The right shoe also improves ankle mobility while providing cushioning from every side. So the cushioning absorbs stress and shocks easily. And for wide feet, it regulates proper airflow and flexibility.
Shoes with a proper cushioned base and a contoured insole are ideal. Whether you're buying spiked or spikeless shoes, these two features are a must-have. It sets the tone for all your future endeavors.
It forces you to feel less impact during the backswing and follow-through. And with proper arch support, your ankles are less likely to roll to the outside. This prevents foot pain a great deal. And paves the way for smoother and more consistent shots.
Final Thoughts
What are your thoughts on the best golf shoes for plantar fasciitis? Don't you think special golf shoes like these will improve your golf game?
No matter how expensive your golf shoes are if it doesn't have proper support and cushioning. Then you will continue to experience foot problems. Especially when you have plantar fasciitis which is a painful food disorder.
The one that chases all your foot troubles away is the Adidas Men's Tech Response. It has superior cushioning and protects your feet from pain. It allows smoother and easier movement because of its wide design. And boasts of an accurate fit that enhances arch and heel support.
If there's anything that is lacking in your golf equipment bag, it's the best golf shoes. I like how surprisingly affordable these choices are. And the brands are popular so it'll be easier for you to find something that suits your style.
Read more: