Are oversize golf clubs legal or not? The USGA has something to tell about oversized golf clubs.
But what makes golf clubs oversized?
Golf clubs with heads larger than standard height (sole to top) and length (heel to toe) are considered oversized. 
But you should know more about what is oversize golf clubs. We will tell you more about them.
This article tackles oversize golf clubs about the size of the club head, not the grip or the shaft.
What Are Oversize Golf Clubs?
Oversize golf clubs may or may not conform to USGA rules. It is a fact every golfer should know first and foremost, especially beginners. An oversize club has a slightly larger head than a standard club. The big head offers pros and cons to golfers with different skills and styles of play.
Golf clubs with oversized club heads typically have sizeable sweet spots than small or mid-size heads. The sizeable sweet spot of a larger head is essential for beginners aiming for a more forgiving club. 
But are oversized club heads legal? You will soon find out. Please keep on reading.
The image below is provided by the USGA. It shows the standard dimensions and parts of a golf club.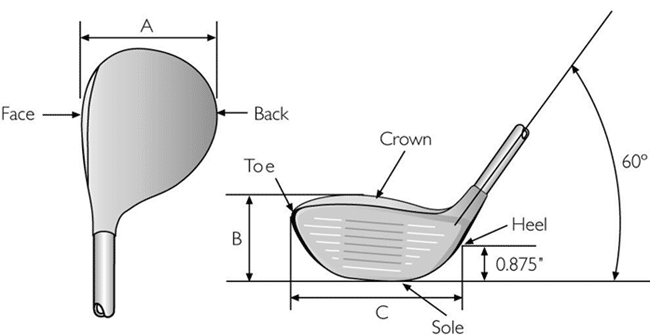 How Big Are Oversized Golf Clubs vs. Standard Ones?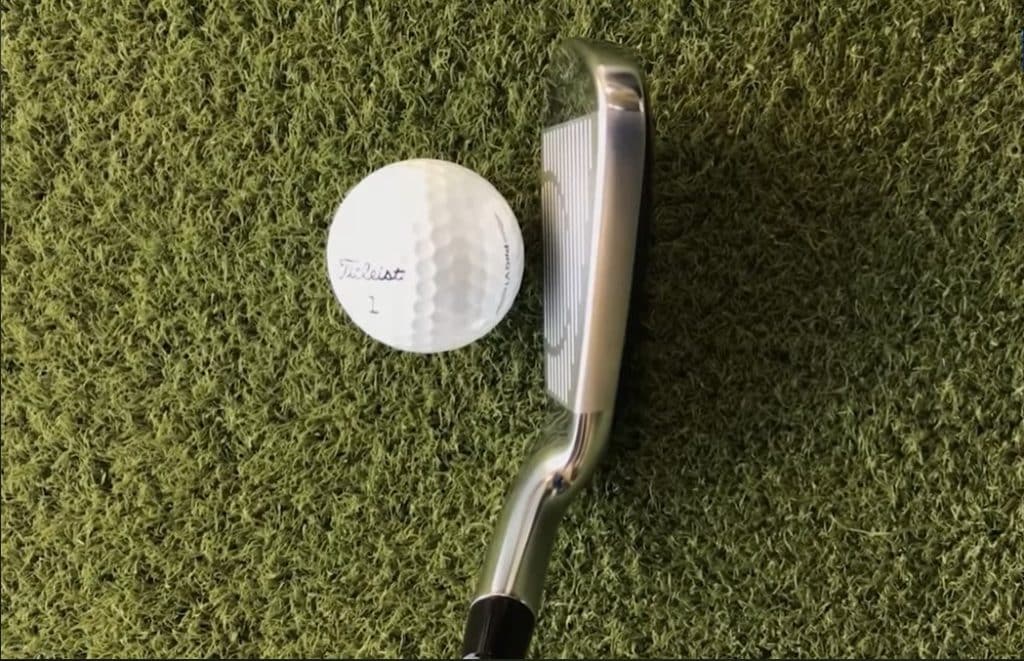 Golfers looking for a golf club set or even an individual piece may come across items or an item advertised as oversized. Mostly, some manufacturers, if not all, are true to their specifications.
As we stated, not all oversize clubs conform to USGA rules; some are just for leisure plays or recreational games and not for official tournaments. If you are wondering about your club head size, here are the parameters you should know.
1. Club head Height
Since an oversize club usually has a larger club head, it follows that the height of the head is also taller. But how do you assess the height of a club head? According to USGA club head rules on dimensions, the height measures from the club head sole to the crown. 
An oversized iron is roughly 47+ mm (millimeter) high (or 1.85 inches) from sole to crown. The larger club head helps players on off-center strikes: because of the enhanced forgiveness. It provides a larger surface area of essential hitting than standard-size irons. Large head sizes are also not prone to vibration and twisting as traditional clubs.
2. Club head Length
The length of an oversized club head is 85+ mm (3.35 inches). It is long enough to compensate for its height. The standard length of traditional golf clubs should not be more than 71.12mm (2.8 inches). The club's head length spans from heel to toe.
The added length also gives a larger sweet spot leading to more forgiving features than standard club heads. 
Standard iron heads must have a dimension such that the span from the toe to the heel is more than the span from the face to the back. This is also according to the USGA rules on club dimensions. 
Who Should Use Oversized Golf Clubs?
Oversized golf clubs are more beneficial for beginners and mid-to-high handicap golfers. Improving players are also more suitable for using oversized clubs because of their enhanced forgiveness. 
Golfers with these current skills are more prone to hitting off-center shots resulting in frequent miss-hits. When they utilize standard-size drivers, irons, and woods: they are more likely to miss the sweet spot of any club.
Since oversize clubs offer larger sweet spots, the forgiveness increases, minimizing off-center hits. Less experienced golfers quickly learn the tricks once they use appropriate equipment in sync with their skills. 
The Benefits of Oversized Golf Clubs
Here are some benefits golfers may get using the respective oversized clubs.
1. Drivers
Drivers with 460cc (cubic-centimeter) volume offer more sweet spots than smaller head drivers. The USGA limits the size of a club head to 460cc (plus a tolerance of 10cc). Some drivers come in at 440cc and 450cc. The 460cc volume is still legal in tournaments offering more forgiveness than the smaller 440cc. 
2. Irons
An oversized iron has a larger face, offering a generous amount of hitting area. These irons are also called cavity back irons. Aside from optimum forgiveness, cavity back irons provide consistency in distance on off-center hits. 
Cavity-back irons feature a hole or cavity in the back of the club head. This space or pocket allows a clump of weight to push low in the club head. The design keeps the head firmer on off-center strikes. 
These irons are more suitable for beginners, seniors, amateurs, high-handicappers, and lady golfers.
So far, one of the best-oversized irons for many golfers is the Callaway Golf Rogue ST MAX OS. The optimal forgiveness of this iron adds yardage, especially for mid-to-high handicap golfers. The iron is also perfect for a draw bias.
3. Woods
Woods are golf clubs used to hit long shots. If a golf hole is 400 to 450 yards away from the tee to the green, golfers prefer the woods from the tee. However, many golfers still use the fairway woods, even at such distance as 175 yards or more from the green.
Fairway woods with a larger head resist twisting because they offer a higher moment of inertia (MOI) than irons. This makes the ball launch easy and goes a further distance.
Large head woods used from the tee are titanium to make them lightweight. The minimal weight allows manufacturers to push the CG (center of gravity) back into the head. It gets the ball airborne without much effort from the golfer.
4. Putters
Putters with large club heads are mallet-type putters more beginners and high-handicappers use. Our experiences with mallet putters show they have a two-putt better average than most blade putters. It is from a distance of five feet.
The large head of a mallet putter gives beginner golfers more forgiving hits when too close to the cup.
One of the best mallet putters we highly recommend is the Callaway Odyssey Golf White Hot OG Putter. The Hot OG Putter is a double-bend face-balanced mallet best suited for strokes with minimal face rotation and arc.
Are Oversized Irons Suitable for Beginners?
Golf clubs with oversized heads are generally more beneficial for beginners. Oversize clubs offer more sweet spots than standard-size clubs, giving newbies a larger hitting surface area. It enables beginners to attain better forgiveness to strike the ball than mid-size or small club heads.
The head size of a golf club is crucial to neophyte golfers. Almost all beginners have slow swing speed and inaccurate shots. We recommend a driver with a head size of 450cc to 460cc, a cavity back iron, and a mallet putter for beginners. 
Are Oversized Golf Clubs Legal?
Not all big golf clubs are legal as per USGA and R&A rules. Most illegal and oversize golf clubs are frequently utilized by recreational golfers or during unofficial games.
Drivers with more than 460cc volume are considered illegal by the association. Illegal woods are those with more than 71.12mm (2.8 inches) distance from the sole to the crown. Non-conforming Irons are those club heads with face to a back distance of less than the span from the heel to the toe.
Are Oversized Clubs Easier to Hit?
Yes, oversize clubs are easy-to-hit than standard ones, especially for beginners. More experienced and pro golfers, though, prefer the standard sizes. They can already control the launch, direction, and height of the ball flight. 
How to Buy Oversize Clubs?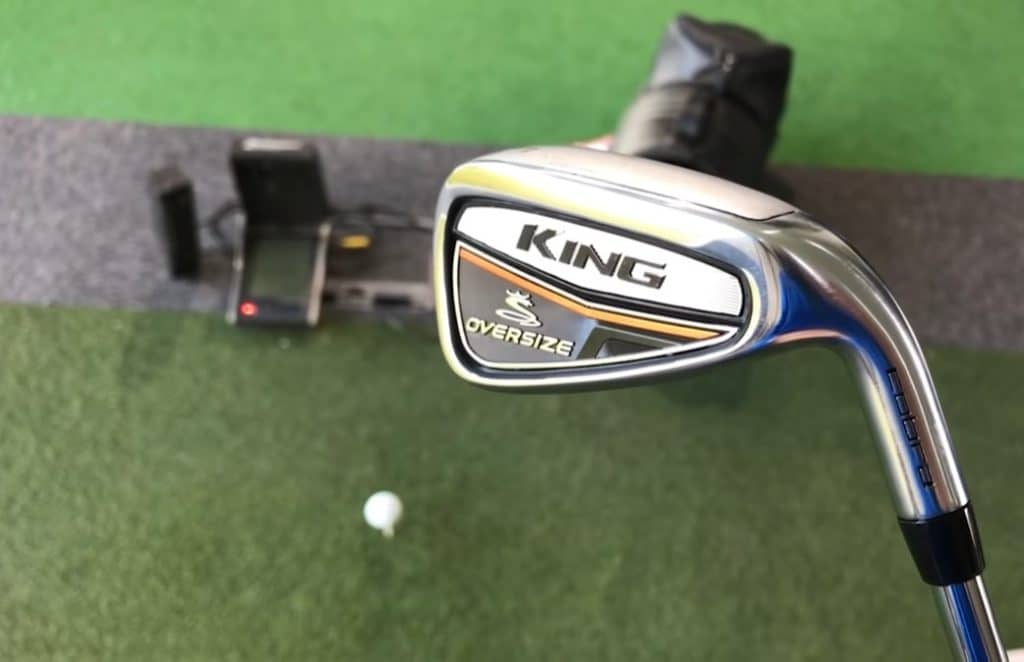 If you plan to use oversized golf clubs for recreational golf with your buddies: there is no problem buying them online or in a nearby golf shop. If you want to pursue a long-lasting golf career, buying legal oversized golf clubs might be a better choice.
Many legal oversized clubs are cheaper than illegal ones because the features conform to USGA and R&A rules. You can buy them in golf shops or golf websites offering reviews and specifications about the item: so you can know if the clubs are oversized.
FAQ's
1. Do oversize clubs make a difference?
Yes, they do. Oversized club heads give more controlling action, such as in ball trajectory, providing you with further distance.
2. Are oversize irons better?
Oversized irons, such as the cavity back style, give beginners and high-handicappers more forgiving shots. Yes, they are better for newbies and less experienced players.
3. Should I buy oversized irons? 
If you are in the initial stages of learning golf, we suggest you buy oversized irons. There is a less expensive iron set you can buy. 
4. Are oversize clubs more forgiving?
Yes, they are more forgiving than standard-size golf clubs. The bigger sweet spots of oversize clubs enhance the forgiveness.
5. Do pro golfers use oversize grips?
Many pro golfers used oversized grips to provide them with a better grasp on the golf club shaft. It also minimizes grip pressure and enables one to square the club face on impact. 
6. Are oversized irons Legal? 
Conforming (or legal) oversized iron must have a longer than wider club head (see figure above). Using the image above, dimension C must be longer than dimension A for the iron to become legal.
Conclusion
So, now you know the answer to the question: What are oversize golf clubs; you can already decide the best for your skills.
Choosing oversized golf clubs is a better option if you want improvement in your game. Beginners and high-handicappers will enjoy the many benefits of these clubs.
Read more: