Have you ever wondered about the most common cause of slipping in your golf swing? Golfers need to pay more attention to the importance of wearing golf shoes or keeping their spikes in good condition.
Wearing soft spikes golf shoes on the green is vital to sustaining your balance and comfort during the swing. Wearing a suitable pair of golf shoes can help you manage bumpy terrains on the fairway.
If you don't want to suffer from foot blisters and have inconsistent shots, you've got to get suitable spikes.
Since golf shoes serve a crucial role when golfing, how to know when and how to replace golf spikes?
Thorough cleaning, using a cleat wrench, soapy water, and a dry towel, replacing your golf shoe spikes is a breeze.
Skip through the post below for more information.
How To Replace Golf Spikes?
If you want to sustain correct footing and a firm stance, replacing your golf spikes frequently is a must.
Since golf spikes are produced using steel or plastic materials, removing them necessitates a unique tool.
You can buy the tool as a component of a divot tool or with bundles of plastic spikes. While replacing spikes tests your patience, this approach is critical in optimizing shoe function.
Replacement Golf Shoes Spikes Steps
Step 1: Before removing the spikes, ensure the shoe's base is clean. Drench a wire or golf brush with clean soapy water. Then, brush the sole's base using the golf or wire brush. Once cleaned, dry the shoe's base with a golf towel. If there's a speck of remaining dirt after drying, perform the cleaning method again.
Step 2: Afterward, put the wrench onto the shoe spike and twist it counterclockwise. Arrange the spike next to the spike's bottom. Ensure that the spikes detach after one rotation. Clean the holes further using a tool with dual protrusions on the spike's matching holes. Put the tool into the spike and twist it counterclockwise until detached. This method helps instantly remove the spike by hand. Use a pliers or wrench tool to remove the metal spikes and toss the worn-out spike.
Step 3: Remember, you must keep the spot clean where the spike was removed. Use a divot repair tool to eliminate excess residues or dirt. Afterward, wipe it with a spotless towel.
Step 4: Position and toughen the new spike using your fingers, rotating clockwise. Toughen the spike more with a spike wrench if you notice it's still slightly detached. Do the process again for the remaining cleats. Please note that the standard cleats for every golf shoe are 6 or 7.
How To Replace Golf Spikes Without Using A Tool?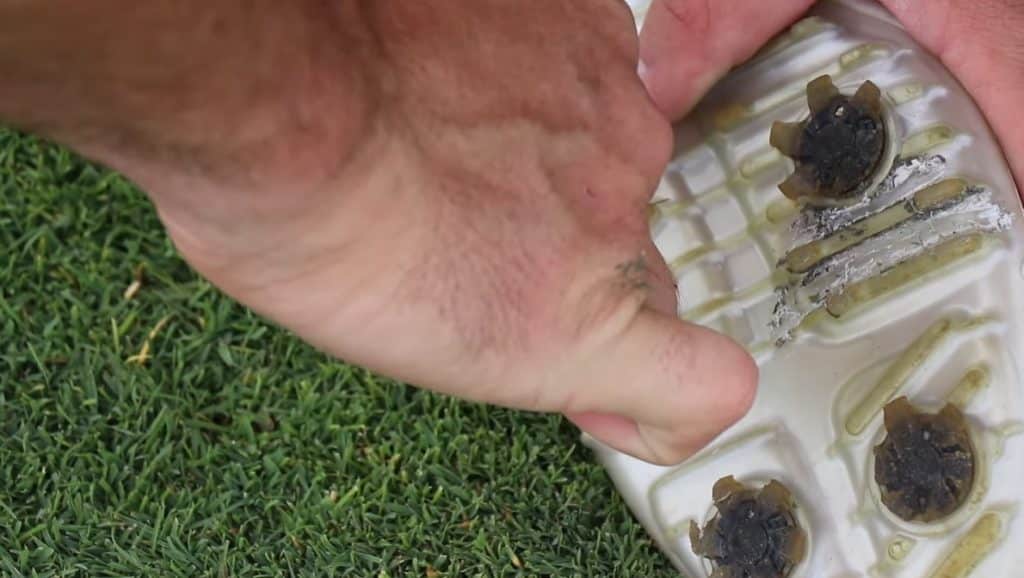 The alternative tools you can use when removing spikes are screwdrivers or a pair of pliers.
Still and all, pliers are more effortless to use and work like a charm in removing the spikes efficiently.
Unfortunately, the task will be arduous if your golf shoes have accumulated more residues beneath the spike.
You can utilize a screwdriver in conditions like this to make it easier to dig beneath the spike. It's worth noting that screwdrivers can work surrounding the hole until it goes off.
When Do I Need To Get New Golf Spikes or Shoes?
Generally, replacing golf shoe spikes should be once every twenty rounds or twice a year. Getting new spikes is necessary when you lose a spike or when they start to flatten out.
Moreover, replace your spike when you have played more than twenty rounds or when you notice they're already wearing out.
When you see rips or tears, you can tell it's time to replace your spikes. Also, please get a new one when your feet hurt or when they begin getting wet on the fairway.
It's also time for replacement when you notice that the holes for golf spikes are already stripped.
How to Properly Clean My Golf Spikes?
Did you know that stained spikes can make your traction terrible when swinging? Since you play on the green, you can't keep your spikes from getting dirty.
As you know, spikes are more prone to accumulating dirt and grass.
For this reason, you must keep them clean all the time to ensure their functionality. You can use golf spikes brush cleaners to keep your golf shoes free of dirt.
Hit your golf shoes together after finishing a round to allow chunks of grass and excess residues to fall off easily.
Avoid letting your shoes get too filthy, as dirt will accumulate beneath the spikes, making them difficult to remove.
If you clean your golf shoes properly, they're unlikely to fade quickly.
How to Remove Golf Spikes?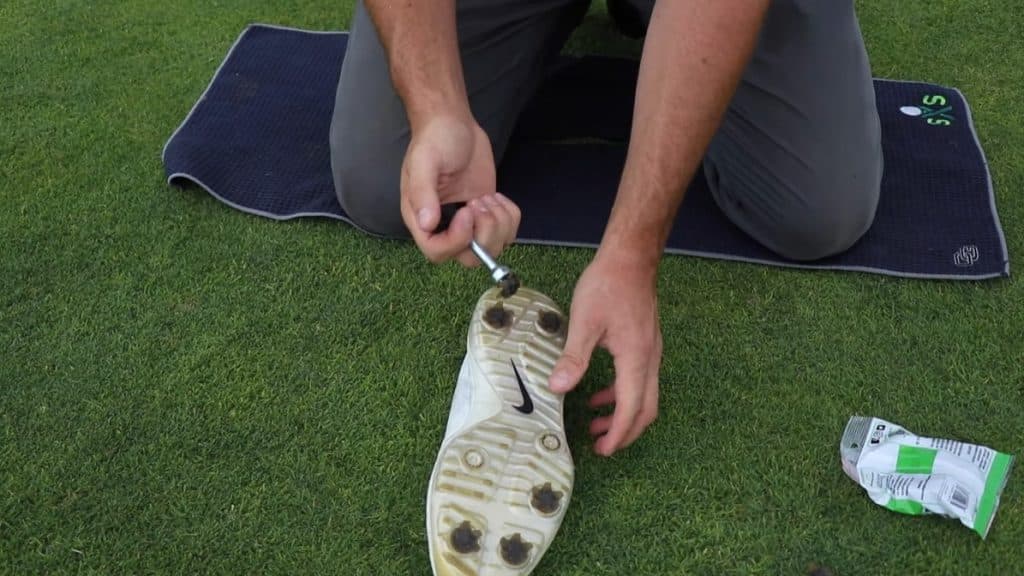 There are no available universal spikes for different golf shoes, so you'll need a golf spike tool when removing them.
Luckily, removing golf spikes is a cinch. You only need to place the prongs in the two spike holes and twist counterclockwise to detach them.
From there, you'll notice that the spike will loosen, similar to a screw.
The Most Recommended Golf Spikes to Buy
You can choose which spikes to get if you consider the style of your golf shoe.
Check out the options below to see which suitable golf spike to get:
Nike Shoes – Fast Twist
Sketchers – PINS
All Adidas Golf Shoes – PINS
FootJoy Shoes– Fast Twist
Callaway Shoes – PINS
Puma – PINS
All Ecco Shoes – Q Lok
Important Note: Unfortunately, you won't find a perfect spike that fits all golf shoes. However, you can check pro shops and sporting goods stores that sell spikes regardless of quantity.
How Can I Install Golf Spikes?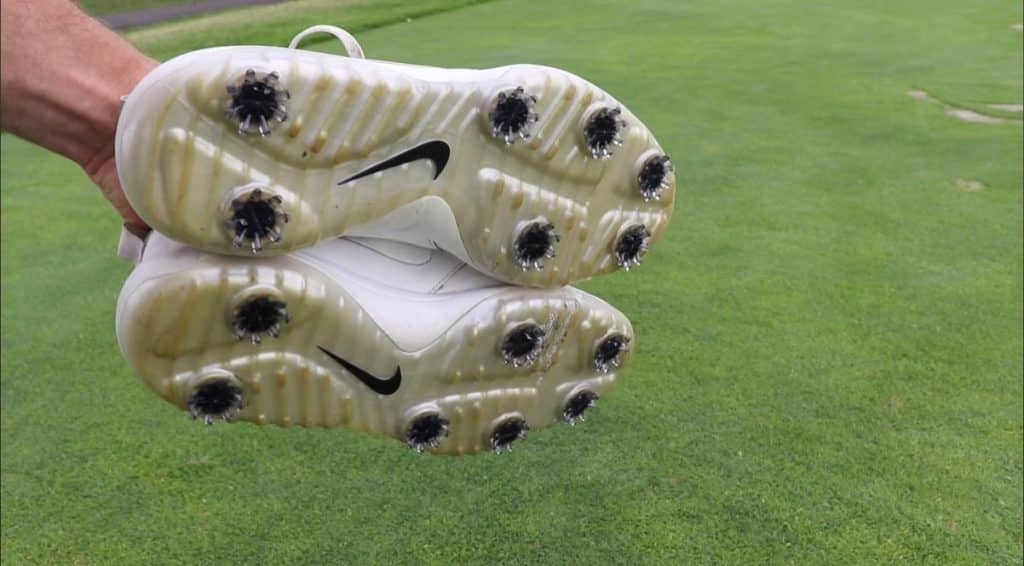 You must ensure that you remove all the spikes from the shoe and they're free of dirt in the holes.
Utilize a golf spike tool when installing them. Do the process by pushing the spike down in the hole and twisting clockwise.
If you don't have a spike tool, ask your local golf course staff to install them in your stead.
The installation is fast and generally has no charge.
Spike-less Golf Shoes
Golfers who prefer golf shoes that feature plastic grooves on their base can get spikeless golf shoes. These are excellent options as they also provide sufficient traction on the fairway.
Spikeless golf shoes look similar to standard cross-training shoes, which offer much-needed comfort when golfing.
Can I Replace Adidas Golf Shoe Spikes?
Yes. The replacement process goes like this:
Clean the outsoles where you remove the worn-out cleats before replacing them. Use a wire or golf brush and get a bowl with clean soapy water.
Thoroughly brush the golf shoes' base to eliminate grass particles and other accumulated debris.
Repeat the step if there are remaining residues. When thoroughly cleaned, use an unsoiled towel to dry the shoes.
Then, slightly lubricate your golf shoe spikes receptacle with a WD40 lubricant.
Get a wrench to detach the spikes. Please do this by positioning the wrench on a spike and rotating it counterclockwise.
Check if the spike detaches after a single revolution. Sometimes, using a golf spike removal tool is necessary, depending on the type of cleat you have.
These unique tools feature protrusions that you embed in the spike's holes. Once you embed it in the holes, rotate it counterclockwise until the cleat detaches.
At times, the holes are brimmed with dirt, making it paramount to clean them before replacing the spikes.
Clean the spot where you detached the worn-out spikes. Use a thin metal rod or divot repair tool to eliminate residues and wipe with a neat drenched towel.
Prepare the new spikes on your Adidas golf shoe. Generally, you can purchase them from sporting goods stores or Adidas outlets.
Lastly, install the new spikes with your finger. Position the current spikes on the receptacle, rotate it clockwise and toughen the spike with a wrench.
Can I Take Spikes off My Golf Shoes and Wear Them?
While you can take the spikes off your golf shoes, you can't remove them if they're fixed permanently. For this reason, choosing golf shoes with detachable spikes is best.
Additionally, if you play golf often, you'll require replacing your spikes frequently because they tend to wear down immediately.
Getting golf shoes with detachable spikes eliminates the need to purchase new ones each time the spikes wear down.
Besides, if you choose spikeless options, they're trendier and adept at offering much-needed comfort and functionality.
FAQ's
1. Can I wear golf shoes without spikes?
You can wear spikeless golf shoes as regular shoes when going out. Spikeless looks identical to trainers and is manufactured by renowned brands like Puma, Adidas, and Nike.
Spikeless golf shoes allow you to walk on diverse surfaces; we don't recommend spiked shoes for daily wear.
2. How frequently should I replace golf shoe spikes?
Ideally, it would help if you replaced your golf spikes approximately twice a year or every fifteen to twenty rounds.
This modulation will differ hinging on the type of golfer and the conditions on the golf course.
3. Can I replace metal spikes on golf shoes?
Yes. You only need to use a spike wrench and new cleats to enjoy a more reliable and solid grip again.
Final Thoughts
Aside from making golfers look like real pros, golf shoes and spikes serve a crucial function. As read, it's necessary to ensure that your golf spikes are unstained and in good working condition.
Regardless of the weather conditions on the green, having clean and functional spikes ensure smooth movement and balance.
Golf experts recommend using golf spike tools for DIY replacement and installing spikes.
Remember, properly cleaning and maintaining your golf shoes can ensure their longevity, durability, and excellent performance.
Did you find our post about "How to Replace Golf Spikes" exciting and helpful? We'll be glad to hear more from you.
If you have additional thoughts about this topic, please comment below and give this post a like.
Read more: Best Golf Shoes With Arch Support For Men And Women