If golf is considered the game for the rich and gentlemen, why golf shoes are ugly? Well, golf shoes don't look attractive because they are designed to be more functional than fashionable.
Most golf shoe manufacturers know that golfers are more after the stability and sturdiness of the shoe than its style.
So, if you're dedicated to leveling up your golf play, you won't care more about merely looking trendy during play.
Instead of focusing on the style of the shoes, double-check their level of comfort, arch support, and traction.
Don't worry; we've got you covered if you're unsure of what suitable golf shoes to choose and purchase.
In the next section, we'll tackle some of the most recommended golf shoes available today.
Let's get started!
Why Most Golf Shoes Look Ugly?
Golf shoes have unattractive styles because they're built for functionality, particularly with the golf swing in mind.
They're designed to restrict lateral motion, offer medial foot area support, and keep you steady during swing.
Their broader and larger footprint designs are intended to sense the ground under your feet better.
As a result, they can ensure more traction and better balance while you're standing and swinging side-to-side.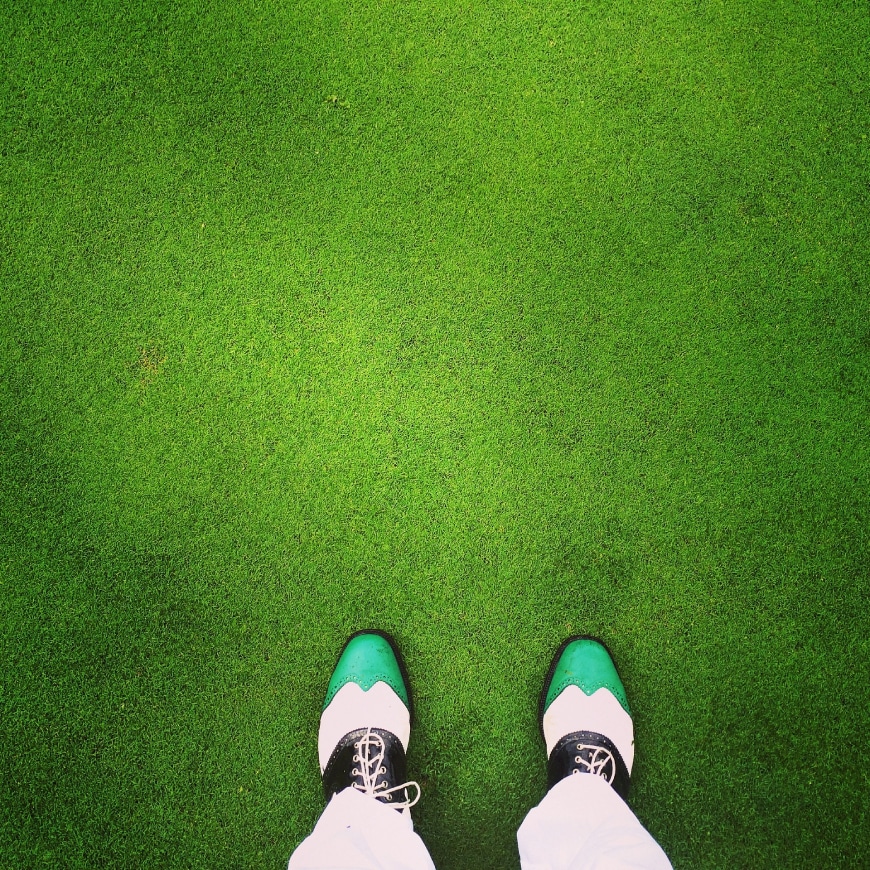 Stylish Golf Shoe Recommendations
Here are the top men's and women's golf shoe options to select from:
Men's Golf Shoes
1. ECCO Men's 2022 M Golf S-Three Waterproof and Spikeless Leather Golf Shoes
For golfers who prefer a comfortable and breathable fit, you won't go wrong investing in these golf shoes.
Thanks to their excellent water resistance feature, they help keep your feet protected and dry in the morning dew.
You won't have issues wearing these shoes all day, as they don't slip around the greens and tee boxes.
On the downside, they seem prone to getting scratched quickly, and their color tends to fade over time.
Key Features
Open-cell Ortholite insole
ECCO zonal Fluidform Technology midsole
Gore-tex 100% waterproof design
ECCO soft calf Nappa leather
E-dts traction system
Who should use this product?
These spikeless golf shoes are ideal for golfers who care more about stability, water resistance, and suitable fit.
2. PUMA Men's Proadapt Alphacat Golf Shoe
Do you dream of hitting every shot in unique comfort and style? If yes, these PUMA golf shoes might be what you're looking for.
They're lightweight, comfortable even for all-day wear, and offer excellent support and traction.
You'll love their bootie construction since they're adept at offering 360-degree support surrounding the feet and step in comfort.
Nonetheless, checking the size chart is essential to avoid getting a narrow shoe size.
Key Features
Molded comfort insole
Highest-grade EVA cushioning
PRO ADAPT spikeless outsole
Waterproof EXO shell
Outstanding bootie construction
Who should use this product?
This PUMA golf shoe is for golfers who want to avoid slipping on the greens and in the clubhouse. These golf shoes are the king of comfort and better grip, making them excellent golf companions.
3. Callaway Men's Solana TRX V2
The Callaway Solana TRX v2 is lightweight, offers first-rate sole support, and you'll love its soft top material.
It doesn't make your feet uncomfortable, regardless of how long you wear them. The ultra-sleek midsole is suitable for your foot's arch, creating a comfy and natural walk.
The waterproof microfiber leather material of these shoes is durable despite bad weather conditions.
Still and all, these golf shoes aren't the most affordable options.
Key Features
Forged DX midsole
Lace closure and synthetic rubber sole material
5mm PLUS foam insole
5Spike Dura Rubber outsole
Who should use this product?
These shoes are intelligent purchases for golfers who want optimal comfort, a natural ground feel, and control.
Women's Golf Shoes
1. Adidas Summervent Spikeless Golf Shoes
Wearing these golf shoes can make your golf play relaxed and comfortable. The upper mesh design offers more breathability, providing adequate ventilation when badly needed.
Like Nike golf shoes, you won't feel any discomfort since the shoes feature a flexible cushion. Since they're designed with rubber outsole, you can avoid slippage and ensure an enjoyable performance.
Unfortunately, these golf shoes are not water resistant, making them inappropriate in wet fairways and greens.
Key Features
Rubber outsole and Bounce midsole
Spikeless and light-colored
High-performance recycled materials
Mesh upper
Who should use this product?
These Adidas golf shoes are perfect choice for women who want to keep their feet comfortable and well-ventilated during summer.
2. ECCO Women's Biom Hybrid 4 Golf Shoes
ECCO brand can be your go-to when it comes to golf shoes because of their minimalist designs and superb functionality.
This brand is a foolproof choice if you want sturdy, durable, and flexible golf shoes. These shoes don't restrict your movements, keeping you stable and comfortable simultaneously.
Anyhow, cleaning these golf shoes requires patience and more time. Their tiny pinhole texture design traps dirt efficiently.
Key Features
Ortholite inlay sole
Ergonomically advanced and lightweight soles
BIOM Natural Motion Technology
ECCO MTN GRIP outsole
Who should use this product?
Although expensive, the ECCO golf shoes are the best option for women who care more about durability, flexibility, comfort, and stability.
3. FootJoy Women's Fj Flex Xp Golf Shoe
Famous for their versatile traction, these golf shoes are reliable to wear all day on the golf course.
You won't feel any distractions during your performance because they're breathable, stable, and comfy.
Besides their appealing look, you'll love their stretchy fabric that fits well on your feet. These golf shoes remain waterproof for a year with regular use.
Nevertheless, their rear portion is too high, rubbing the back of your ankle.
Key Features
Versa-Trax outsole
Soft EVA midsole
Full rounded toe and fuller fit
Lightweight performance mesh
Who should use this product?
These golf shoes are a smoking deal for golfers who want to maximize their traction during the swing. They're also ideal for attaining stellar grip during golf play.
What Is The Point of Wearing Golf Shoes?
It's critical to wear golf shoes when playing golf to ensure better balance, stability, and maximum traction.
These three factors are vital to attaining the correct contact when you hit the ball. They can guarantee better distance and optimal precision with your shots.
Why Do People Wear Spikeless Golf Shoes?
Some people wear spikeless golf shoes because they're lighter and offer more comfort when walking or casual wear.
Furthermore, they don't intervene with your balance and don't require changing shoes before returning to the clubhouse.
FAQ's
1. What is the difference between regular shoes and golf shoes?
Golf shoes are designed specifically for playing golf. Therefore, they allow golfers to enjoy more flexibility, balance, comfort, and stability during the unusual movement of a golf swing.
It's challenging for players to ensure better contact with the ball if they're sliding or slipping during the swing motion.
Wearing regular shoes during golf can make it hard for players to produce excellent shots.
2. Is it okay if I wear golf shoes casually?
You can wear golf shoes casually, on the street, or outside if they're designed as spikeless.
Spikeless golf shoes are identical to trainers, allowing you to walk on different surfaces.
3. Why are golf shoes pricey?
Golf shoes come at a costly price because their manufacturers use high-end materials and avant-garde technology.
Likewise, they feature a superior waterproof guarantee, distinguishing them from regular shoes with only water resistance features.
4. Do professional golfers wear spikeless golf shoes?
Yes. Some pros on Tour wear spikeless golf shoes. Generally, it depends on the player's preference whether to use spikeless golf shoes.
Final Thoughts
There are always appropriate shoes for every occasion; therefore, it's only suitable to wear golf shoes when playing golf.
While golf shoes can be pricey, they're valuable investments because they can level up your overall golf performance.
These shoes are specifically designed to help you secure better shots during golf play, providing more stability, comfort, and balance.
You're less likely to slip, slide, or get injured because golf shoes give you maximum protection while on the course.
Did you like our post about "Why Golf Shoes are Ugly?" Please give it a like and share it with your followers!
Read more:
Matt Stevens is the founder of Golfrough.com. He holds a Postgraduate in Sports Marketing and has played golf since he was four years old. Having experienced every high and low golf has to offer, his writing helps the average golfer avoid the mistakes he has made in 28-years on the course.